St. Luke Youth Is Illinois Fiddler Of The Year

September 2002
By Kelly Seifert/The Star/Thursday, September 26, 2002
At 15 years old, Katie Bern has proven she is the best of the best in Illinois when it comes to playing the fiddle.
Katie, of Palos Heights, recently took first place at a state fiddle championship competition earlier this month in Springfield – despite playing against seasoned adult competitors.
Modest about her accomplishment, Bern said she was surprised by her win.
"I just wanted to play as well as I could," she said. "It was a little intimidating because (the other fiddlers) could have had so much more experience than me."
Bern began playing the fiddle about five years ago at the prompting of her parents, Jeanne and Chuck Bern.
"I always thought it would be nice to play an instrument that was portable." Jeanne said. "That way, you can always provide music."
A former English instructor at Stagg High School in Palos Hills, Jeanne has home-schooled all three of her daughters, ages 19,15, and 12.
Although she and her husband admit they are not musically inclined, the couple have made it a priority to introduce music to their children.
"Instead of spending too much time wasted playing computer games, we wanted them to play music," Jeanne said. "I think music should be part of any curriculum.
Katie's musical talents began to take shape when she was 7 years old.
Following in the footsteps of her older sister, Katie began Suzuki violin lessons.
Initially, playing an instrument did not come easy for Katie, Jeanne said.
Katie fought the idea of playing and practicing the instrument until she played in her first Christmas concert at Moraine Valley Community College.
"She loves to perform." Jeanne said.
When Katie was 10, her parents took her and her two sisters to a festival featuring old-fashioned square dancing at Moraine Valley Community College.
It was there that the family crossed paths with Ed Cosner, an award winning West Virginian fiddler who now resides in Indiana.
"He is the reason she is playing today," Jeanne Bern said.
When Cosner spotted young people interested in the bluegrass music he loved, he agreed to provide free instruction to the girls.
"He took them under his wing," Jeanne Bern said. "He liked the music very much and wanted it passed on."
Cosner taught Katie Bern and her sisters to play by ear, which meant playing the tunes and repeating them.
"She had a really great aptitude for it." Jeanne said of Katie's fiddle playing abilities.
In time, Katie Bern and her sisters began traveling to fiddle competitions and winning awards. In fact, Katie's youngest sister took third place in the junior division of the recent state fiddle championships.
"It has been a very good thing for our family," Jeanne said of the family's journeys to competitions and bluegrass festivals. "It's a fun thing for a family to do."
Expanding her musical talents further, Katie also picked up the guitar andmandolin. Her mother said Katie now receives lessons from a variety of music instructors including ab Irish fiddle instructor and a jazz mandolin player.
"I think she has the capacity to learn a lot of music." Jeanne said.
Katie has a broad range of musical interests spanning classical, bluegrass, jazz, Irish, and rock and roll.
A memeber of the Suburban Youth Symphony Orchestra, Katie was recently awarded the honorable title of concertmaster. She is also part of the string ensemble at Trinity Christian college in Palos Heights.
When she's not competing, Katie also plays for various events and festivals, weddings and at nursing homes.
"It's a way to bring joy into other people's lives." her father said.
Way to go Katie from all of us at St. Luke
Children's Sermon And Chrismation

September 2002
Father Harrison gathered the children together and explained about Baptism and being born again. He went on to explain that Chrismation is a spiritual birth and when someone is born, they get presents. At Chrismation the presents that we receive are the Gifts of the Holy Spirit which are Wisdom, Knowledge, Faith, Healing, Miracles, and Prophesy. He told the children that one of them, Anthony had been baptised but not yet Chrismated and that we would do that now.
Father Harrison performed the Sacrament of Chrismation on Anthony as the children looked on. Above we see Anthony being annointed and each time the congreation responds with the word "Seal" as Anthony received the Seal of the Holy Spirit. His sponsor Nicholas looks on. Below we see Anthony after the ceremony wearing the cross that was just presented to him.
A Gift For St. Luke

September 2002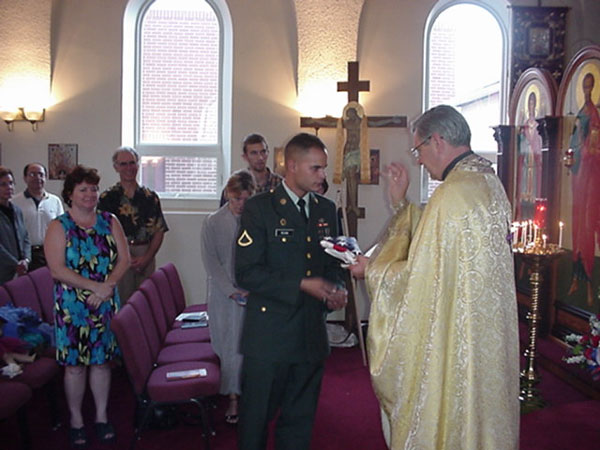 Sunday, St. Luke was visited by Nicholas Anderson from the Army Air born. He came to present St. Luke with a flag that once flew over the Nation's Capital. He has just finished his training. Father Harrison received the flag and gave him a blessing. The flag will be placed next to the 9-11 memorial.
Parish Council Participates In Team Building Workshop

September 2002
In order to better achieve the taks that we have been given, the parish council participated in a Team Building Workshop. This workshop was given by Chuck Engelhart, M.A. In addition to churches, Chuck also works with businesses and individuals. Personality assessments of the council members were completed and evaluated. It was found that our council has almost a perfect mix of task orientied individuals and people oriented individuals. Both are needed for an optimum team relationship. Further work in the area will help to insure that we are working as well as we can to St Luke and the glory of Our Lord.
Church School Begins With A Blessing

September 2002
Church School began this weekend. Father Andrew said a prayer over the children and their teachers. Below Father blesses the children with Holy Water,