Clearly through His teachings, Our Lord and Savior directs us to care for one another and those less fortunate than ourselves. St. Luke Parish attempts to follow these teachings through various charitiable activities and through donations. Below is a short list of some of the organizations aided thru our efforts and pictures of some of the activities we have been involved in.
Current Charities Supported
Orthodox Christian Mission Center
OCA Mission Appeal
Phosadilphia
Deanery Projects
Christ The Savior Orthodox Church
Orthodox Christian Mission Center - donation for India
National Child Safety Council
Coptic Orphans
Parish Of St. Silacs Orthodox Church - Prison Ministry
Orthodox Christian Alumni Assoc. - College sponsorship
International Orthodox Christian Charity - India mission
PASS
Project Mexico
Orthodox Church In America - Beslan Relief Fund
Orthodox Church In America - Florida Hurricane, Relief Fund
Pads Program Operational At St. Lukes
St. Luke's participates as part of the PADS program.( Public Action to Deliver Shelter). The PADS program is supported by churches which house the homeless one evening a week and other churches which cook, deliver and serve dinner and a bag lunch. PADS was started 16 years ago in the Chicago suburbs in response to the discovery of a homeless person who had frozen to death. The program runs from October to April.
St. Luke Parish housed 430 homeless during the 2010-2011 season with 2300 volunteer hours donated.
Feeding The Hungry Children
10 of us went to the LAMP (Lincolnway Area Mobile Packing) event for Feed the Hungry Children, an organization that distributes food to people in 70 different countries. Along with about 50 other volunteers, we packed bags of food (rice, beans, soy, dyhrated vegetables) that will be shipped to various countries.
Supporting African Missionaries
A missionary from Africa visited St. Lukes. We took an offering for his work in Africa and, as we aways do, matched the offering. Fr. Andrew gave him a duplicate Priest robe.
St. Luke Reaches Out Worldwide
While visiting St Luke, Floyd Franz an OCMC Missionary in Romania asked Fr. Andrew for an Orthodox Study Bible to be given to a new Orthodox convert from Hinduism who is studying in Cluj, Romania. Here is a photo of Fr. Calin presenting the Bible. He is from the Maldives, and is a 5th year medical student in Cluj. He was a Hindu before joining the Church. He said that the Maldives are about 40 % Roman Catholic, 30 % Hindu, and maybe 20 or so % being Buddist. There are no Orthodox churches on the island, which is east of Africa in the Indian Ocean. He was most pleased to have it, and I am sure will put it to good use.
Father Andrew's Mission To Romania
Fr. Andrew was on a mission with Floyd Frantz in Romania. He was there for three weeks speaking to Priests and Bishops of the Romanian Orthodox Church. Floyd is a full time missionary sent by the OCMC to help develop alcohol treatment programs and Alcoholic Anonymous groups. Here we see Father Andrew holding the babies who received the donations of baby clothes. This facility is a day care center for babies who are at risk of being abandoned by their mothers because of poverty and alcoholism.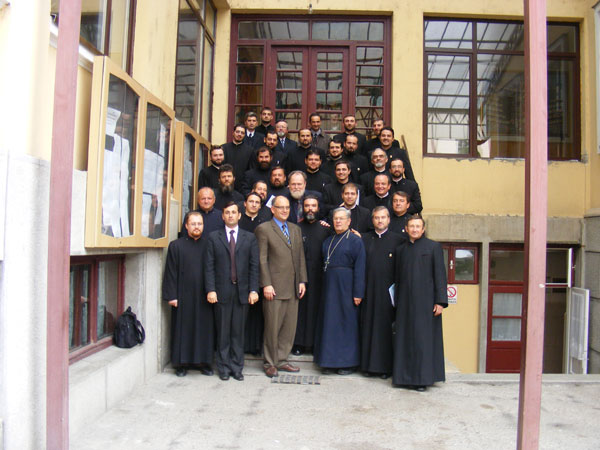 This is a group photo of the participants of the first seminar on Alcoholism presented to the clergy of the Diocese of Cluj. Some of the participants came from as far away as Moldova.
YO Turns Hot Dogs Into Biscuits
Our Youth Organization held a hot dog / ice cream social to raise money for the "Milk and Bisquit Program" for the children in India. This program is funded through the IOCC - International Orthodox Christian Charities. Each day up to 300 street children line up to receive milk and enriched biscuits. Recently Father Andrew and Pat Harrison were in India as missionaries and had a chance to help in this program. To view pictures of this program please click here. Tickets were sold for hot dogs and ice cream.
Mission To India
Indian street children and poor receiving milk and biscuits.
St. Luke Hosts Blood Drive
This Sunday St. Luke Parish sponsored a blood donation drive. Many participated as donors or as volunteer workers. Father Andrew told us that this was one way to support our troops who are being hurt daily in Iraq.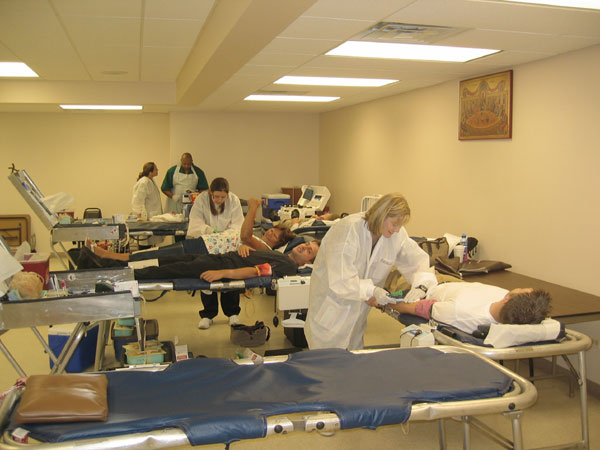 Some of our parishioners dontate blood.
Not to be left out, Father Andrew also gets in the spirit and donates.
Post donation snacks were provided. Our thanks go out to those who gave of themselves for this worthy cause and to our Blood Drive Ministry Leader, Sharon and her helpers.
Garden Center Visitations
St. Luke Parishioners each month accompany Fr. Andrew to the Garden Center For The Handicapped. Here Fr.Andrew is blessing the rooms of the clients that wanted their rooms blessed at his Feb. visit.
Here Fr. Andrew is explaining that St. Valentine's Day is the holiday of love and we should love one another, even those that are not easy to love.
During March's visit Father Andrew talked about lent and how the pretzel was made by Christians to eat during lent. He explained that if you cross your hands over your heart it looks like the pretzel.
Fr. Andrew then passed out pretzels to everyone which was a huge hit.
Christmas Toy Collection
Once again the parishioners of St. Luke Parish participated in the Department of Social Services Christmas Toy Collection. Toys are being collected for 75 foster children. This program is sponsored thru the Orthodox Christian Clergy Association. Here we see some of the gifts turned in for distribution.
Oak Forest Hospital Visitations
For over 20 years, members of our parish have been visiting the patients of Oak Forest Hospital. Our youth have assisted the recreational therapy department in transporting wheelchair patients to hospital activities. Our clergy have provided sacramental visits and church services for the Orthodox patients.
Father Andrew always manages to generate smiles when our patients and their families are visited.
Coat Drive
Food Pantry Collection