HAPPY MOTHER'S DAY
Following Liturgy all our mothers received a gift of a potted flower.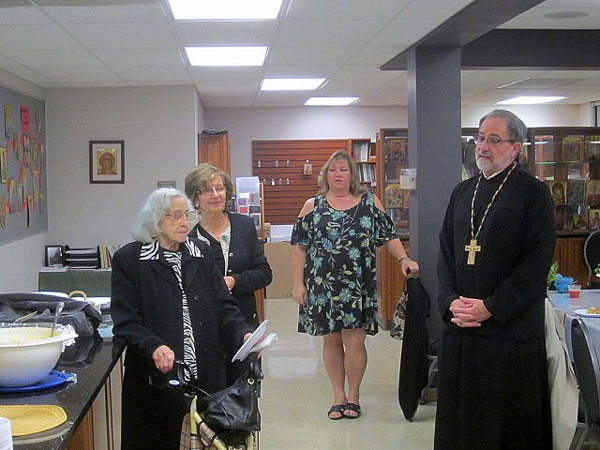 The congregation proceeded to the fellowship hall where the fathers prepared a meal.
A Mother's Day cake was provided for dessert.
Protinica Michelle led the children singing to our mothers. "Many Years" to all our mothers and "Memory Eternal" to all mothers who have fallen asleep.
GARDEN CENTER VISIT FOR MAY
Fr. Andrew started our visit with the story of Pentecost. Pentecost, 50 days after Easter, commemorates the descent of the Holy Spirit upon the apostles. As they were gather in one room, suddenly the sound of a mighty wind was heard rushing through the house and over the head of each man flickered a small flame, a sign the Holy Spirit was with them.
Fr. Andrew told us how a Samaritan woman came to draw water from Jacob's Well, when Jesus said to her, "Give me a drink." She was confused because Jews do not share things in common with Samaritans. But Jesus said to her, "Everyone who drinks of this water will be thirsty again, but those who drink of the water that I will give them will never be thirsty. The water that I will give will become in them a spring of water gushing up to eternal life."
Fr. Andrew had a miniature replica of the pitcher used by the Samaritan woman at Jacob's Well, who in the Orthodox tradition is called St. Photini.
Our visit wouldn't be complete without nibbling on snacks and just enjoying each other's company.
DINNER, FELLOWSHIP, AND BOCCE BALL
This month our Food For The Christian Soul Ministry visited Mama Vesuvio's in Palos Heights.
Arriving diners anticipating a great time.
Matt and Rick show off their Bocce form.
Chuck explains the finer points of the game.
Group photo.
Thanks again for another winning evening.