New Entrance Takes Shape

March 2002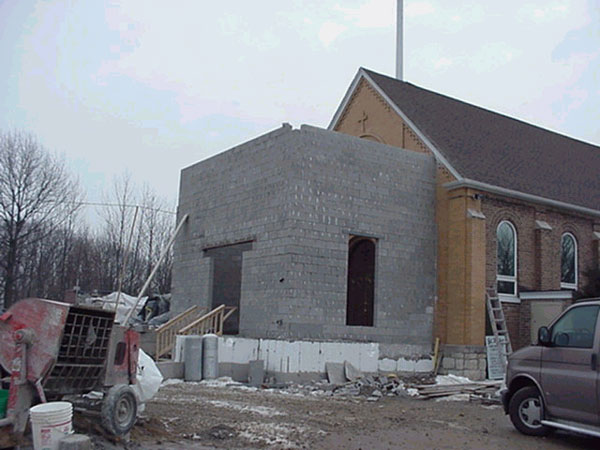 Despite the cold and the snow, construction continues to move ahead. The addition to the front of the Church is seen here.
---
St. Luke Attends Service For Christian Unity

March 2002
St. Luke parishioneers attended the 16th Annual Service Of Prayer For Christian Unity. The service was held in Lemont at SS. Cyril and Methodious Parish at 3.00 P.M. on March 3rd. Archpriest Andrew Harrison spoke concerning the aspects of faith that unite us all and the efforts that are going on to truely bring this about. The St. Luke choir sang Blessed is the Man and participated in singing the rest of the Program.
---
Liturgy In The Catacombs

March 2002
Due to the construction and the cold weather, the front of the Church had to be covered in plastic this week. Liturgy was held in the old basement. The founders of the parish refer to it as the catacombs because of the poor shape it was in when we first purchased the building. Hence Liturgy in the catacombs. Talk about going back to your roots. Following Liturgy, Father Harrison explained some of the events that occur during the Liturgy that the congregation doesn't normally see due to the iconastasis. Everything went smoothly and this will be one of those times that we talk about in the future.
---