CHURCH SCHOOL AND JR. OLYMPICS AWARDS CEREMONY
As Church School went on summer break, St. Luke Parish took this time to recognize all our teaches and students.
At the same time our Jr. Olympic coaches and competitors were acknowledged for their efforts as well.
Group photo.
BOOK CLUB HOLDS MEETING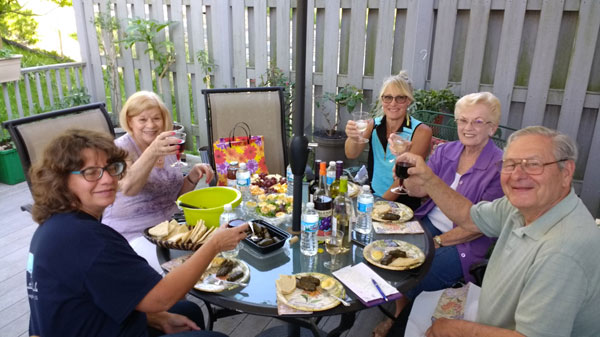 Our Book Club Ministry hold meetings to discuss group readings. Group photo from one of their meetings.
GARDEN CENTER VISIT FOR JUNE
Fr. Paul began our visit with the story of Pentecost. He explained how the apostles were gathered together in the upper room, 50 days after the Resurrection of Christ, when suddenly there came a sound from heaven as of a rushing mighty wind, and a small flame appeared over the apostles heads, a sign that the Holy Spirit is with them.
Fr. Paul told us that God's teachings always comes before the teaching of men, because the Lord is wiser. His commandments are for our salvation, they never change because God never changes. His love is always the same.
Candles were held as we all prayed the Lord's Prayer together.
Our evening ended with snacks and talk of next month's celebration of starting our 18th year visiting with the residents of the Garden Center. We also welcomed the newest resident, Nancy, as she and Jane smiled beautifully to have their picture taken with Fr. Paul.