St. Luke Annual Meeting: Christine Bischoff – Financial Report
Pledges & Donations: HERE
SERVICES & ACTIVITIES THIS WEEK:
Saturday, Feb. 18th, NO VESPERS
Sunday, Feb. 19th, NO MATINS, 9:30am, Div. Liturgy followed by Church School & Coffee Hour
Wednesday, Feb. 22nd, 6:00pm, Orthdoxy 101: Holy tradition & the Sacraments. (Livestreamed) Click HERE for this past Wednesday's class on "Tradition as Doctrine.")
DO WE KNOW LOVE?
Human beings exist solely for the love of God. God is love, and because God is love, we too must know what divine love is in order to be truly human. And this, in a nutshell, is the content and purpose of Orthodox Christianity. For if we were to try and distill our Orthodoxy down into its most basic element, what we would find is that it is all about the eternal love of God the Father manifest within our human realm through the Incarnation of His One and Only Son and the Pentecost of His One and Holy Spirit.
Yet it is here, in relation to the mystery of love as the intrapersonal love shared between the Triune God Father, Son and Holy Spirit, that we find how something has gone wrong in the way we humans love. The scriptures tell us that this is what we call "sin." For one way to define sin is to say that it is the failure to love in the right direction and to the right degree. Instead of our love being directed to God first, we direct it to ourselves and to the idols. Instead of loving God to the degree of offering to Him the whole of our being—body, mind, heart, will, and soul—we offer Him hollow words and empty hearts. Well then did Isaiah prophesy when he spoke for the Lord saying, "These people, they honor me with their lips but their hearts are far from me" (Is. 29:13).
Christ teaches that we cannot love God unless we love each other, and that this also means loving our enemies. He repeatedly emphasizes the same point: that it is not enough for us to love only those people who love us back. Anybody can do that— "for even sinners do the same." Instead, our love must become universal by loving those who we would otherwise judge as being "unlovable," by loving even our enemies.
The issue here is that we define a select number of people whom we deem worthy of our love. And we count them worthy of our love because they love us in return. We call this conditional love: the kind of love that is communicated upon the criterion that there will be some kind of payback. This is the love that exists on a worldly plane, because apart from the commandment of Christ, the only love possible is the love of the dearest and the nearest, of one's family and friends.
But for Christians, love must become something more. The circle of our love must be radically widened. So as children of God, we choose unconditional love by expecting "nothing in return," as God Himself does. In a word, our calling as Christians is to perfect our love so that the manner of our love is equal to the love of God. "A new commandment I give unto you, that you love one another as I have loved you" (John 13:34). Only when we are at this point can we comprehend the reason why we MUST love even our enemies. For most, this command for us to love our enemies is a pious fraud. Yet our love for our enemies proves in the end to be the true measuring stick of the quality of our living because it is motivated by the knowledge that none of us are ever "worthy" of being loved. "But while we were still yet sinners," says St. Paul, "Christ died for us" (Rom. 5:8). At the end of time when we all stand before the Lord in His Glory, this same standard of unconditional love will be the criterion of how we are judged.
Loving those who hate us is no easy thing. How do we love those who have caused us pain and hurt? By letting go of the remembrance of the wrongs, and this is nothing less than a miracle of grace. The devil pushes us to hold on to others' wrongs so that we can take pleasure in adopting the higher moral ground and pass judgment. Even so, we forsake this judgment by denying the devil his due, by renouncing his envy and hate. Loving those who love us is not a difficult thing for anyone to do. But to love those who play the devil's game of insult and injury, this is an act that only the children of God are capable of doing. And only by the sheer grace of God.
Fr. Paul Jannakos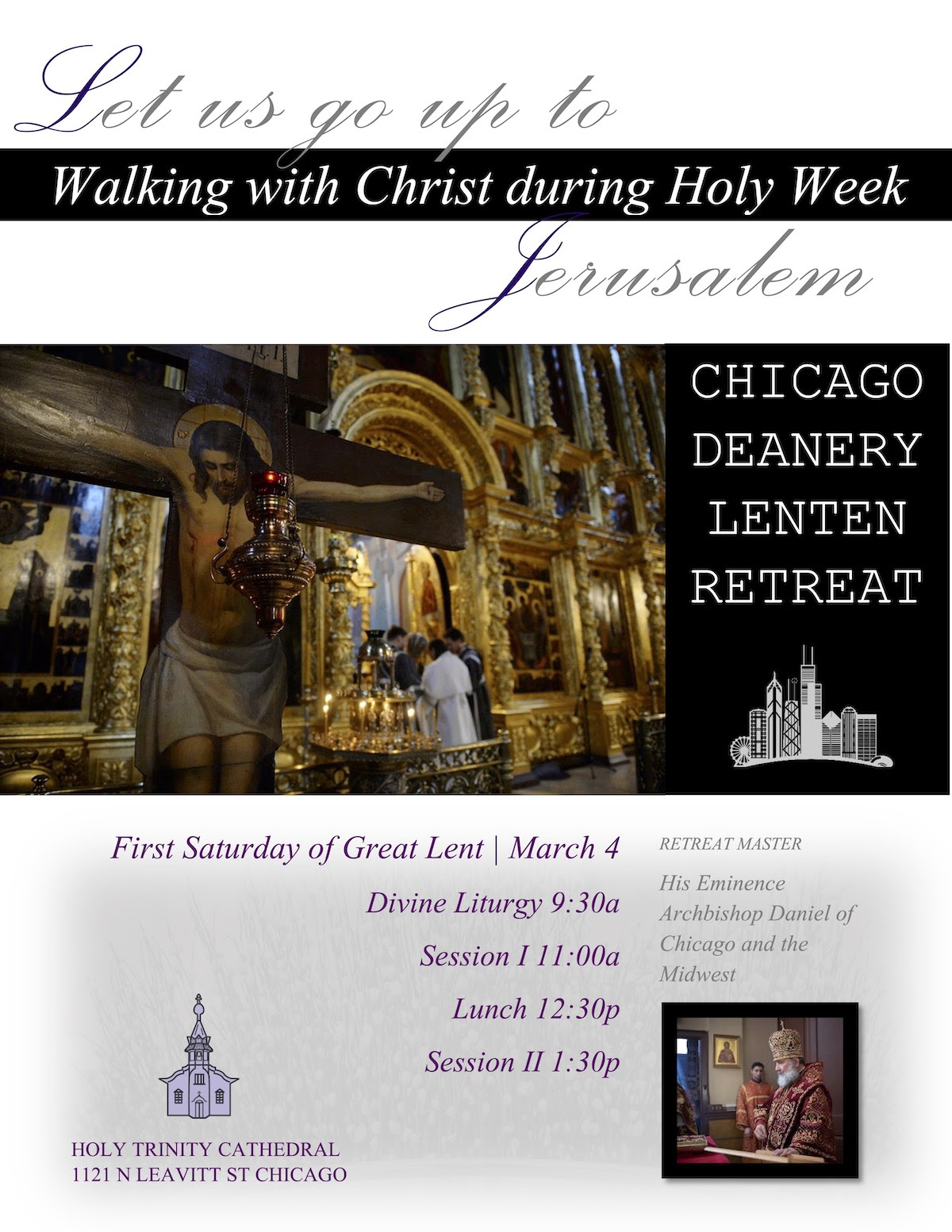 PARISH ANNOUNCEMENTS
GREAT LENT 2023! Great Lent begins this year on Sunday, February 26th – Forgiveness Sunday. Mark your calendars, too, for the first week of Lent and the celebration of the Canon of St. Andrew of Crete. All services begin at 6pm. "A Helper and a Protector has become my salvation!"
IOCC KENTUCKY TRIP: Michaelyn Sloan will be leading a team from St. Luke to participate in the IOCC Kentucky mission trip on the week of March 20-25th. For more information, contact Michaelyn at michaelynsloan@gmail.com. See flier abive.
SUNDAY MARCH 5TH – SUNDAY OF ORTHODOXY On Sunday, March 5th, we are asking the all of our children bring an icon from home (preferably an icon of their patron saint) so that they may be blessed by Fr. Paul. There will be a procession around the Church (weather permitting).
THE FEAST OF HOLY THEOPHANY: Houseblessings have commenced! If you would like to have your house blessed please sign up HERE.
CHEESEFARE SUNDAY BRUNCH: On Sunday, February 26th, we will serve Forgiveness Vespers at 12:30pm with the rite of Holy Forgiveness. There will also be a potluck cheesefare lunch served after the Divine Liturgy: bring your favorite Cheese Dish!
FEBRUARY MONTHLY CHARITY: Our St. Luke monthly charity for the month of January will be the COPTIC ORTHODOX CHRISTIAN MISSION CENTER. Please be generous.
DIOCESAN PARISH ENGAGEMENT SURVEY Our parish has been selected to participate in a Diocesan initiative to gauge the level of Laity Engagement. We are asking everyone to participate in this that is being managed through the Diocese of the Midwest via Survey Monkey. All responses are anonymous. Please be thoughtful, honest, and candid when you complete the survey The survey results will be used to identify ways to strengthen and grow engagement in our parish community. Deadline: February 24, 2023. Thank you for devoting your time and providing candid input. Click HERE to take the survey.
NATIONAL ORTHODOX BABY SHOWER – March 25th!: This event is a nationally-coordinated diaper drive/baby item drive to support women in our communities and help them choose life by partnering with local pregnancy resource centers. The Baby Shower takes place during the month of March to coincide with the Feast of the Annunciation, with items being collected on the Sundays before and after Annunciation (March 25). Pregnancy Resource Centers are nonprofit organizations that exist all over the country to provide medical, educational, material, and support services to countless abortion-vulnerable women and men every year, helping them to choose life. For more information, contact MaryJo Werbianski.
LUBA'S KITCHEN ANNOUNCEMENT: This is a reminder of the duties of coffee hour hosting. Below are key bullet points pertaining to this ministry. HERE are the guide lines. Debbie has made a signup sheet. The food costs and time/energy of hosting are greatly decreased. The fellowship team is looking for weekly coverage for prepping coffee hour and cleaning up afterwards.For many, many months the bulk of coffee hour duties has fallen on Crys and Matthew, with some volunteers at times. The current process is efficient and as mentioned, less costly to serve as a host as the church bears the bulk of the food costs. Thank you for your participation in this weekly ministry. Matthew, Crys and Debbie
DRIVERS FOR ELIJAH'S CHARIOT: Elijah's Chariot – if you would like to help us drive our elderly to Church for services please let Tammy Tsiones know. Click here to sign up: DRIVERS FOR ELIJAH'S CHARIOT SIGN UP.
BOOKSTORE SALE DOWNSTAIRS: Our bookstore sale will now offer the books downstairs in the parish hall for a free will donation. The proceeds from the free will offering for the rest of the books will go to Holy Resurrection monastery.