FOOD FOR THE CHRISTIAN SOUL VISITS BONFIRE STEAK HOUSE
This month the Food For The Christian Soul Ministry met at Bonfire Steak House in Homer Glen.
Group photo.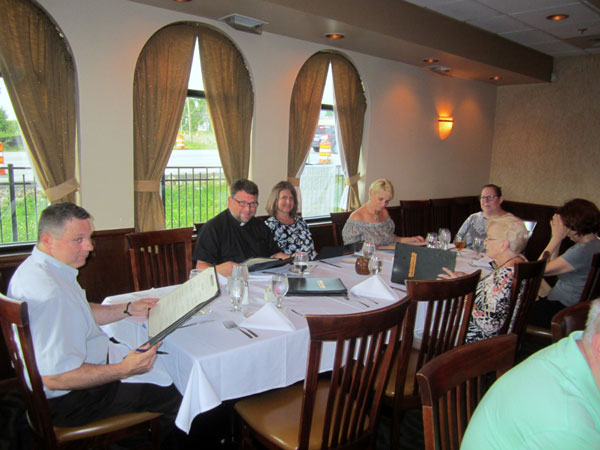 This month was sponsored by St. John's Chapel to commemorate St. John Birthday.
We also celebrated the 41st wedding anniversary of two of our parishioners.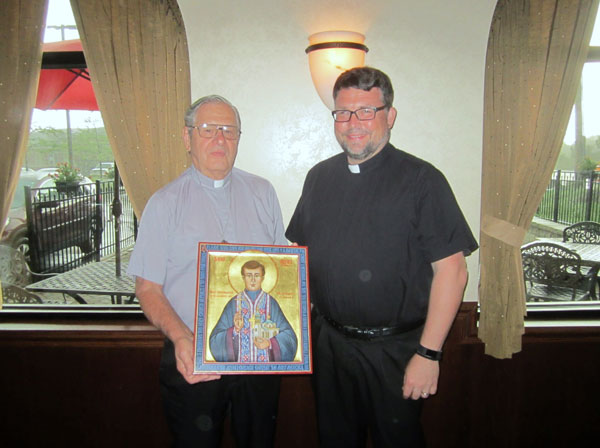 Photo of Fr. Andrew and Deacon John with the new icon of St. John of Chicago.
Caesar Salad.
Lamb Chops.
Sea Bass.
Last but not least, Prime Rib. Once again our thanks for our ministry leader Matt who does such a wonderful job.
A BLESSING OF GRAVES
To celebrate the birthday of the patron Saint of the Chapel St. John of Chicago. Fr. Andrew and supporters of St. Luke South Chapel blessed Graves in Streator Illinois.
A CHRISMATION AT THE CHAPEL
Father Andrew conducts a Chrismation at St. Luke's Chapel.
MISSION TO THE BAHAMAS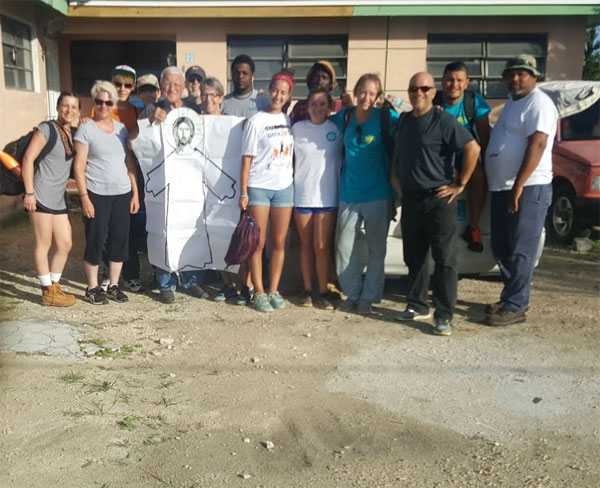 St. Luke's team of 6 joined with IOCC (International Orthodox Christian Charities) and their partner – Bahamas Methodist Habitat – in Nassau, Bahamas, July 1 – 8.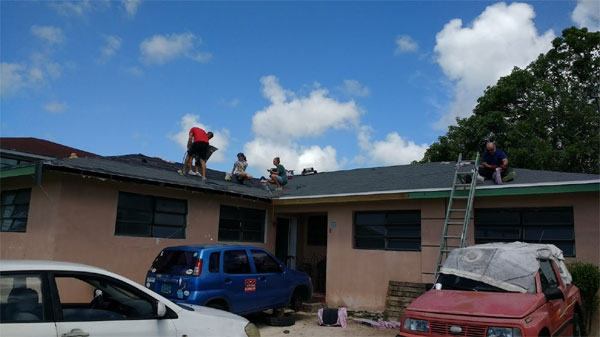 We demolished a roof, filling a 12,000 # dumpster with shingles & debris, and then put on a new roof.
Scene from mission trip.
Scene from mission trip.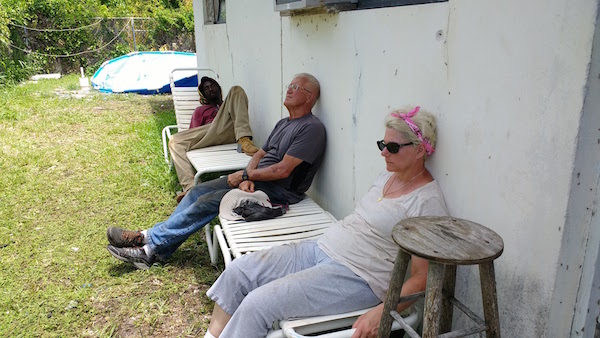 Even missionaries need a rest now and then.
Ebenezer Baptist Church gave us a place to sleep and eat, and the local Greek Orthodox Church community fed us and took us snorkeling and fishing. Our last night there we helped the church cook for 814 people in their weekly program called The Lord's Kitchen in which they feed those in need.
GARDEN CENTER VISIT FOR JULY
Fr. Andrew started our visit with the story of creation. He said God created everything out of nothing and everything He made was very good.
Fr. Andrew brought a icon of St. John of Chicago. St. John helped establish several churches in America. He returned to Russia in 1907 and became the first martyr of the Bolshevik revolution. Fr. Andrew said that saints spread good seeds in the world.
We gathered together for a group picture to celebrate 17 years of visiting the Garden Center clients. The faces have changed through the years, but the warmth and smiles we receive with each visit remains the same, radiant. May God grant us many years with the Garden Center.
Our celebration ended with a beautifully decorated chocolate cake that Christine brought. Chocolate smiles were seen everywhere.
MISSION TO GUATEMALA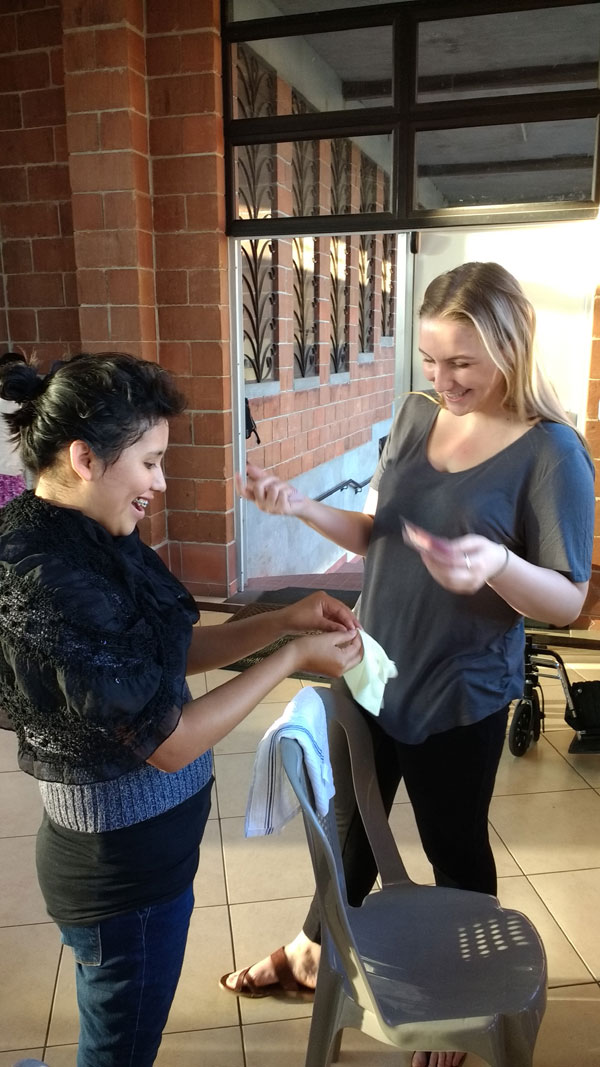 On part 1 of our trip- The team spent time at the Orthodox Monastery, San Miguel Del Lago interacting with the teen girls who live there with the nuns.
We also spent time at the Hogar Rafael Ayau in Guatemala's intercity with the teen boys and Father Antonio and Father Ignacio. Father Andrew and Edgar, one of the boys of the Hogar Rafael Ayau our mission teams have interacted with during the past years.
Two of our team members provided dental care.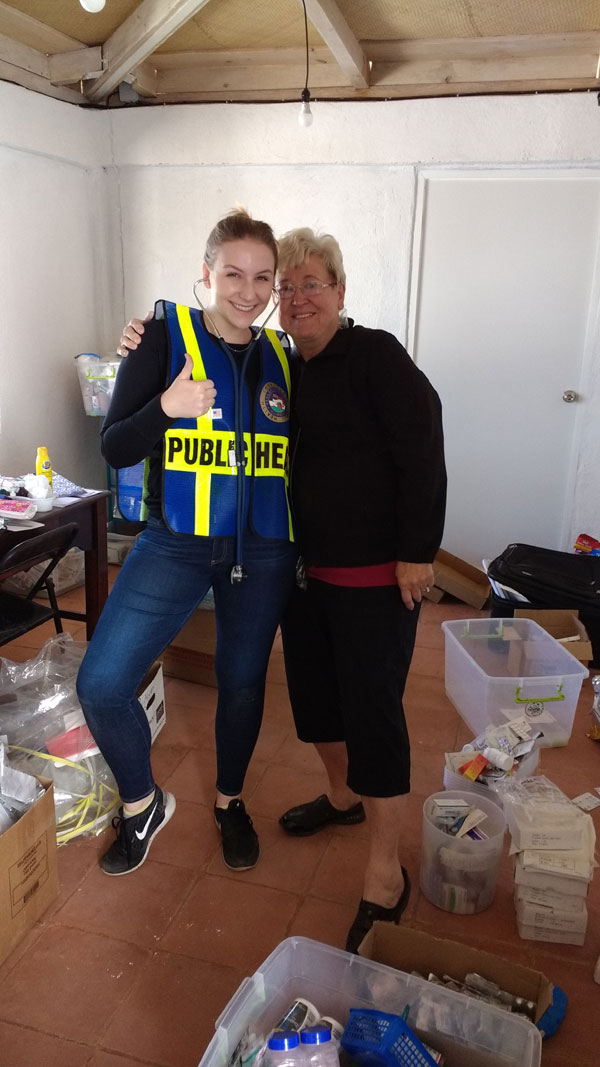 Part 2 of our trip – Our mission team worked in the Mayan village, Momostenago, in the mountains in Guatemala assembling a pharmacy, putting the finishing touches in a new medical clinic and at a school.
Scene from mission trip.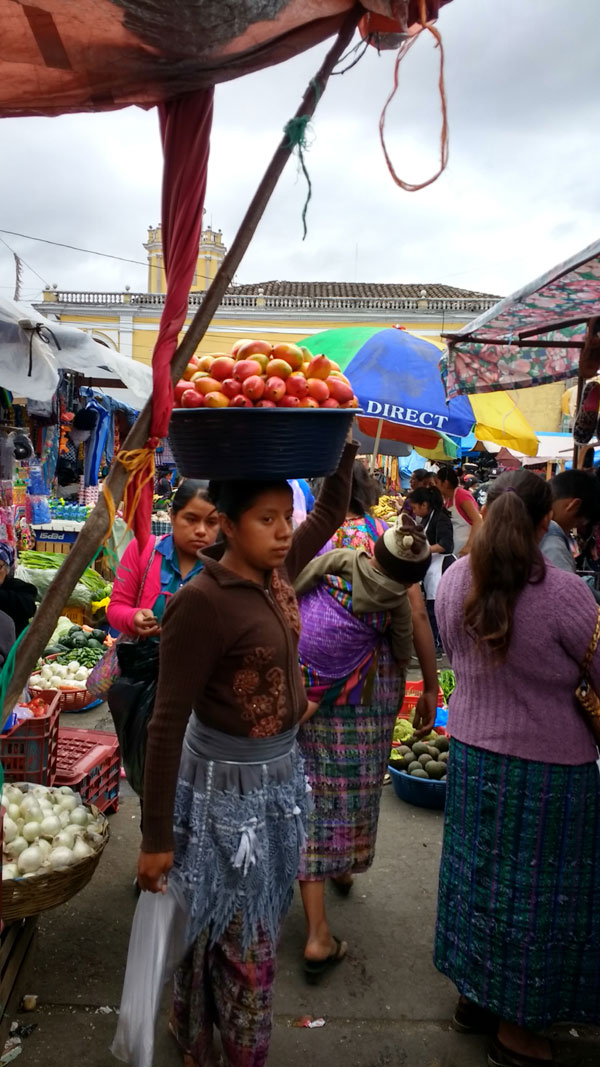 Scene from mission trip.