---
July
Events Are In Sequence - Please Scroll Down
"Mission Update!"
Waiting for the plane.
Each each time we took off Joan, Madeleine, and Andreana looked like this. We had to hold their hands.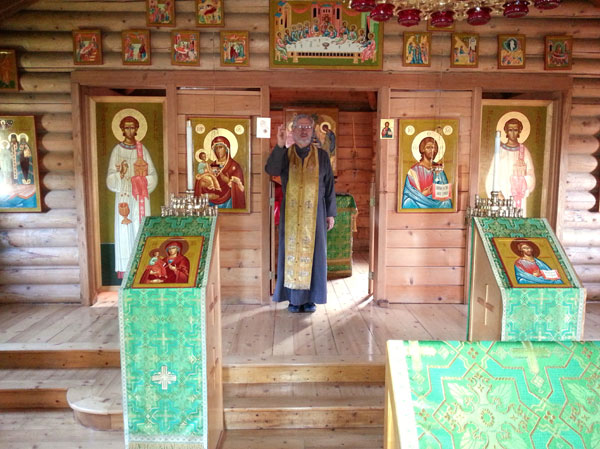 Morning prayers at St. Herman's Seminary chapel.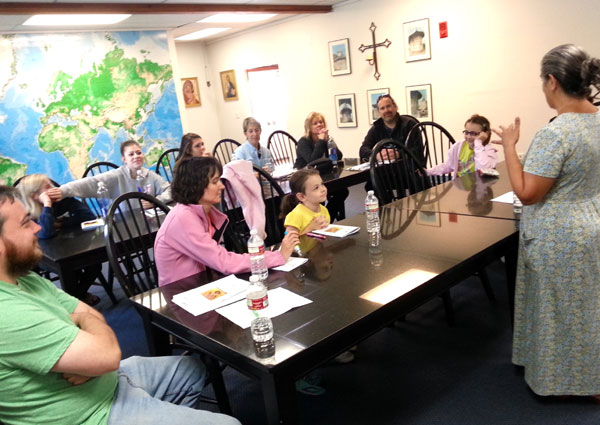 Orientation and team building.
Tour of downtown Kodiak.
Going to Spruce Island by fishing boat. The team is getting on board.
Arrival at Monk's Lagoon where St. Herman lived.
St. Herman's Chapel. This is his burial place.
St. Herman's grave with Fr. Andrew's cross.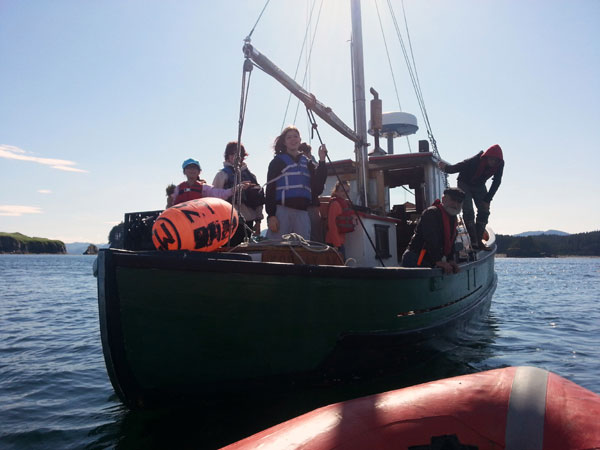 After spending an hour the team returned to the fishing boat for our ride to Ouzinkie where we will begin our week long bible camp for the children of the village. Team members brought back soil and water from St. Herman's grave.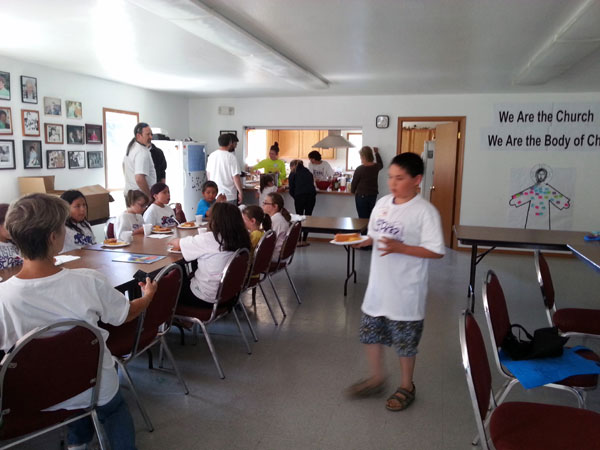 Lunch on our first day. We have 25 children. More will be coming.
We spent the afternoon at the beach. The water was so cold that your legs got numb.
Even though the water was cold, everyone still got wet.
We watched a sea plane land.
Photo taken in front of the Orthodox Church in Ouzinkie.
Lunch at the camp. Fr. Andrew and Andrew a team member from Lavonia, Michigan. We have five members from Michigan.
Michaelyn leading the prosphro baking class. The prosphero will be used in the Liturgy on Friday.
Doing religious art - making Mandelas with three bar crosses.
Prosphro baking.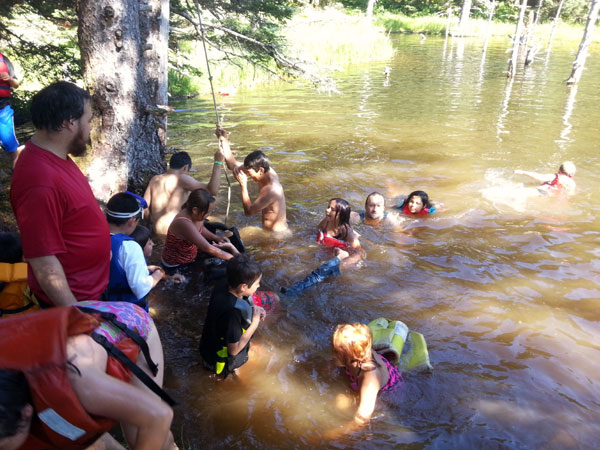 Swimming with the mayor of Ouzinkie - The mayor drove the campers to a lake for a dip. The water was warm on the surface but cold beneath.
Hiking through the forest after the swim.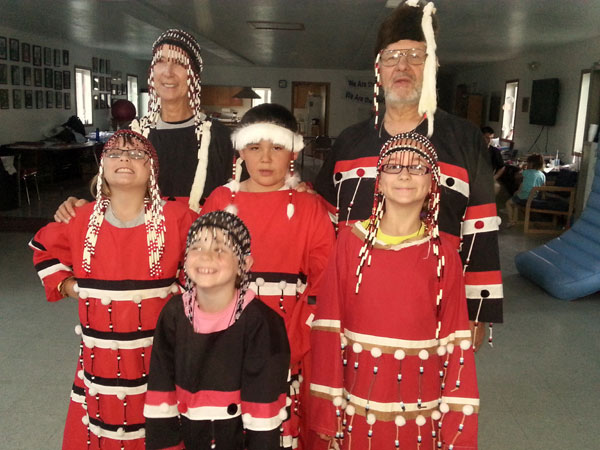 We are in native Alutiiq traditional dancer dress. We are learning the dances.
The mission team was blessed by participating in the baptism of four children. Members of the team became their God parents.
This is Angelina. Andriana baptized her along with Bruce, another member of our team.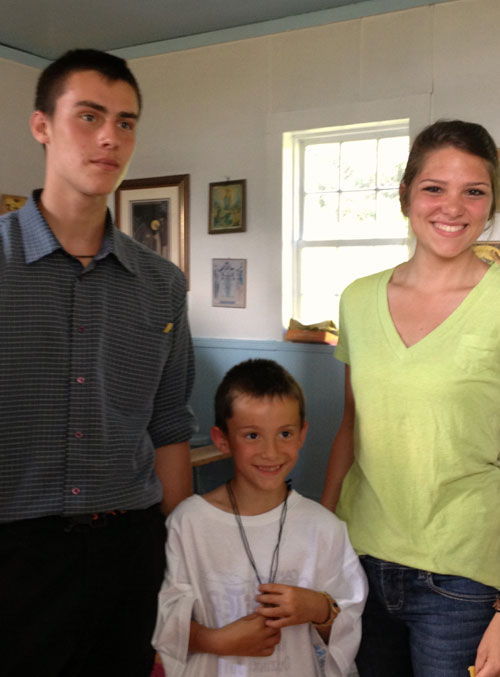 Mark was baptized by Joan and Olav, another member of our team.
Vincent was baptized by Madeline and Olav, another member of our team.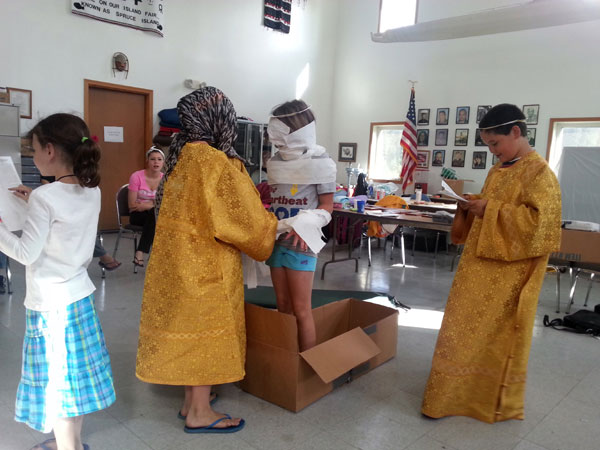 Bible Skit - The children dramatized the raising of Lazarus.
We were at the beach for a camp fire. We leave for Kodiak on Saturday to begin our trip home.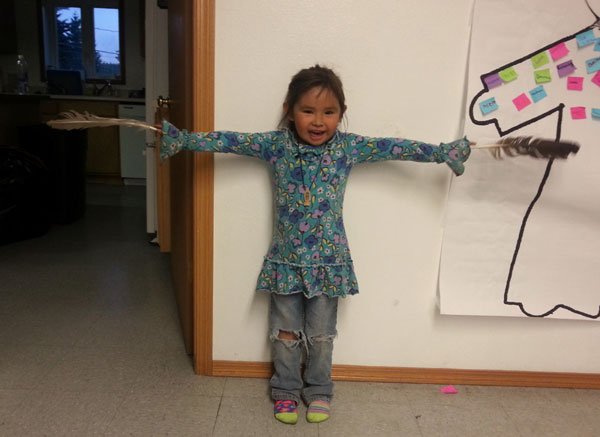 Jasmine - She is our youngest camper. She is pretendlng to be an eagle.
Fr. John and Fr. Andrew celebrated the Divine Liturgy in the Church of the Nativity . The four Children who were baptized yesterday received their first Holy Communion.
The inside of the Church. Daily services were held each morning and evening.
The camp is ended. All of the crafts are displayed on the table. We are waiting for the boat. We were going by plane but we are socked in by fog.
Loading the Naktek Leader - This is the fishing boat that is taking us back to Kodiak.
From Spruce Island to Kodiak by boat.
Passing a deadliest catch fishing boat - We are sailing into Kodiak Harbor.
Arrival in Kodiak.
Visit to the Coast Guard in Kodiak - We had pizza and purchased shirts. Since Father Andrew is retired military we were able go on the base.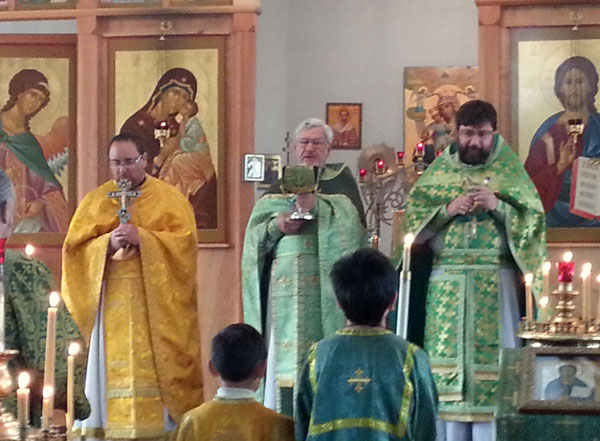 Fr. Andrew served the liturgy at Holy Resurrection Cathedral. The team is scheduled to leave Kodiak today. There is some concern about fog.
Fr. Andrew with his liturgical hat giving the final blessing. All were invited for a fellowship meal which was baked salmon.
We are waiting for our flight to Anchorage then on to Chicago. We arrive at 5 am. The paper drawing of Jesus caused a stir at the airport.
Getting on the plane.
Flying over Kodiak.
"A Blessing For Our Missionaries!"
Our mission teams will be leaving on Friday for Montana and Spruce Island Alaska. Father Andrew read the prayer for commissioning of missionaries and blessed them with Holy Water. He asked all to pray for safe return and for a successful mission.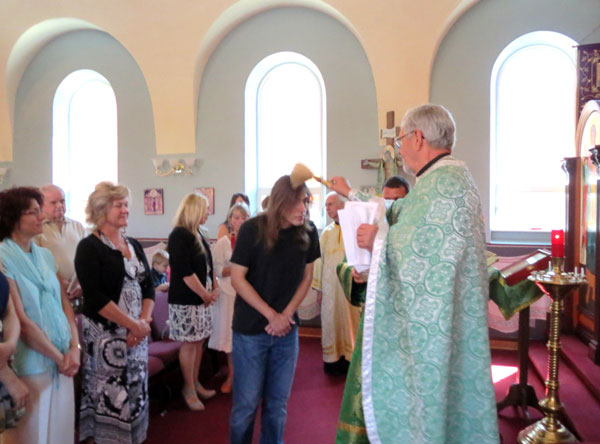 To view the text for the Service for the Commissioning of Missionaries: Click Here.
"God Grant You Many Years!"
This was a big weekend for Sacraments. Chuck now Justin was Chrismated. This was a surprise to his family who have been members of the church for years. We wish him and his family Many Years.
The weekend also included a wedding. Kevin and Diana received the sacrament of Crowning. We wish them Many Years.
"As Many As Have Baptized Into Christ!"
Today Benjamin was baptized and chrismated into the church. Congratulations to him and his family and "God Grant Him Many Years!"
Children's Sermon For July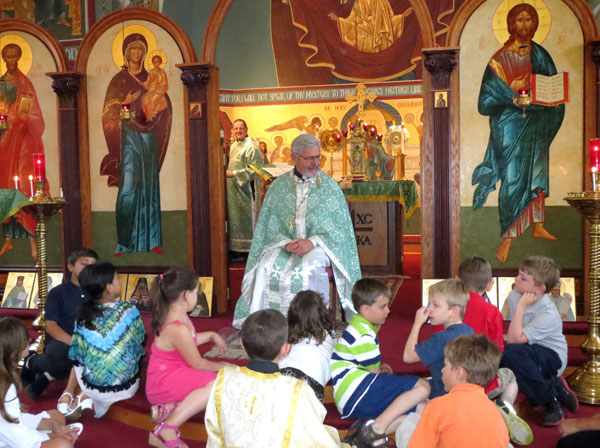 On the Sunday of All Saints of America, Fr. Andrew explained how saints were made in the Orthodox Church. He then told a story about Olga of Alaska who is on the list to be made a saint in the future. She is now praised in her native village of Kwethluk.
For more information: Blessed Olga of Alaska
Garden Center Visit For July
Our visit started with a story about Saints Peter & Paul. St. Peter, the fervent follower of Jesus Christ, and his confession to Jesus, "Thou art the Christ, the Son of the Living God." And St. Paul who spread the word of Christianity and who wrote over one fourth of the New Testament.
Fr. Andrew blessing our new service books.
Celebrating with noise makers and song.
Stea's cup cakes - a celebration of its own.
Picture says it all!
As we begin our 13th year, I would just like to say thank you to the Garden Center for allowing us to be a small part of their lives. Most of the faces have changed since our first visit, but what has remained is the warm smiles on beautiful faces and a joyful enthusiasm that we receive with every visit. Thank you Fr. Andrew for making this all possible.