Events Are In Sequence - Please Scroll Down
Garden Center Halloween Party
Each year the Garden Center School for Mentally challenged Adults sponsors a Halloween Party. The photo shows Christine who is the Ministry leader with her Sister Mary and Caye dancing with the Clients. Fr. Andrew who has been holding services once a month at the Garden school for the past eight years was asked to bless the food.
One of the clients at the Garden center is Evelyne, Mary's aunt. She is dressed in a her Halloween costume between Fr. Andrew and Mary.
Fr. Andrew came dressed in the costume he was given when he was a missionary in India and Caye came as a bird.
Liturgical Ministry Night Out
Each year Fr. Andrew takes the Liturgical ministry out for a day of fun an fellowship. In this way he shows his appreciation for the time and effort they put into supporting the liturgical services. The group photo shows the altar servers, handmaidens and bell ringers at a local bowling alley. After the bowling all were treated with pizza.
Proto Deacon Andrew in great form bowling a strike.
Octoberfest Dinner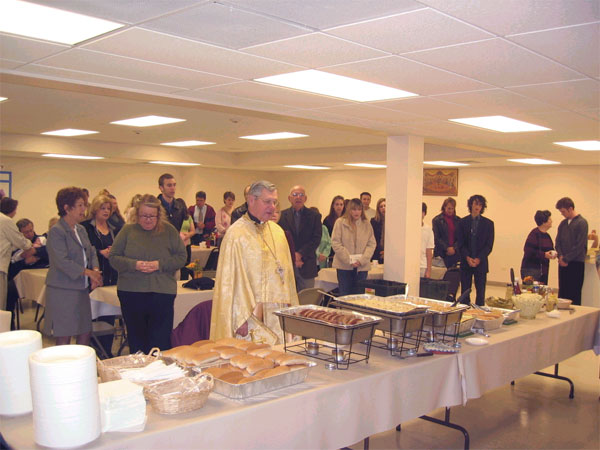 Following Liturgy, our fellowship committee sponsored an Octoberfest dinner in honor of our St. Luke Feastday. Here we see Fr. Andrew blessing the food. All proceeds from this dinner will go to support the mission in Romania.
Missionary To Romania Visits St. Luke Parish
This Sunday St. Luke Parish was honored to have Floyd Franz, an Orthodox Missionary to Romania visit. He presented a power point presentation of his work in Romania with alcoholics and drug addicts. We thank him for coming and sharing his work with us and next month's charity collection will go to help support his missionary works.
Vespers For St. Luke's Feastday
St Luke Parish celebrated it's 22nd patronal feast day with Great Vespers and Litya. Five loaves of special sweet bread called Arto was baked by Aristea for the celebration.

To visit our cookbook for this and many other ethnic recepes. Click Here

Visiting priests, deacons and their congregations were invited to participate in the celebration. The parish's represented were St. Peter and Paul Parish in Burr Ridge, St. Michael Parish in Burbank, and St Panteleimon Parish in Summit.
Lee, founding member of St. Luke Parish and president of The Orthodox Christian Laity - OCL - presented the life of St.Luke. He related St. Luke's talents to the need for all parishioners to be invited to use their talents for the spreading of the Gospel.
After the service all gathered in the parish hall for an evening snack and fellowship prepared by the Community Development team lead by Luba.
Life Chain
St. Luke's, St. Constantine and Helen, and Holy Resurrection Parishes from the Chicago area participated in the Annual Pro Life Chain which celebrates Life as opposed the condemned practice of abortion. The participants commented on the difficulty of getting more people to participate. Next year a concerted effort will be made.
New Gracanica
The third Orthodox Festival of Arts was held at New Gracanica Serbian monastery in Grays Lake. Orthodox Artists came from as far away as Ohio to show their projects and offer them for sale.
There were many activities for children to learn about Orthodox Art and crafts. They participated in classes for constructing mosaic icons and candle making. Various ethnic foods and bake goods were on sale.
The Festival ended with Great Vespers sung by the Pan Orthodox Choir of Chicago in the beautiful monastery chapel.
Diocesan Assembly held in Palatine
Bishop Job, Fr. Andrew and our parish delegate Anthea at the annual Diocesan Assembly held in Palatine Illinois. For information about the landmark decisions of the assembly go to www.midwestdiocese.org