Events Are In Sequence - Please Scroll Down
Junior Olympics
Each year St. Luke participates in the Junior Olympics sponsored by Saints Constantine and Helen Parish. Here is a group photo of our team awaiting the opening ceremonies.
Scene from the opening parade.
Michael prepares to run his race.
Joan prepares for her time.
St. Luke's Relay team waiting to go into action.
On the court we see our 11-13 year old basketball team in action.
Group photo of our 7-10 year old basketball team.
Here we see Sarah with her silver medal for the 7-10 yr old girls softball throw.
Following Liturgy Father Andrew took time to recognize the time and efforts of our olympians and their coaches. Here is a group photo of our olympic team.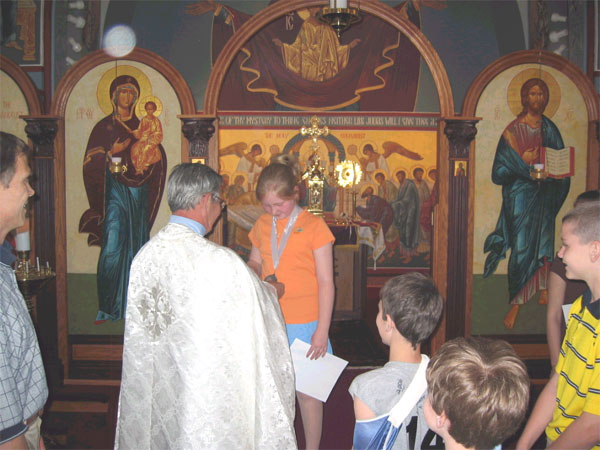 Father Andrew presents one of our olympians with a silver medal won during the competition.
Congratulations to all of our participants and thanks to them and their coaches for all their time and efforts.
A Salute To Our Youth
In many ways this Sunday at St. Luke was a salute to the youth of our parish. With Church School coming to a close for the summer it was a day to recognize the hard work that our students put in during the school year. It was also a time to thank our devoted church school teachers and administor. During the year our choir director spent time teaching the children some hymns. Here we see them singing what they learned.
Awards were presented to several of the students for their efforts during the year. Here Father Andrew blesses the icons that were distributed.
Awards were presented from the youngest.......
to the oldest church school students
With regular school also coming to an end for the summer, graduates from all levels high school thru medical school were recognized as well.
We at St. Luke Parish are blessed to have such a wonder group of talented and devoted young people. We wish for them health, success in their future endeavors, and many years.
Children's Sermon On The Face Of God
In this month's children sermon, Fr. Andrew asked the children what they think God looks like. The children said he has eyes to watch you and a mouth to speak his word and ears to hear you pray and hands to bless you. Fr. Andrew drew a picture of God and explained that he looks like you and me because we are all made in his image. He them asked the children for another name for image. The answer given was: Icon. We are all living icons of God he said.
He them explained that we are made in God's image but we have to work to be like God. We learn about being like God from Jesus Christ who is the perfect Icon of God. So we should learn what Jesus said and did and copy him and then we will be like God.
12th Annual International Orthodox Christian Charities Banquet
Fr. Andrew and six St. Lukians attended the 12th annual International Orthodox Christian Charities banquet. St. Luke parishioners donated $600 to support the work of the Organization. We learned that the 12 years of banquets in Chicago have supported the IOCC to the tune of $1.5 million.The IOCC gives 92% of all donations directly to the needy around the world and the USA. They supplied food and water in the Katrina Hurricane flood relief.
Basement Remodel Nears Completion
This week the floor is being completed in the old basement area. Previously the dry wall and waterproofing were finished and with the completion of the floor, all that remains will be to finish up some odds and ends and the basement will be ready for use.
Happy Mother's Day
This Sunday St. Luke Parish celebrated Mother's Day. At the end of Liturgy, we sang "Many Years" for all the mothers everywhere. Also we sang "Memory Eternal" for all those mothers who have fallen asleep in the Lord. Father Andrew presented a small gift to all the mothers in attendance. We at St. Luke Parish would like to wish all mothers everywhere a happy, safe, and blessed mother's day and thank them for all that they have done.