Events Are In Sequence - Please Scroll Down
St. Luke's Hosts Annual Blood Drive
Once again St. Luke Parish held it's annual bllod drive in cooperation with Heartland Blood Centers.
Workers from the Heartland Blood Center set up equiptment in the fellowship hall.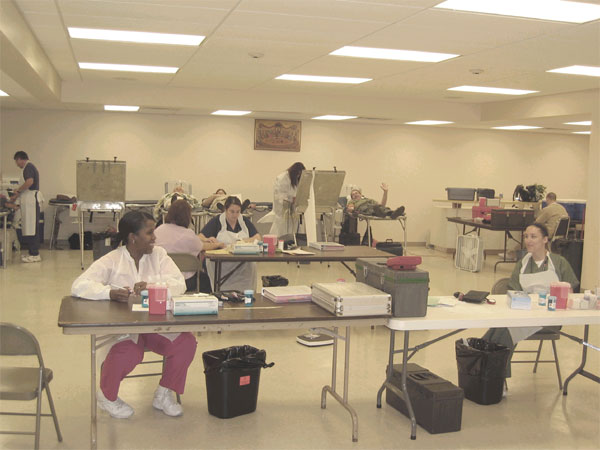 Following Liturgy the blood drive was in full swing.
Parishioners donate of themselves to help others by donating blood.
Our thanks go out to all those who worked on the blood drive, the Heartland Blood Center, those who donated, and to Sharon our Blood Drive Minister for a job well done for such a worthy cause.
A Gift For Fr. Bryon
Fr. Andrew presented this hand made cross to the Very Reverend Byron Papanikolaou who retired after 46 years as rector of St. Constantine and Helen Greek Orthodox Parish in Palos Hills. Because of Fr. Byron, a close relationship between St. Luke and St. Constantine and Helen developed over the years. After the presentation, Fr. Byron thanked and assured Fr. Andrew that the relationship would continue with Fr. Nicholas Jonas as Rector. He also said that as Rector Emeritus he would still continue in active priesthood as long as he was able.
The letter below accompanied this gift.
Dear Father Byron:
"Thou are a priest forever after the order of Melchizedek." (Hebrews 5:6)
Throughout the years you served the Saints Constantine and Helen parish community, you faithfully executed your responsibilities as Presiding Priest. However, your flock will undoubtedly treasure the many times you touched people's lives simply by being present and by being as fully transparent as possible to God's grace.
Even though the Sts. Constantine & Helen website now officially lists you as "emeritus," we know that by your nature you will continue to be to be an assurance of God's love and concern - the kind of assurance that you've given in the past and will continue to offer in the future.
We at Saint Luke are extremely grateful for the role you played in bringing our parishes together. It has been such an honor to call Saints Constantine & Helen Greek Orthodox Church our sister parish. Through our relationship, we have been able to exemplify the living reality of the unity of the Holy Orthodox Church.
And so, we offer you this gift as a token of our love and respect for not only your role as priest and pastor, but as our dear friend in Christ. With it come our prayers that your future years will be served in His name - years with good health, joy, fulfillment and the furtherance of His will.
We thank you for the love and friendship you have shared with our community. From all of us, "AXIOS, AXIOS, AXIOS."
In our Lord,
Very Reverend Andrew Harrison
And the Faithful of the Saint Luke Parish Community
Garden Center Anniversary
This is a group photo of the 25 clients at the Garden Center. This is the eight anniversary of this ministry. Every month, Fr. Andrew holds a Typica service, reads a Bible story, and preaches an object sermon to the clients.
This ministry is directed by Christine Bowen who is about to cut the cake. It the foreground is her sister Evelyn.
All shared this delicious cake. Fr. Andrew extends a open invitation to parishioners who would like to help out and join in this ministry.
A Spiritual Adoption
At the end of the Liturgy an adoption service was celebrated. This service confirms a legal adoption with God's blessings. Fr. Andrew is facing the altar reading the prayers while Proto-deacon Andrew is assisting.
After two prayers the adopted child is called from the altar and kneels down before his new father. In this photo we see Mike place his foot upon his adopted son Alex's neck reciting the bible verse "This is my beloved son on this day I have begotten you".
He then raises him up and they hug and kiss. Just as in a marriage were two become one, the adoption service makes the adoption a blood relationship.
St. Peter And St. Paul Parish Consecration Ceremony
Fr. Andrew and members of St. Luke attended the consecration of St. Peter and Paul Orthodox Church our sister parish in Burr Ridge. In the photo Fr. Stephen is welcoming Archbishop Job. Fr. Andrew is in the background.
Archbishop Job is anointing the holy altar with Holy Chrism while Fr. Raphael, the former rector, and Fr. Stephen are preparing the wax seals on the four corners of the Altar table.
At the end of the consecration all kneel for the final prayers and beginning of the Divine Liturgy. The entire service took about 4 hours.
As Many As Have Been Baptized Into Christ
This Sunday following Liturgy Baby Zoe was baptized into the Orthodox faith. We congradulate our youngest member at St. Luke Parish. God grant to her and her sponsors and parents "Many Years".
Children's Sermon For July
Fr. Andrew is holding a toy snake. He instructed the children about death. He told them that when they first saw the snake they though it was real and were afraid. After they found out that it was not real they were no longer afraid. The bible tells us that death is nothing to be afraid of because Jesus rose from the dead. For those who follow Jesus, death will be a passage into heaven where there is only happiness. We should remember death for a Christian is as harmless as the toy snake.
St. Vladimir's Institute
Fr. Andrew attended this week long continuing education program at St. Vladimir's Seminary in New York. The subject was the Mystery of Death. This photos with Metropolitan Herman was taken on the feast of Sts. Peter and Paul which fell during the institute. Fr. Luke Nelson of St. Michael's in Burbank ILL. also attended.
To view an article concerning the Mystery of Death Here


Photo of a class in session- Participants came from parishes of many jurisdictions and locations in the US and other countries as far away as Russia.