Events Are In Sequence - Please Scroll Down
Parish Council Takes Oath Of Office
Today following Liturgy, our newly elected Parish Council took their oath of office.
Following the reading of the oath each council member kissed the Bible, venerated the Cross, and signed a letter of committment. God grant them the strength and widsom needed during their term in office to do Your Work.
Father Andrew's Ski Trip
Fr. Andrew, an avid skier, traveled to the Colorado ski resorts to check out a ski resort for our youth organization. A trip has been discussed with Chuck Bern who heads our Junior Olympic ministry about organizing a Ski retreat. In this photo Fr. Andrew is pointing out were he would hold services if the retreat become a reality. Fr. Andrew received a offer of a mountain home to be used for the retreat which is only a mile from Sole Vista Ski Resort.
Fr. Andrew trying out the difficulty of the various ski runs. Sole Vista Ski Resort has many beginner runs which will make it easier for the teens to learn how to ski.
Many Years to Roslyn and Michael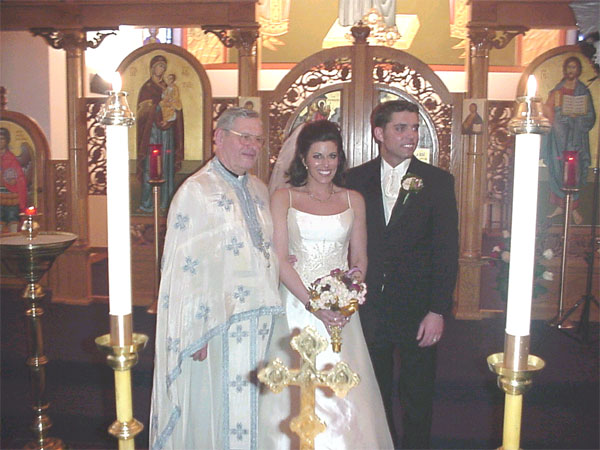 This Sunday was a joyous one for St. Luke Parish as two of their young adults, Roslyn and Michael were joined in Holy Matrimony. Father Andrew Harrison presided over the service which was held as Saints Peter and Paul Parish in Burr Ridge. Here we see Father Harrison with Roslyn and Michael.
Here we have a picture of the wedding party.
Here we see Roslyn and Michael leaving the church following the ceremony. May God grant to them happiness, health, friendship, love and many years!
St. Luke Parish Holds Annual Meeting
This Sunday St. Luke Parish held it's Annual Parish Meeting. Reports from all the officers and ministry leaders were assembled in advance and handed out to all parishioners. At the meeting questions concerning these reports were answered. Also the budget for the year was discussed and approved. This year was an election year for officers and following a vote, the new parish council members were announced. Our thanks to those outgoing council members who worked so hard during their terms and also we pray for guidence and strength for all new and continuing council members in the upcoming year.
Children's Sermon For February
The children's sermon this month was about Zacchaeus. Fr. Andrew asked about being short and who was the shortest. He said that Zacchaeus was a short man who was big in the eyes of God because he climbed a tree to see Jesus.
Fr. Andrew is measured each child to see who was the shortest. The children learned that God loves you even if you are short, weak or skinny. If you are humble and stop being greedy and dishonest Jesus will forgive you and come to visit you in your house.
Youth Group Goes Bowling
Our youth group gathered at the church and following some snacks, went "Cosmic Bowling". Here Maria "high Fives" Kristen on her STRIKE....while Mr. Bern hopes to follow in her footsteps.
It was not all strikes for everyone. Here Theresa walks away....praying the game is almost over.
Quite the look of concentration.
The group gathered for a picture at the Orland Bowl... their concensus "it's a cosmic thing"
Missionary Baptist Church Visits St. Luke Parish
Fr. Andrew Invited Pastor Steve Spiller and his congregation to celebrate the Great Vesper service for the feast of the Meeting of Our Lord. This was the second visit of Missionary Baptist Church to St. Luke. The purpose of the visit was to Learn about the worship of the Orthodox Church. Last Year St. Luke members visited Missionary Baptist Church to learn about their worship. View St. Luke's visit to the Missionary Baptist Church

Fr. Andrew is blessing the five loaves during the Litya part Great Vesper service. Our visitors were trying to follow in the books provided. This was very difficult because of the changeable parts of the service. They were able to sing some of the hymns.
At the end of the service, Fr. Andrew read the prayer for blessing of candles which is traditional on this holiday. He also led the congregation in the Memory Eternal for the newly departed Coretta Scott King.and for Martin Luther King.
Rev Spiller and Fr, Andrew discussing certain significant parts of the service. Rev Spiller noted the sacredness of Orthodox Worship.
Fr. Andrew explained the meaning and use of candles in the Orthodox worship. He particularly emphasized the symbol of the candles as Jesus Christ who enlightens the world. Blessed candles and Artos Bread were then distributed to all as they exited the sanctuary. for the fellowship hall.
Parishioners brought items for a pot luck meal for our guests. This was a wonderful opportunity to get to know each other and share cultural differences. Rev Spiller is a diehard Cubs fan.
Scene from fellowship dinner.
Archbishop's Dinner
Each year Archbishop Job hosts a benefit dinner for the support of Diocesan Seminarians. This year it was held at Erie Cafe in Chicago. This was a very fine restaurant with excellent food. All enjoyed the roast lamb and prime rib. Everyone had a wonderful time even though Archbishop Job was not able to be present.
As Many As Have Baptised Into Christ
As is customary in the Orthodox church newly born infants are baptised and chrismated. Here we see young Maximus being baptised by Father Andrew.
Here we see Maximus with his parents, godparents, and Father Andrew. Congratulations to Maximus and his family and God grant him many years!