Mother's Day at St. Luke
May 13th, 2001
This year's Mother's Day Celebration was run by our youth group. In addition to setting up the coffee hour, carnations and chocolate flowers were given to all the moms. We had to keep our eye on some of the dads who were trying for the chocolate flowers. Thanks to the Youth Group for the wonderful job they did...
---
Concert at the Garden Center
May 7th, 2001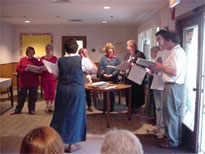 This month's visit to the Garden Center was highlighted by a concert given by members of the choir. "We Have Seen Christ's Resurrection" and "The Angel Cried" were among the numbers performed. Maria Vrame, our choir director, explained the history behind the hymns and took the residents on a trip through our Pashcal Service. At the end she explained the custom of handing our red eggs to one another and gave one to each of the residents.
Father Andrew read from the Gospel Lesson concerning the empty tomb and used an empty glass jar to reinforce it. Father received some help in the service as one of the residents read a biblical passage.