---
February
Pre-Lenten Retreat
This Sunday St. Luke's sponsored a Pre-Lenten retreat called: "A Christian Ending: Spiritual and Practical Essentials" for both men and women. Overview of advance directives, palliative and hospice care, Church and family involvement in end-of-life care, Sacraments, rites and prayer at the end-of-life, Spiritual transformation as a path to healing, Reorienting our lives to Christ. The presenters were Dr. Angela Zekios and Dn. John Segvich.
St. Luke Parish Holds Annual Meeting
This Sunday St. Luke held its Annual Parish Meeting. Parish council and ministry reports were presented and the 2016 budget was presented and approved. Elections were also held for council positions.
Children's Sermon For February
Father Paul spoke to the children concerning the story of Zacchaeus the Tax Collector.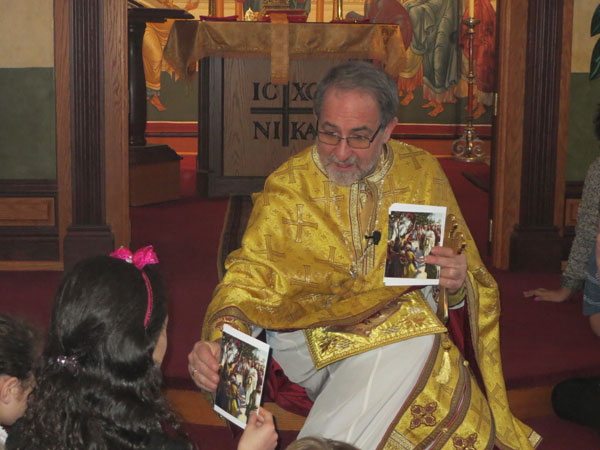 He gave all of the children a picture of Zacchaeus in the sycamore tree looking to see Jesus.
Deacon John made an appearance playing the role of Zacchaeus and he went up into the choir loft (sycamore tree).
Fr. Paul called him down as Jesus called down Zacchaeus.
Group photo.
Garden Center Visit For February
Fr. Paul started our visit with the story of Saul. Saul, appointed by the prophet Samuel, is made the 1st King of Israel. Samuel at the gate of the city told Saul, "Stand thou still awhile, that I may let thee hear the word of God." He then took a vial of oil, poured it upon Saul's head, and kissed him saying, "Behold, the Lord has anointed thee to be chief over His inheritance!"
Fr. Paul told us that Jesus teaches us to pray with our whole heart and in secret. When we pray faithfully we are promised eternal life, which is Heaven. Fr. Paul said, "Heaven is so wonderful, we can't even imagine it, but in trying to describe it he said, "Heaven is even better then chocolate and Disney World."
Visitors from Sts. Peter & Paul Church in Burr Ridge, Joanne and John, were welcomed by Fr. Paul.
Light snacks of carrots and juice were enjoyed along with lively conversation.
Churching Of Kyra Rose Jannakos
This Sunday before Liturgywe celebrated the Churching of Kyra Rose Jannakos. In Christian tradition the Churching of Women is the ceremony wherein a blessing is given to mothers after recovery from childbirth. On the fortieth day after childbirth, the mother is brought to the temple to be churched; that is to say, to receive a blessing as she begins attending church and receiving the Holy Mysteries (Sacraments) once again. They all stand together in the narthex (the entranceway) before the doors of the nave of the temple, facing east. The priest blesses them and says prayers for the woman and the child, giving thanks for their wellbeing and asking God's grace and blessings upon them.
Photo of the parents and grandparents. "God Grant Many Years" to Kyra Rose, Melissa, Nick, Father Paul and Presbytera Michelle.
Bible Study On Ephesians
Fr. Paul is hosting a weekly bible study class on Ephesians. He explains the text and invites us to participate. Approximately 30 have been attending and refreshments are served. Please consider attending if you are able.