---
September
Bahama Breeze
This month Food For The Christian Soul visited Bahama Breeze for a flovor of the Caribbean.
Group photo.
Colorful tropical drinks were served.
Dinner under the palm tree.
Stuffed plantains.
Jerk chicken.
Steak with Chimichurri Sauce.
Once again great food and wonderful fellowship were the order of the day. If these pictures are making you hungry, come join us on the next stop for our Food For The Christian Soul Ministry.
Icon Blessing
The Icon of St. Nektarios of Agenia was blessed. This icon will be hung in the narthex next to the Icon of St. Luke. St. Nektarios has been associated with those suffering from Cancer. There have been many healing's through the prayers offered to him for intercession. It was painted by Cheryl Pituck, a former member, for Fr. Danial and Nadia in memory of the departed of their family. May their memory be eternal.

Click here to read about the life of St. Nektarios on Orthodoxwiki.
Church School Year Begins
This Sunday our church school began a new year. Following Liturgy Fr. Howard prayed for the teachers and children. Here is a group photo of our teachers and children.
911 Memorial Service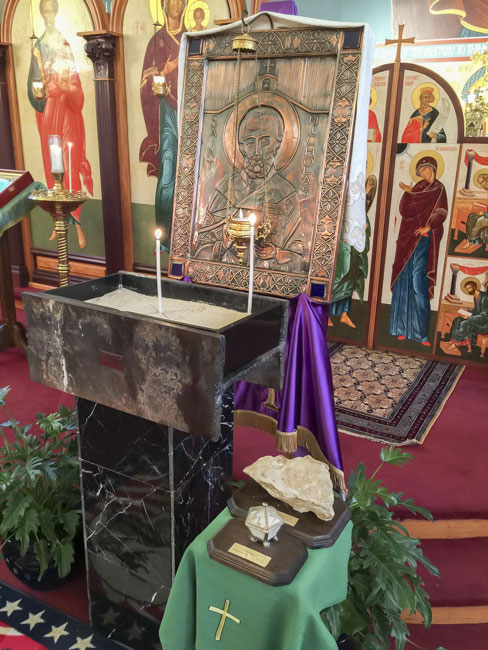 St. Luke Parish held its annual service in remembrance of the tradegy on 911. This photo shows the artifacts St. Luke has acquired from the various 9/11 crash sites.
This shows the icon of St. Nicholas that Fr. Andrew created from Copper in memory of the crushed Greek Orthodox Church of the same name -- which has since been rebuilt.
Fr. Howard spoke and described how our artifacts are actually icons.
Many Years To Father Andrew And Pat On Their 50th Wedding Anniversary
Fr. Howard celebrated the service comemorating Fr. Andrew and Pats 50th wedding anniversary. The prayer service had a renewal of commitment and the crowning prayer.
Fr. Howard is placing the Crowns which are being held over their heads symbolizing the Crowns received in heaven.
The choir sang Many years while Fr. Howard gave the blessing.