---
October
St. Luke's Feastday Celebration
St. Luke Parish held a dinner for its annual feast day. Here is Father Andrew preparing to bless the dinner.
Women and children first for perogies!
Sweet's table is always popular.
75 people came out for the meal.
Maria, helper and students made a banner about St. Luke's.
Melissa Whittley was hired violinist off site Gigsalad.
Katie and her junior high student played the second act. Thanks to all who worked to prepare a nice feast day celebration for all.
Garden Center Visit For October
Fr. Andrew started our visit with the story of Joshua & the Israelite army. They marched around the walls of Jericho once everyday for six days with the priests and the Ark of the Covenant. On the seventh day they marched seven times around the walls, then the priest blew their ram's horns and the Israelite's shouted & the walls of the city fell.
Fr. Andrew held two glasses half way filled with grain. He said one represented God and the other the people. He put some grain in God's glass representing our gifts to God, like going to church, donations and prayer. Then our glass over flowed as Fr. Andrew showed how much more God gives to us and expecting nothing in return.
Rusty joined in Jane's monthly picture with Fr. Andrew.
Last, but always enjoyable, was our refreshments and conversation about the upcoming Halloween party.
Children's Sermon For October
The children's sermon today was about giving without expecting anything in return based on Luke 6: 35.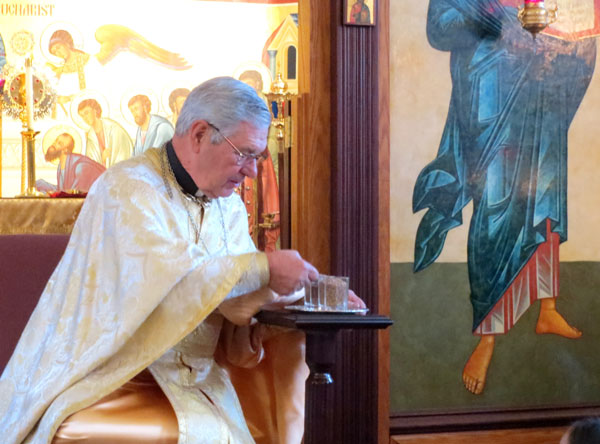 Fr. Andrew filled two cups with wheat. He said in the worlds terms it is fair to expect back when we give. If we give to God expecting nothing in return he gives us a great reward. Father Andrew filled the second cup to overflowing to show have God responds to us when we give our gifts of time and talent to him.