---
September
Events Are In Sequence - Please Scroll Down
Garden Center Visit For September
Fr. Andrew started our visit with the story of Abraham and Sarah. The Lord said to Abram, "Leave your country and your people and go to the land I will show you. I will make you into a great nation. I will bless you. Your descendants will be as many in number as there are stars in the sky." The Lord changed Abram's name to Abraham (Father of Nations)and Saria his wife to Sarah (Princess).
Fr. Andrew held a plant and explained how in order to survive, the leaves have to be connected to the vine. God is the vine and we are the branches. To stay connected to God we must pray, be kind to one another, go to church and also receive communion.
Fr. Andrew then gave all the residents their own plant.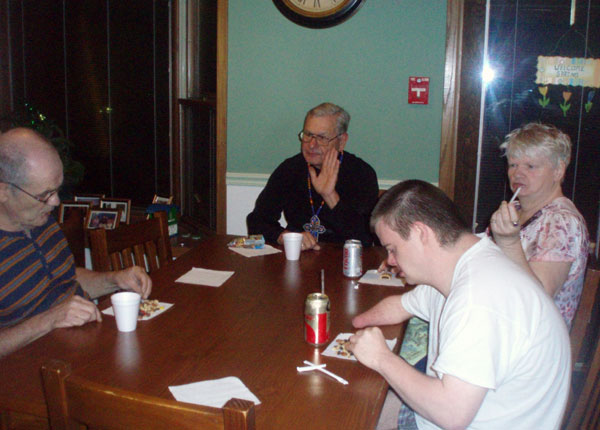 Trail mix and conversation were enjoyed by everyone.
Children's Sermon And Start Of Church School
Fr. Andrew explained the custom of blessing the children which he does at the end of every liturgy. He said the practice goes back to the Old testament where in Geneses 46:14 Isreal blessed Ephraim and Manasseh, Joseph's sons.
He showed them an icon of Christ Blessing the children with the apostles and mothers present. He quoted Mark 10:13 which describes how Christ blessed the children and the apostles were indignant. Jesus said "Let the children come to me, do not hinder them; for to such belongs the kingdom of heaven".
After the sermon Fr. Andrew said the prayer for the beginning of the church school year.
Then he blessed the children and teachers with holy water.
He then blessed and new mural of Christ blessing the children which was donated by the Johnson family for their grand children.