---
November
Events Are In Sequence - Please Scroll Down
Stewardship Sunday
Fr. Paul Jannakos and Fr. Andrew together at the end of the Liturgy. This was the first time Fr. Andrew and Fr. Paul served together. Fr. Paul grew up in Colorado and was a parishioner of St. Herman's when Fr. Andrew was rector. Fr. Paul's father Nick was Fr. Andrew's subdeacon and chanter.
On Stewardship Sunday, the Estimate of Giving cards are collected and blessed. They will be used to establish the 2015 budget. Fr. Andrew has been preaching on Stewardship for the past two Sundays. Fr. Paul finished the series with his sermon on the greedy land owner who was building bigger barns so he could eat, drink and be merry when God called him to account for his greed.
Advent Retreat
Fr. Paul was the Advent retreat leader. His power point presentation on the book of Revelation was well received by the 44 members and guests who attended.
He outlined the origin of the book and explained the late acceptance into the canon of scripture as one of the reasons why it is not read in any of the liturgical services of the Orthodox Church.
He pointed out how the book has a history of misinterpretation since it describes events happening at the time when it was written. He said since it is highly symbolic we must be careful about applying the symbols to modern events.
Devon Seafood And Steak Next Stop For Food For The Christian Soul
Devon Seafood And Steak was the next stop for our Food For the Christian Soul Ministry.
17 were in attendence and a wonderful time was had by all.
Icon Blessing
The reading for Sunday was about the healing of Jairus's Daughter. At the end of the Liturgy, Fr. Andrew with newly ordained Deacon John's assistance, blessed the mural depicting Christ resuscitating her after he told her father and mother that she was only sleeping. Luke 8: 41-56
Garden Center Visit For November
Fr. Andrew started our visit with a story about Abraham. How God in order to test Abraham's faith, told him he must sacrifice his son Isaac. Abraham was obedient to God's will and was preparing to plunge a knife into Isaac's breast, when he heard the voice of the angel of the Lord, telling him not to hurt his son. Abraham had proved his love for God by his willingness to sacrifice his child. God then blessed Abraham and Isaac.
Fr. Andrew told a story about two men who both were paid their wages and an apple. The first man hid his apple because he didn't want to share it with anyone, forget about it and it became rotten. The second man shared his apple with his mother and sister. Because he shared, all three enjoyed the apple. God gives blessing willing to us and we should give willing to others.
Janet reciting her "Thanksgiving Gobble Gobble Poem".
Refreshments and conversation were enjoyed by all.
Children's Sermon For November
The childrens sermon this month was about stewardship and using money wisely. Fr. Andrew told a story about someone who was given seeds he could either eat all or save some for planting.
He quoted the verse from the bible about sowing bountifully and sowing sparingly. He compared the seeds to the money we receive. We can spend it all or give some of it to God through his Church.
God promised that if we are generous he will be generous with the gifts he give us. Father then passed out a plastic bag with a pumpkin seed and the verse about sowing. 2 Corinthians 9:6
Icon Blessing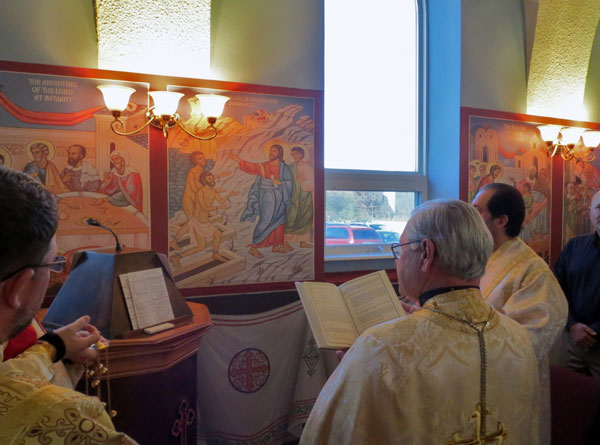 Since the Gospel reading on Sunday was about the healing of the Gerasene demoniacs (Luke 8:26-39), Fr. Andrew blessed the new wall mural depicting this Gospel story.