---
August
Events Are In Sequence - Please Scroll Down
Pilgrimage to Alaska for the feast day of St. Herman
Fr. Andrew attended the services in Kodiak and Spruce Island which included an Akathist, Divine Liturgy and Ordination. The services on August 9th were celebrated by His Grace David the new ruling Bishop of Alaska and His Grace Yov of Edmonton Canada with 11 priests 5 deacons, subdeacons and other altar servers.
Fr. Andrew with Fr. Nicholas standing in front of the relics of St. Herman. Fr. Nicholas Harris is a distant relative of Fr. Andrew. They both came from St. Michael's parish in Philadelphia. This was the first time they served together. Fr. Harris was the founding priest of St. Innocent Church in Anchorage and now is retired residing in Florida.
An Akathist to St. Herman took place on Spruce Island on Sunday August 10th because of the fog and stormy sea. There was a brief window of better weather so boats were able to leave for Spruce Island at 5:30 PM. Three boats had to return because of navigation problems .
Fr. Andrew clothed in a rain jacket and Coast Guard cap sailing in an open boat captained by Fr. Innocent Dresdow rector of Holy Resurrection parish in Kodiak. On the trip back all were soaked because of the rain and heavy seas.
Bishop David and Father Victor, Chancellor of the diocese of Alaska on the beach at Spruce Island getting ready to walk the path up to St. Herman's Shrine.
Walking up the path to the shrine. This is an example of the lush foliage on Spruce island. Most of what you see besides spruce trees covered with moss are berry plants which you can eat along the path.
Inside of the church built over the grave of St. Herman. This is where the Akathist service was celebrated by Bishop David. The body of St. Herman rests in the Church of the Holy Resurrection in Kodiak. It was taken there when he was canonized in 1972.
The spring near the Church. Many pilgrims take soil from his grave site and holy water from this spring. Fr. Andrew brought water back and poured it into St. Luke's well. This will give our parish a connection to St. Herman.
After the final services Bishop Yov gave gave Bishop David a Panagia from the Russian Orthodox Diocesan of Canada and Bishop David gave him gifts of native Alaskan artwork.
The chapel at St. Herman's seminary. Fr. John Dunlap Dean of St. Herman's was so kind to allow Fr. Andrew to stay in one of the seminary apartments. He discussed the possibility of sending a mission team to help with repairs on the seminary building and maybe a fishing trip with Fr. Innocent.
Click here to read about this bell.

The next issue of the evangelist will be about this and another mystery bell.
Children's Sermon For August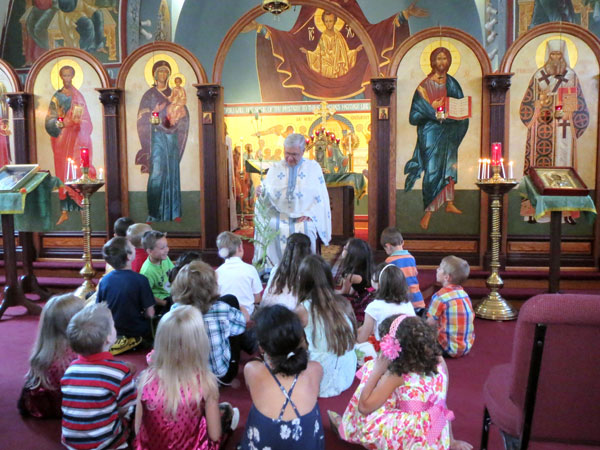 The children's sermon was about weeds. Fr. Andrew is holding a weed taken from a garden. He explained that weeds are bad plants that try to takeover the garden. Sins are like a weeds. They try to fool us into thinking they are not weeds so they can grow without being seen. Sin is telling lies, cheating, disobeying, stealing and hating.
Just like weeds, Sins have to be pulled up or they will take over our lives and keep us from growing up as good Christians. He quoted 1 John 1:7 about how the blood of Jesus Christ cleans us from all sin. This is why we take Holy Communion.