---
September
Events Are In Sequence - Please Scroll Down
Garden Center Visit For September
Fr. Andrew started our visit with a story about the apostle, St. Jude Thaddeus. St. Jude was a prayerful man that people prayed to for help in hopeless and desperate cases. He was Martyred in Persia and his body was moved to Rome where it rests at Peter's Basilica.
Fr. Andrew explained as he held a small notebook, that Jesus is the only One we worship, and not our possessions.
He then gave everyone a notebook and we sang many years for two clients celebrating their birthday this week.
Another treat for the clients was the visit of John. Not a month goes by, that Rusty doesn't request John's company. Rusty was happy.
As always our visit ended with conversation and cake.
A Visit To Wrigley Field
Fr. Andrew and Fr Alexander Webster took a tour of Wrigley field . Fr. Alexander was the guest speaker at the annual 9/11 memorial program. He is an avid baseball fan. This photo is from the press box.
This photo was taken standing in front of the Cubs dug out. Fr. Alexander wanted to see the second oldest ball park next to Fenway field while in Chicago.
Sitting in the Cubs dig out. This was Fr. Andrew's first visit to Wrigley field. He said he guesses he will have to become a Cubs fan.
The Cubs Locker room with all the ball player shirts hanging prepared for the next home game.
The framed Ernie Banks shirt was hanging on the wall of the locker room. Fr. Alexander wanted this photo.
St. Luke Parish Hosts Annual 911 Memorial
2012 Patriot's Day Memorial commemorating those who perished in the 2001 attacks.
Bell Tower dedicated to those who perished in the 2001 attacks, Flight 93 Memorial Flag and Remember 9/11 Flag, as well as our banner to advertise our annual Memorial.
Banner large enough to get the attention of passers by of our annual Memorial.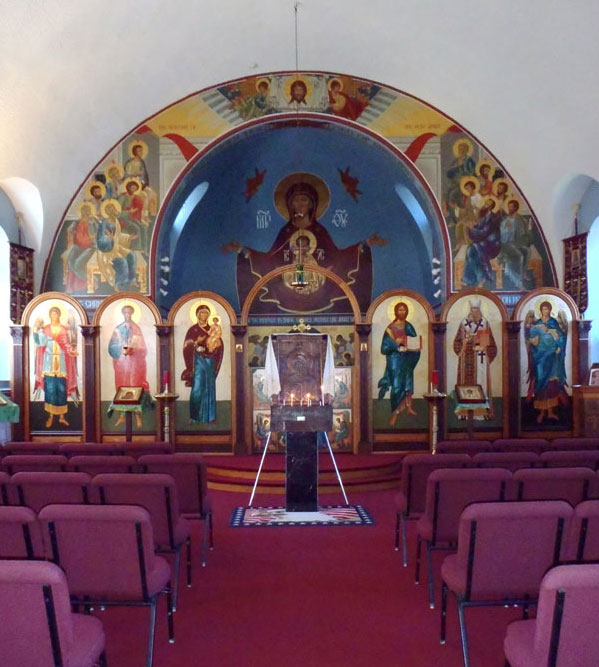 Twin Towers I-Beam and copper Icon of St. Nicholas church which was destroyed in the attack.
Gavin Quinn (bagpiper) and CAPS presenting Old Glory at the start of the Memorial.
CAPS saluting Old Glory at the start of the Memorial.
Rev. Alexander C. F. Webster, guest speaker, presenting his 9/11 experience.
Tom Lambros-Bornstein explaining a Jewish prayer for those who perished.
CAPS reading the names of the Fallen Military from Illinois who have fought Terrorism for our Freedom since the initial attacks.
Closing procession at the end of the Memorial.
Group photo.
St. Luke Parish Hosts Annual Blood Drive
Heartland Blood Centers arrives to set up for our annual blood drive.
Diane and Sue register the donors.
Donors answer questions and prepare for donation.
Donors giving their blood so others may benefit -- thank you donors!
Church School Begins A New Year
The opening day of our 2012-2013 church school program. The service for the begining of study was celebrated.
All the 77 children and 10 teachers were blessed with Holy water.
Children's Sermon For September
Children Sermons at St. Luke are preached on the first Sunday of the month at the end of the Divine Liturgy. The sermon this month was about St. John the Baptist.
St. John said he was unworthy to tie Jesus' shoes. Jesus wants us to serve him by helping each other. Father tied the shoes of a child as an example.