---
December
Events Are In Sequence - Please Scroll Down
Blessing Of St. Basil's Bread!
Each Year on St. Basil's feast day bread is blessed with a golden coin baked inside. The blessing commemorates the life and works of St. Basil who distributed his wealth to the poor by using loaves of bread with gold coins baked inside.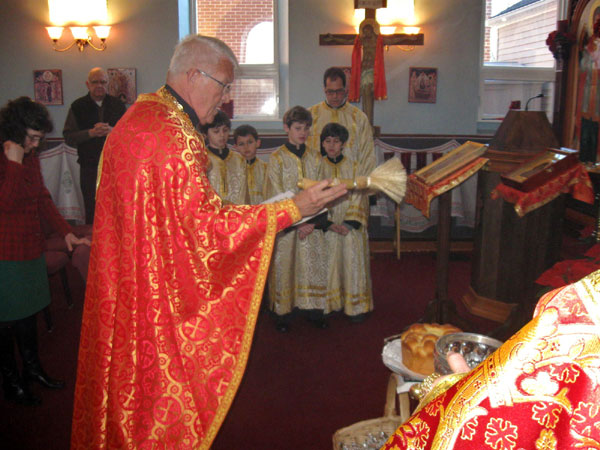 Father Howard blesses the bread.
Parishioners each received a piece of the bread as they left the church.
Our lucky parishioner with her coin.
Christ Is Born! Glorify Him!
St. Luke Parish held it's annual Lenten Holy Supper on the Eve of the Nativity. This supper is pot luck style with the parishioners bringing different dishes that are non meat and non dairy. Tradition is that there should be twelve different dishes which is symbolic of the tweleve apostles and it should be eaten without pepper or knives. Pepper symbolizes arguments and knives the cutting of friendships. The parishioners gathered by candlelight for a short prayer service performed by Father Andrew which began the Holy Supper.
Scene from the Lenten Holy Supper.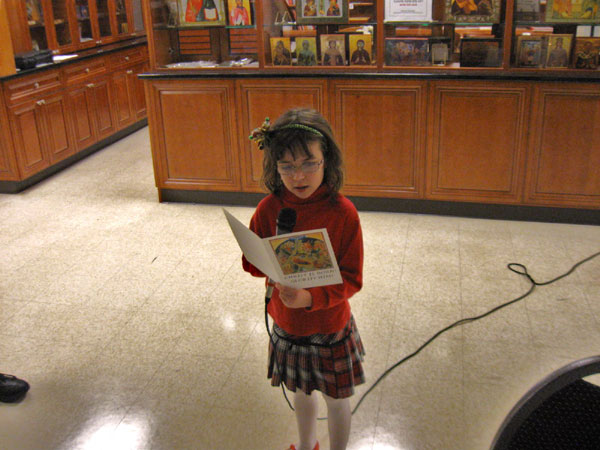 It is our tradition that the youngest read the following passage from Matthew 2: 1-12. Now after Jesus was born in Bethlehem of Judea in the days of Herod the king, behold, wise men from the East came to Jerusalem saying, "Where is He who has been born King of the Jews? For we have seen His star in the East and have come to worship Him." When Herod the king heard this , he was troubled, and all Jerusalem with him. And when he had gathered all the chief priest and scribes of the people together, he inquired of them where the Christ was to be born. So they said to him, "In Bethlehem of Judea, for thus it is written by the prophet:
'But you, Bethlehem, in the land of Judah,
Are not the least among the rulers of Judah,
For out of you shall come a Ruler
Who will shepherd My people Israel.'"
Then Herod, when he had secretly called the wise men, determined from them what time the star appeared. And he sent them to Bethlehem and said, "Go and search carefully for the young Child, and when you have found Him, bring back word to me, that I may come and worship Him also." When they heard the King, they departed; and behold, the star which they had seen in the East went before them, till it came and stood over where the young child was. When they saw the star, they rejoiced with exceedingly great joy. And when they had come into the house, they saw the young Child with Mary His mother, and fell down and worshipped Him. And when they ahd opened their treasures, they presented gifts to Him: gold, frankincense, and myrrh. Then, being divinely warned in a dream that they should not return to Herod, they departed for their own country another way.
Father Andrew blesses the honey, bread and garlic on the table. Father Andrew then placed honey on the forehead of everyone with the words, "May we all love one another as the bee loves honey."
Next wine was shared by all saying "Unite us in Faith and Love."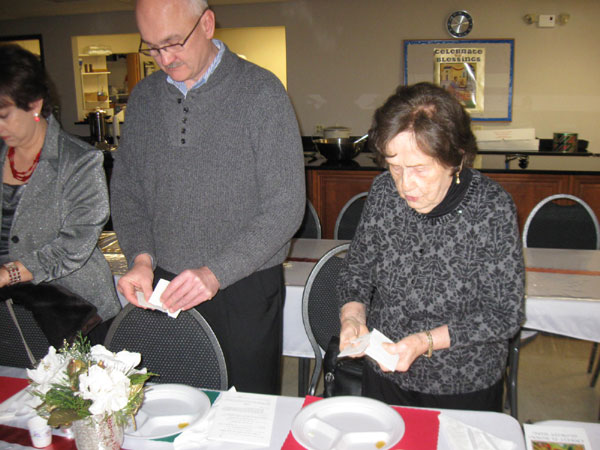 Parishioners share the unleavened Bread called Oplacki.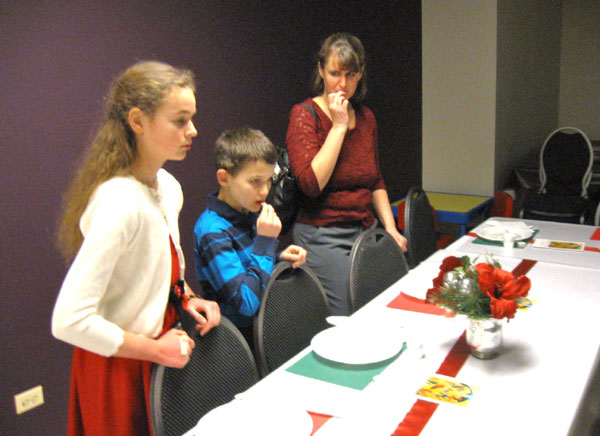 After this everyone took a piece of garlic and ate it saying,"May God Spare us from all Evil."
The Lenten Holy Supper is served.
The evening culminated in the Christmas Vigil Service.
Church School Christmas Pageant
This Sunday our church school held its annual Christmas Pageant.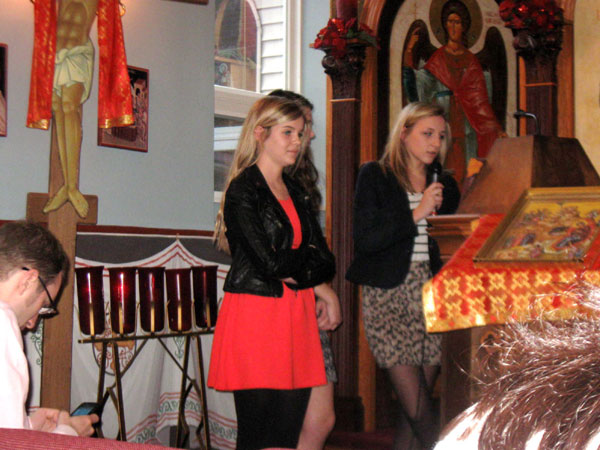 Our narrators.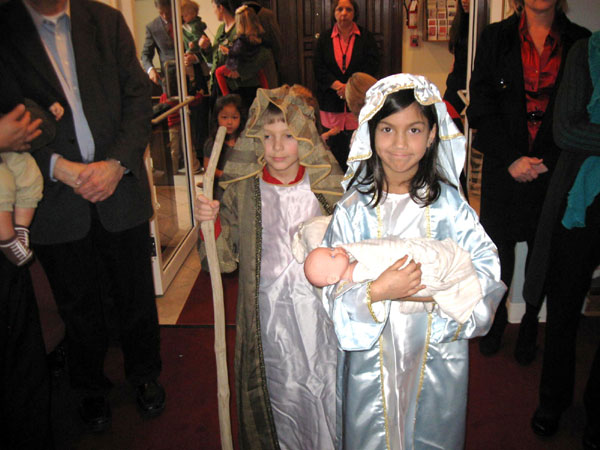 Mary and Joseph.
Scene from the pageant.
Our thanks go out to all who worked to present us with another wonderful pageant.
Memorial For Sandy Hook Victims
Fr. Andrew read a message of condolence by Metropolitan Tikhon representing the Synod of Bishops of the Orthodox Church in America. (See Below) During the liturgy 27 candles were placed on the altar for each of the Sandy Hook elementary teachers and children.
---
As widely reported in the media on Friday, December 14, 2012, twenty-six individuals—twenty of whom were elementary school children—perished at Sandy Hook School, Newtown, CT, when a lone 20-year-old gunman entered the school and opened fire on students and faculty alike.
Upon learning of the tragedy, His Beatitude, Metropolitan Tikhon, released the following letter to the faithful.
"My dear brothers and sisters in Christ,
"All of us have been shaken by the news of the tragic death of twenty young children and six adults at the Sandy Hook Elementary School in Newtown, Connecticut. All of a sudden, the image of Rachel, who was 'weeping for her children and refusing to be comforted, because they are no more' [Jeremiah 31:15], becomes more than simply a passage from scripture. Rather, it becomes an unfortunate reality in the lives of those affected by the senseless incident and in our own hearts, as we share in their lamentation and sorrow.
"None of us can truly understand the personal distress that so many are facing today. Yet every one of us knows the reality of such tragedy and experience it in the depths of our hearts. Our very being is shaken and we feel powerless to do anything. Nevertheless, we make an effort to direct our prayers towards the families of those who have lost their most dear ones, most of whom are innocent and pure children.
"Concerning those who have fallen asleep, Saint Paul exhorts us not to "grieve even as others who have no hope" [1 Thessalonians 4:13]. And yet, herein he does not forbid us from grieving. Now is the time for us to weep, but we must weep with the firm hope that comes from our faith in our Lord Jesus Christ. "Shed tears, but remain calm; weep modestly, and with fear of God," writes Saint John Chrysostom. And following this example, each of us must strive to transform our sorrow into prayer.
"I therefore call on the clergy and the faithful of the Orthodox Church in America to offer fervent prayers for the souls of those whose lives have been so brutally cut short and for the consolation of all those whose existence has been shattered by this unfathomable event. I also ask that those who are physically able to offer their services to the grieving and the broken-hearted, both in the Newtown community and throughout this land.
"It is at times like this that we must put our faith into action and offer our Christian support and love, to make our prayers concrete through action. Many have been affected, and many more will be overcome by grief, despair and isolation. We must ensure that we do all we can to provide a sense of true community to all those in need and to bear their burdens as the Lord asks us to.
"Together with my brother bishops on the Holy Synod, I offer my condolences to all the grieving families, and I pray that they will find hope in the abundant grace of God. May they be given strength at this most painful moment and find comfort along the difficult path that lies ahead. Let no one among us have any fear, but let us remember that our Lord Jesus Christ has overcome fear, has trampled down death, and has granted us eternal life and great mercy."
---
Pro Deacon Andrew chanted the solemn memorial Litany while the church school children held seven day vigil candles. The candles had a names placed on them. The service was concluded with a prayer read by Fr. Andrew and the traditional hymn Memory Eternal was sung by the congregation.
Garden Center Visit For December
Fr. Andrew began his visit with an unusual fairy tale about St. Nicholas and three Boys. The legend has it that the three boys ditched school and were tricked by evil shopkeeper in the town. He planned to kill them with and axe. St. Nicholas came to the inn, prayed fervently to God, and the boys were saved singing "Alleluia!" and giving thanks to God.
Fr. Andrew told the story of the birth of Christ and of the gifts of gold, frankincense and myrrh brought to the baby Jesus by the Magi.
Fr. Andrew passed out his gift of chocolate gold coins which were appreciated by all.
The visit ended with conversation and snacks.
Children's Sermon For December And A Visit From St. Nicholas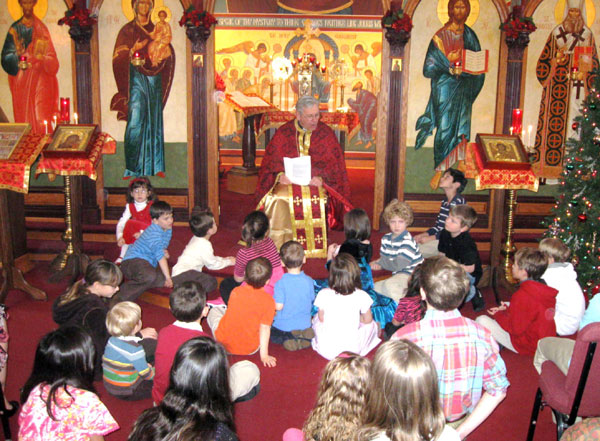 Father's Children sermon was about how St. Nicholas became Santa Claus. He first described the real life of St. Nicholas and how charitable he was giving all his family wealth away to the poor.
He explained that Santa Claus's red suit, black boots and white beard was developed by a Coca Cola advertisement.
As has been the tradition at St. Luke, St Nicholas pays a visit and gives out gold coins made of chocolate to all of the children.
They all were excited to meet a real St. Nicholas and not Santa Claus.