---
August
Events Are In Sequence - Please Scroll Down
Dormition Of The Virgin Mary
For the feast of the Dormition or Falling asleep of the Virgin Mary, flowers, spices and herbs are blessed. Traditionally they were used to make incense and medicines. The prayer of blessing expresses this practice.
...O All-good Master, bless and sanctify by Your Holy Spirit, this seed and various herbage brought into this holy temple; and cleanse from every defilement these, Your servants taking this herbage and seed, and fill their homes with every good fragrance, that these may become, for all that preserve them with faith, and cense with it, preservation and deliverance from every increase of enemies, and for the banishment of every illusion which comes from the action of the devil, whether by day or by night, as well as for the blessing of souls and bodies for Your faithful people, and for the blessing of their work, houses and other places....
The Icon of the Dormition was blessed after the Liturgy. For an explanation of the Icon Click Here

Venturing Crew Does Charity Work
The Venturing crew and mission team did some charity work on Saturday, August 11. Six teens and four adults met with other volunteers at Lincoln-Way West High School to participate in a "mobile pack" event to benefit the organization Feed My Starving Children. In two hours, the group exceeded their goal, and packed 156 boxes of food. Each box contained 36 bags, and each bag contains 6 meals. That means over 33,000 meals were packed. This is enough to feed 92 hungry children one meal a day for a year.
Each bag, called a "Manna Pack," consists of a chicken powder base, soy protein, dried vegetables and rice. Our team donned hair nets and gloves, and set to work scooping, weighing, and packaging the food bags. The food is used for emergency relief in places like Haiti, where the Manna packs are distributed for life-saving nutrition for needy children. Over the course of the weekend, four packing sessions produced 139,536 meals-- 10,000 over their goal. This was a years' worth of food at one meal per day for 382 children.
Children's Sermon On The Transfiguration
Fr. Andrew explained the meaning of the Feast of the Transfiguration. He told how Peter, James, and John went up to the top of Mt. Tabor with Jesus who changed and became white as snow. He showed them a strip of white wool cloth and said Jesus' clothes were whiter than the cloth.
He explained why grapes are blessed to commemorate the event. The grapes are a symbol of the Eucharist where bread and wine are transformed into the Body and Blood of Christ.
In addition to grapes, other fruits are blessed as an offering to God as a thanksgiving for the gifts He has given to us.
Feeding The Hungry Children
10 of us went to the LAMP (Lincolnway Area Mobile Packing) event for Feed the Hungry Children, an organization that distributes food to people in 70 different countries. Along with about 50 other volunteers, we packed bags of food (rice, beans, soy, dyhrated vegetables) that will be shipped to various countries.
Scene from "Feeding The Hungry Children".
Scene from "Feeding The Hungry Children".
Garden Center Visit For August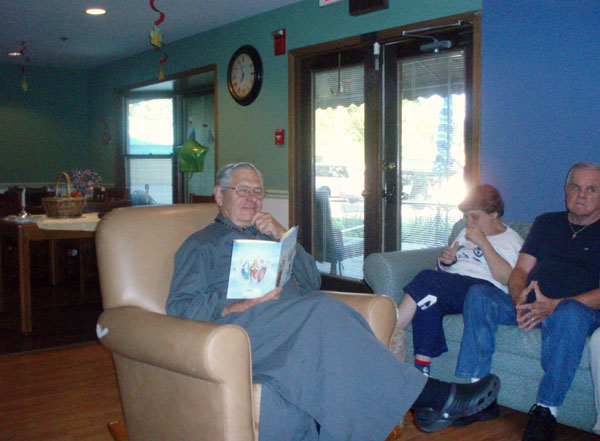 Father Andrew began our visit with a story about Saint Charbel, a Saint from Lebanon. St. Charbel became a monk, received Holy Orders and in 1875 was granted the privilege of living as a hermit in prayer and fasting for the next 23 years until his death. Charbel died on Dec. 24th, 1898 and was interred at St. Maron's Monastery on Christmas Day and immediately his grave was surrounded by an "extraordinary brightness".
Fr. Andrew brought a basket of fruit for the residents and blessed it. He explained about the Transfiguration, how Jesus took Peter, James and John his brother up on a high mountain and He was transfigured before them. His face shone like the sun, and His clothes became as white as the light and Moses and Elijah appeared by His side
As always, we ended our visit with cookies and conversation.