---
September
Events Are In Sequence - Please Scroll Down
"9/11 - Ten Year Memorial"
For the past 9 years St. Luke has sponsored at memorial program for the greater Chicago area to commemorate the memory of the 2,977 civilians who were killed on 9/11 and the 317 military personnel from Illinois who died in the war on terrorism.
Caye Caswick , the ministry leader and master of ceremonies introduced, Mayor Gerald Bennet, Fr. Nicholas Jonas, and Fr. Andrew in his Air Force uniform.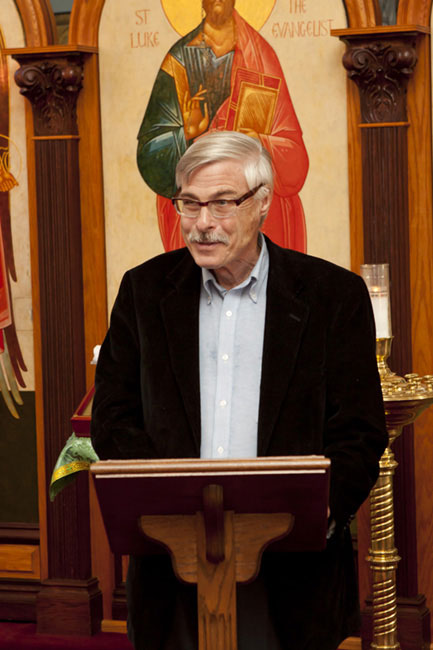 Bill Droel, Professor of Religion and eucharistic minister of Sacred Heart Catholic Church was our guest speaker. His presentation was about the meaning of sacred relics.
Mayor Bennet spoke about the difficult times we are living in and the need for our diverse community to draw together.
Fr. Andrew reflected on the issues of religious faith when confronted with evil and defence during a time of war.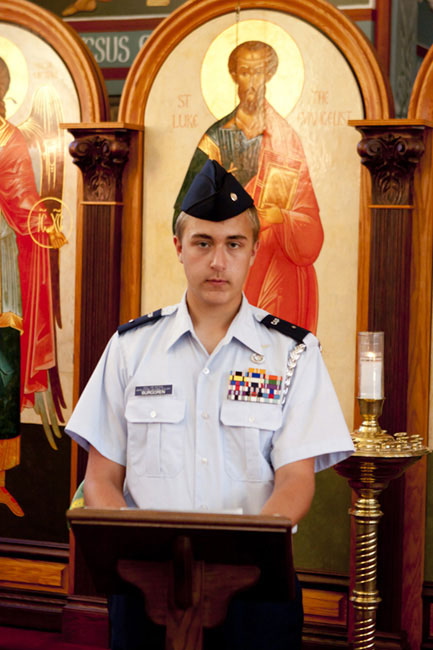 The names of all 317 military personel who made the ultimate sacrifice were read by the the Civil Air Patrol cadets of the Lincoln Way Composite Squadron.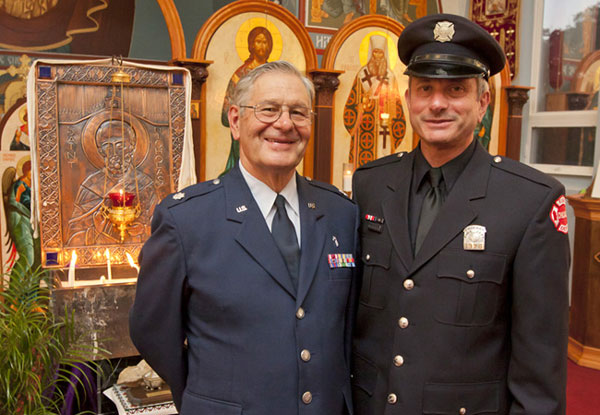 The beam from the World Trade Center with the Icon of St. Nicholas with St. Nicholas church in the background. John Limberopoulos, Outreach coordinator, from St. Luke in his fireman's uniform standing with Fr. Andrew.
Group photo made by George Poulos, Media Ministry leader. Included in the photo is Tom Lambros-Bornstein, Congregation Anshe Emet representing the Jewish community.
The program concluded with the retirement of the colors while Gavin Quinn played Amazing Grace on the bagpipes.
All gathered in the Narthex for fellowship. This year was a record attendance mainly because excellent publicity.
"Church School Year Begins"
Group Photo taken by our in resident camera man George Poulos. We have another record year. We have 78 students and 9 teachers registered this year in our Church Church School program.
"Garden Center Visit For September"
As always, Fr. Andrew asked the residents what saint they would like to learn about. Sometimes the names suggested don't always match up with a saint, but Fr. Andrew manages to get close. St. Luke was chosen and we learned that he was a physician, painter and an evangelist.
The prayer service was next, with participation of residents singing out responses.
Fr. Andrew then, as promised, brought gifts of beautiful olive wood crosses from his trip to the Holy Land.
He passed them out to the residents.
"Children's Sermon For September"
Fr. Andrew is doing a series of children sermon's on the Divine Liturgy. This was the first lesson about how Jesus fed 5000 people with 5 loaves and 2 fish. These lessons will be made availiable to download.
---