Events Are In Sequence - Please Scroll Down
January 2010
Events Are In Sequence - Please Scroll Down
The Great Blessing Of Water
According to Orthodox Liturgical Tradition there are two water blessings for Theophany (the celebration of the Baptism of Christ). One inside the church and one outside at a water source - river, spring, ocean or well. At St. Luke on the Sunday after Theophany we bless our water well by connecting it to our baptismal font by hose. Father Andrew is reading the blessing prayers.
Father Andrew makes the sign of the cross in the water.
Here Father Andrew extinguishes lighted candles when he reads about how Elijah triumphed over the priest of the god Baal by fire and water.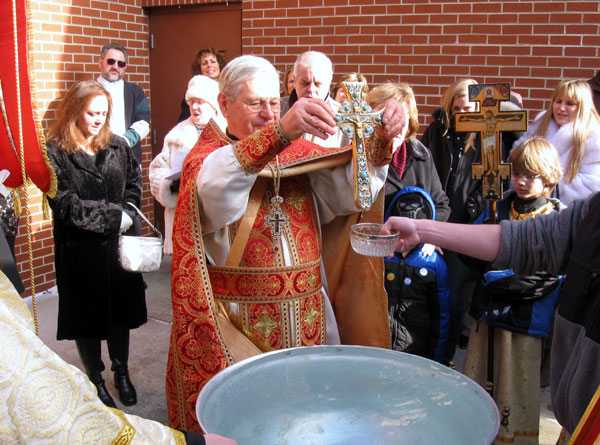 The Cross is them plunged into the water tree times while the choir sings the Troparion "When You O Lord were Baptized in the Jordan ..." The church bells are rung at this moment. The water running off the cross is collected and used to bless the people and the Church.
Father Andrew plunges the Cross into the water.
Our bellringers in place in the bell tower.
Father Andrew sprinkles the parishioners with Holy Water.
Garden Center Visit For January
Fr. Andrew telling the story of St. Andrew.
Blessing of the St. Basil's Sweet Bread.
Cutting the bread.
Passing out the bread to all the residents with hopes of finding the gold coin.
Sue finds the gold coin and is considered the blessed one for the year.
St. Basil's Bread
The children gathered around while Fr. Andrew blessed the loaf of St. Basil bread to commemorate the feast of St. Basil. Baked into the loaf is the traditional gold coin.
Father Andrew cuts the bread.
Parishioners each received a piece of the bread as they left the church.
Emma was the lucky one to find the coin in her bread.
Children's Sermon For January
Father's children's sermon was about how Christians began using the evergreen tree as a symbol for the Nativity of our Lord. He quoted Hosea 14:8 which describes the evergreen tree as a sign of God's care for us.
Father pointed to the Christmas tree in the church asking the children to describe ornaments which are symbols of the Christmas story: lights for Christ being the light of the world, the star for the star of Bethlehem, balls for the wise men's gifts, angels for the angelic songs, animals for the Shepards in the field.