Events Are In Sequence - Please Scroll Down
May 2010
Events Are In Sequence - Please Scroll Down
God Grant Him Many Years
St. Luke added another member to the congregation. David was Chrismated. He was received into the Orthodox Church from the Roman Catholic church. Many Years to David.
Glimpses Of The Olympics
St. Luke Olympians enter the field for the opening ceremonies and "the shirts are really cool!"
Coach Chuck reviews the rosters.
The 10K runners with Father Andrew... Obviously before the race.
Cheers to our track & field stars!
"There goes one right now!"
St. Luke wins silver medal.
St. Luke girls volleyball competes at Morraine Valley.
Team Photo.
Restaurant Rovers Visit Chi Tung Habachi Grill
The Restaurant Rovers visited Chi Tung Habachi Grill. Bob, Luba, Pat, John and Steve accept hot towels to cleanse before the meal.
Our chef prepares noodles -- apparently he is so good he does not have to look at his work.
An onion volcano is created by our chef for entertainment purposes -- pretty entertaining!
Church Awards Presentation
Church school ended for the season and attendance awards and gifts were presented to Marica, George and Justin. We now have 67 children in the Church school program.
As part of the program we congratulated all Grade School, High School and College graduates. Emrys graduated from Andrew High School and will be attending Illinois State University.
Nick graduated from Downers Grove High school and will be attending the College of DuPage.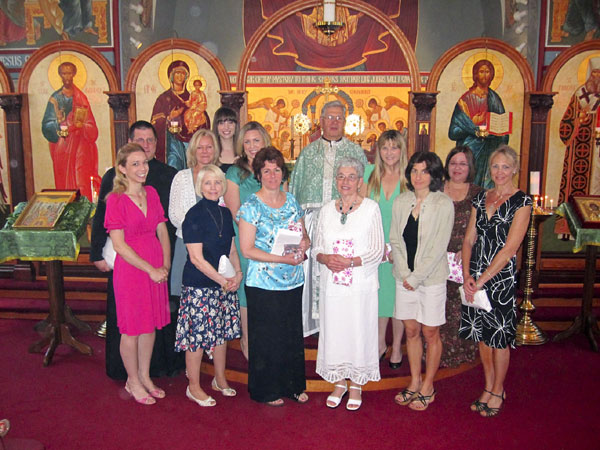 Our teaching ministry is headed by Cheryl. Maria is our Church School Director. We have 11 teachers and one deacon. All were presented with gifts to commend their efforts.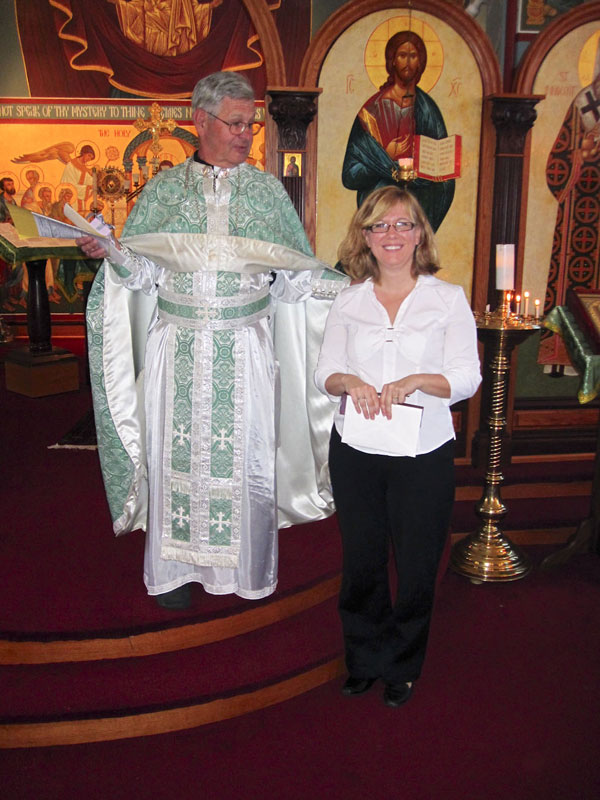 Gifts were given to our Choir Directors, Paulette and Maria.
At the end of the ceremony Fr. Andrew prayed for God's blessings and good health for those who participated in the program.
The Ordination Of Father Danial
Dn. Danial was ordained a priest at on Saturday, May 8th at the Divine Liturgy where bishop Michael was consecrated as the bishop of New York and New Jersey. There were 8 bishops plus Metropolitan Jonah and more than 60-80 priests at the Cathedral in New Jersey.
Newly Ordained Fr. Danial with Bishop Michael.
Icon of St. Alexis
The third of our new Icon set of American saints. was blessed. Daniel Mahony is the donor in memory of the living and departed of his family. Daniel presented a strip of cloth which was used when Saint Alexis was cannonized in 1994 at St. Tikhons Monastary.
Fr. Andrew is blessing the Icon with the words: "O Holy Saint Alexis pray for us sinners. This Icon is blessed by the power and operation of the Holy Spirit."
St. Luke Parish Celebrates Mother's Day
At the end of Liturgy today, the congregation sang "Many Years" to all living mothers and "Memory Eternal" for those who have fallen asleep. During the dismissal, the mothers were given cloth carry bags with St. Luke Parish imprinted on them. Our thanks and appreciation go out to all mothers everywhere and "God Grant Them Many Years".
Pads Appreciation Dinner
We ended our third season as a PADS shelter for the homeless in the south suburbs of Chicago. In apreciation to all who volunteered during the season we held a dinner. Fr. Andrew is blessing the food. This year we housed 430 women and children and there were 2300 volunteer hours donated.
Jamie dedicated the most hours of any of our volenteers. Fr. Andrew presented him with an Icon of Christ
Tom, our site manager, was given gift certificates to Red Lobster Resturant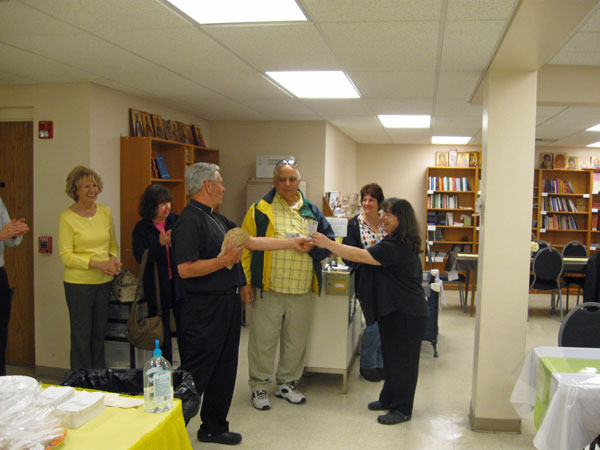 Jill was also given a certificate for the many hours she dedicated to the program
Cinco De Mayo Fundraiser For Project Mexico
This Sunday a Fundraiser was held to raise funds for our missionaries going to Project Mexico.
Mexican Food was served and the theme was to celebrate Cinco de Mayo. Here Father Andrew blesses the food.
A secret recipe.
Music was provided by David, our wandering minstrel.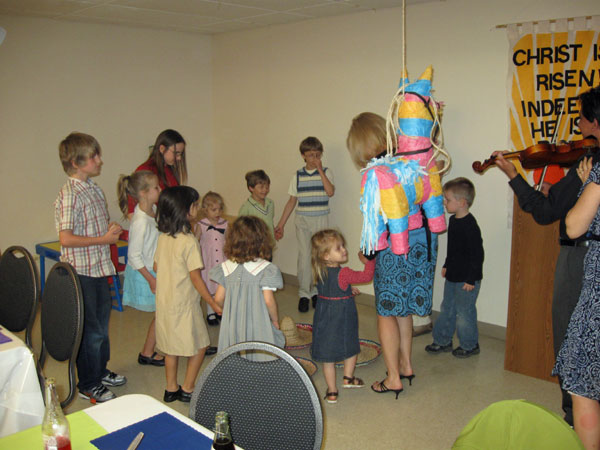 The children did the Mexican Hat Dance.
Let's get this pinata open and get to the candy.
Not yet!
My turn!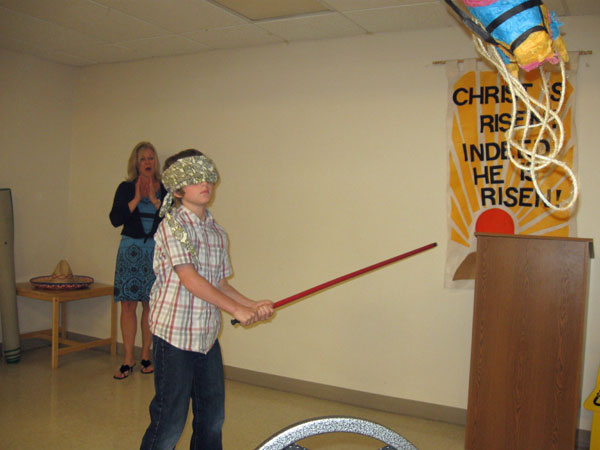 Here we go!
At last!
Children's Sermon For May
This month children's sermon was about Mothers day. Fr. Andrew gave examples of the ways mothers teach us about God.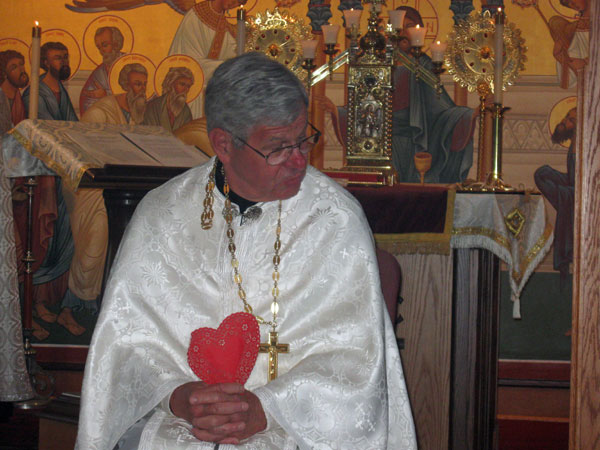 He said Mothers love is the way God loves us. Fr. Andrew's face matched the red heart because he just returned from a fishing trip in Florida.
---
---