Events Are In Sequence - Please Scroll Down
August 2010
Events Are In Sequence - Please Scroll Down
As Many As Have Been Baptized Into Christ
Today Benjamin Graham was baptized and Chrismated into the Church. Congratulations to him and his family and "God Grant Them Many Years."
Icon Of St. Herman And Feast Of The Dormition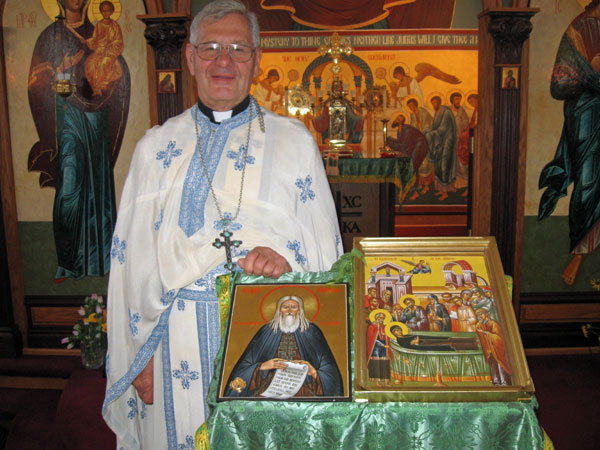 The Icon of St. Herman with his relic was placed on display for veneration along with the Icon of the Dormition of the Theotokos. Fr. Andrew and Pat donated the icon in memory of their departed parents. To View The Icon Of St. Herman Of Alaska Click Here

The feast of the Dormition was celebrated with the tradition blessing of herbs. "O All-good Master, bless and sanctify by Your Holy Spirit, this seed and various herbage brought into this holy temple; and cleanse from every defilement these, Your servants taking this herbage and seed, and fill their homes with every good fragrance......."
St. Luke Parish Hosts Yearly Blood Drive
This Sunday St. Luke Parish once again sponsored its yearly blood drive in cooperation with the Heartland Blood Centers.
Donors register and provide information as needed. Caye donates every year as do so many others!
Two more regulars...thank you Mary and Cheryl.
George, Mary Ellen, Marcia drinking and eating as they should after giving blood, while Don provides moral support! Our thanks go out to all who participated in this worthwhile event. Also thanks to Sharon our Blood Donation Ministry Leader for setting up and running this event.
Blessing Of Fruit For The Transfiguration
On the feast of the Transfiguration, first fruits and garden vegetables are blessed. Fr. Andrew is reading the blessing prayer and blessing with Holy Water.
"O adorable Lord, grant that the partaking of the first-fruits and the harvest of summer be unto peace and health and concord for Your servants, and grant to us the plenteous increase of every kind of good thing: For You are the Bestower of goodness, and to You we send up glory, to the Father, and to the Son, and to the Holy Spirit, now and ever, and unto ages of ages. Amen".
Icon Of St. Jacob Of Alaska
Another of the 12 American saint Icons was blessed. St Jacob was an Alaskan missionary who traveled the Atka region of Alaska from 1829 to 1844. He died on July 26, 1864.
The Icon was donated in Memory of the Adoniadis family. Tanya described her interest in St. Jacob and invited parishioners to read about his missionary activities on our website. To View Click Here

A Visit To the Garden Center
Fr. Andrew started his visit with a story about an American Indian Saint.
He then explained how board games have instructions with them on how to play the game. He then said the Bible has our instructions on the game of life and we need to follow these instructions in order to get closer to God.
Fr. Andrew then went on to play the board game with some of the clients.
Ace enjoyed visiting with the Garden Center's newest resident, a small gray bunny.
---