---
September 2009
Events Are In Sequence - Please Scroll Down
---
Father Andrew and Pat In Australia
Father Andrew and Pat are on their trip to Australia. Here is Pat on a Catamaran before heading to the Great Barrier Reef.
Sunset at Ayers Rock -- they are on their way to Sidney next.
Father Andrew and Pat in Sidney.
Father Andrew sent this message from Sidney. "Big dust storm. The outback is blowing in. Everything is covered with red dust. We leave for New Zealand tomorrow at 5AM. We are going to visit an Orthodox church today."
Church School Begins With a Prayer
This Sunday St. Luke Parish began it's new Church School Year. The children gathered together while Father Howard prayed for them and their teachers. We wish them success in their endevors and thank all the teachers for their efforts.
September 11th - A Day Of Remembrance
St. Luke Parish helds it's Annual 911 Memorial again this year. Here we see 9/11 Artifacts on display in front of the altar: Twin Towers I-beam, Pentagon rubble, Shanksville, Pennsylvania rock, and St. Nicholas icon.

911 Memorial - View Our World Trade Center Memorial



Visitors praying and lighting candles.
The Memorial begins with a bagpipe player leading the color guard.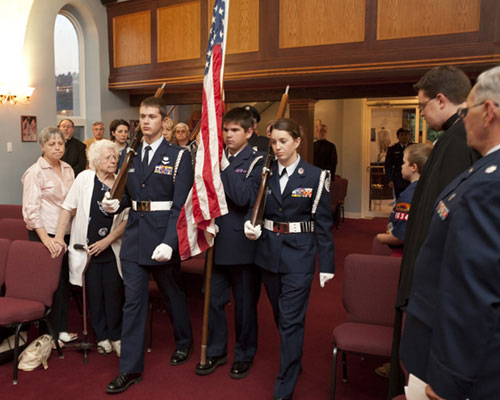 CAPS presenting the flag.
Father Andrew welcomes the guests and introduces the speakers.
Mayor Gerald Bennett encourages us to continue our annual Memorial so that we never forget those who were lost on 9/11.
Bill Droel of MVCC and Sacred Heart gives us encouragment.
Tom Lambros-Bornstein of Congregation Anshe Emet also encourages continuation of the Memorial.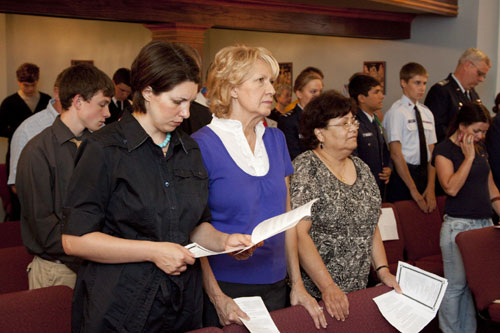 Patriotic singing lets everyone participate in the Memorial.
CAPS read the names of the Illinois Fallen Military since last year's Memorial.
Caye Caswick, event coordinator, explains the status of the Flight 93 Memorial in Shanksville, Pennsylvania.
CAPS retires the flag at the conclusion of the Memorial.
Mayor Bennett, Father Andrew and Tom Lambros-Bornstein.
Attendees enjoying refreshments and fellowship after the Memorial.
Children's Sermon For September
The Gospel today was about people who were stealing their master's land. The Lord said they were evil.
Fr. Andrew explained how bad habits like stealing and lying can take over and make a person evil. He wound a piece of string around a child to show how hard it is to break a habit.
He then gave the children a memory verse. 1 Peter 3:12
---