---
October 2009
Events Are In Sequence - Please Scroll Down
---
Building Improvements
Today insulation was placed in the ceiling above the church. It was pumped in from the parking lot.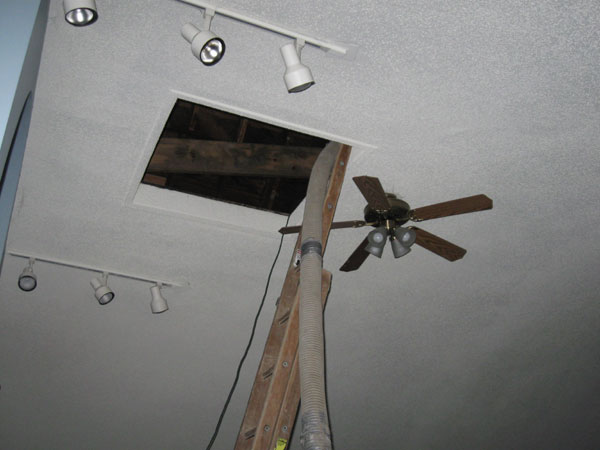 Hose pumping insulation into ceiling access. This will aid in reducing our energy costs.
Also today the staining of the old bricks began as well. The two sides and back as well as the wall in the choir practice room will all be stained. Here is a sample section for color.
The bricks are all stained by hand one at a time and the process will take about 4 days.
The work in progress.
West wall completed.
View of completed south wall.
Wall in choir practice room stained.
St. Lukes Celebrates Feast Day
Five loaves of Artos Bread are blessed, cut and distributed to commemorate the feast day of St. Luke our patron Saint. This is the 25th year of the founding of the parish.
At the end of the divine Liturgy all of our 60 church school children line up for a blessing before they are dismissed for Christian Education. The young children hold electric candles to symbolize Christ as the "father of Lights".
Our fellowship ministry under the leadership of Luba provided German cuisine for our Octoberfest dinner.
On our feast day we pray for all the departed who were members when they fell asleep in the Lord. Fr. Andrew is incensing the congregation after he chanted the names of the faithful departed.
48th Annual Diocesan Assembly
His Beatitude Metropolitan Jonah addressed the assembly speaking about the mission of the Orthodox Church in America and the challenges. He mentioned the possibility of 50,000 Mayan Christians from Guatemala seeking membership and he is in open dialogue with conservative Anglicans who are showing interest.
Fr. Andrew and Lee Kopulos with Metropolitan Jonah and Archbishop Job at the closing of the Assembly. In his opening remarks, Archbishop Job spoke about the transparency of the Holy Synod and the diocese of the Midwest.
---
Children's Sermon For October
Fr. Andrew explained some of the differences in geography of the southern hemisphere and about Ayres Rock (uluru) in Australia. He then ask the children if they remember any reference to rocks in the bible. He then told them about St. Peter being called "the rock" and how Jesus would build his church.
Fr. Andrew is holding a fish hook carved out of bone by the Maori people of New Zealand. He explained the meaning of "the fish" as an ancient sign of being a Christian and how Jesus told his apostles that they would be "fishers of men".
---