Events Are In Sequence - Please Scroll Down
Sanctity Of Life Prayer Service
This is the year that the Orthodox Christian Clergy Association of Greater Chicago sponsored a pro-life event. The photo shows the procession of priests and bishops at the beginning of the service at St. George's Orthodox Cathedral in Cicero.
The three bishops who attended were Metropolitan Iakovis, Bishop Dimitri of the Greek Archdiocese and Bishop Mark of the Antiochian Archdiocese.
Fr. Nicholas Dahdal, the Dean of St. George's reading the Gospel from St. Matthew referring to Jesus' words about love "Truly, I say to you, as you did it to one of the least of these my brethren, you did it to me." The litanies for the service were chanted by Deacon Rihani in the background.
The Sanctity of Life Prayer Service was arranged by Reader Daniel Manzuk who also directed the responses.
Fr. Nicholas Jonas of Sts. Constantine and Helen Greek Orthodox Church, a long time member and supporter of Orthodox Christians for life, gave the homily.
Nicolia Rallis who heads Orthodox Youth for Life spoke of her work among Orthodox youth. She offered to come to any Orthodox Church and speak on sanctity of life issues. Fr. Panteleimon, committee chairperson, presented her a copy of "The Miraculous Icon of the Theotokos of Ciscero".
Children's Sermon For January
This months sermon was about avoiding bad habits and developing good habits for the new year. Fr. Andrew showed the children how a bad habit can be hard to overcome. He wound a string around one of the children as an example.
He gave out 2009 calendars and the children suggested good habits they were going to work on for the new year which he wrote on the back of the calendar. They were instructed to hang the calendars in their rooms.
New Year's Celebration
St. Lukes welcomed in the New Year with a dual celebration. In addition to the New Year's Celebration, it was the 25th Anniversary of the Parish. Here Father Howard greets some of those in attendence.
Fr. Sloan and family gather for the celebration.
These children look ready to celebrate.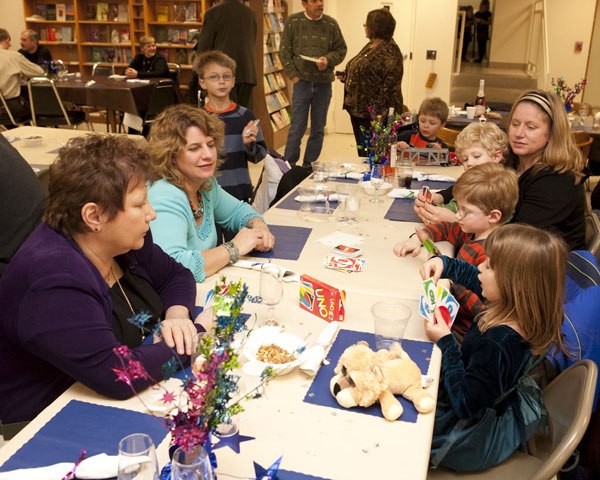 Nothing like a game of Uno while waiting for dinner.
Chef Peter hard at work while Fr. Andrew inspects to make sure that everyone received their share of prime rib.
The celebration committee consisting of Luba, Sue, and Peter. Thanks for all the hard work.
Dinner is served. Proto Deacon Andrew tastes the food while Fr. Anthony looks on.
Psychodelic Lighting to dance by.
Fr. Anthony presented a "slight of hand" show which was well received by both adults and children.
The band in full swing.
Focus on the horn section.
Ethnic dancing rounded out the evening.