December 2009
Events Are In Sequence - Please Scroll Down
Nativity Eve Dinner And Service
The table is set for the Holy Supper Ritual. This celebration proceeds the Nativity vigil and commemorates the Old Covenant which ends with the birth of Jesus. Unleavened bread is broken and eaten with wine. Also garlic and twelve fasting food ( no meat or dairy) dishes are served.
Each year the youngest child reads the Christmas story from the gospel of Matthew.
The Parishioners sing the Troparion and Kontakion for the Feast of the Nativity.
Father Andrew is distributing the unleavened Bread called Oplacki.
Honey is being place of the foreheads of those present with the words, let us love one another like the bee loves honey.
Father Andrew explains the reasons for the traditions and the meal.
After the Holy Supper ritual, the food is blessed and served. This custom originates in Eastern Europe and is shared by both Orthodox and Roman Catholics. Following the meal, the Vigil of the Nativity is celebrated.
Christ Is Born! Glorify Him!
Funeral Services For Archbishop Job
Final memorial at the end of the requiem liturgy for Archbishop Job. His face is covered with the Airer (Chalice cover).
His Beatitude Jonah chanted memory Eternal and gave the blessing before the procession around Holy Trinity Cathedral in Chicago.
Closing of the casket before the procession.
The Clergy carry the casket of His eminence for the traditional procession. Archbishop Job's remains will be taken to St. Theodosius cathedral in Cleveland and then to Black Lick Pennsylvania for burial.
This is another photo of the procession.
Church School Christmas Program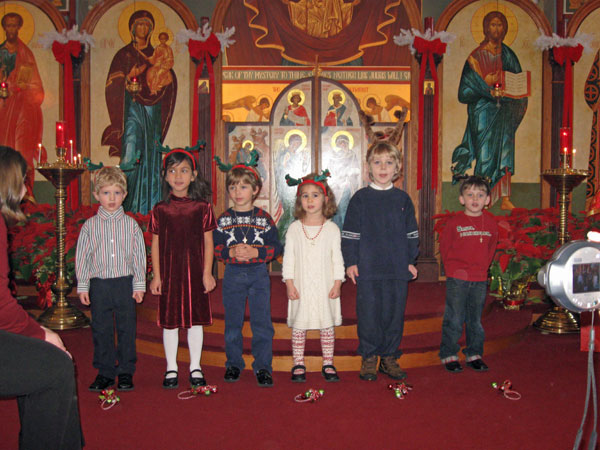 This Sunday our Chruch School Held its Annual Christmas Program. Here we see our Littlest Reindeer sing "Jolly Old St. Nicholas" and "Jingle Bells".
Next up the First and Second Graders sing "O Come All Yea Faithful".
The next selection sung was "Our Friendly Beasts" complete with artwork.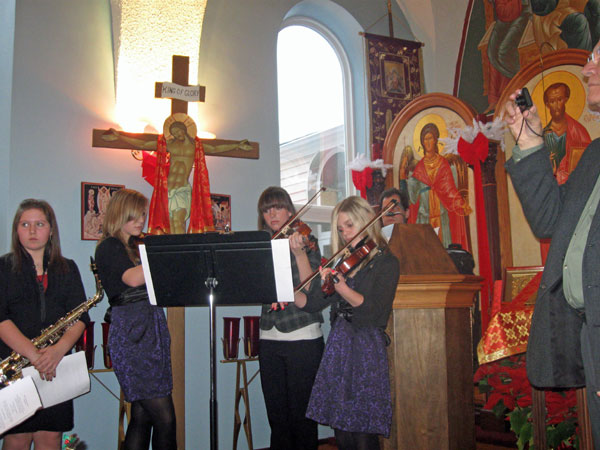 Some of the older children provided musical accompanyment for the proceedings.
The nativity scene was portrayed along with a narration. Here we see Baby Jesus in a Manger.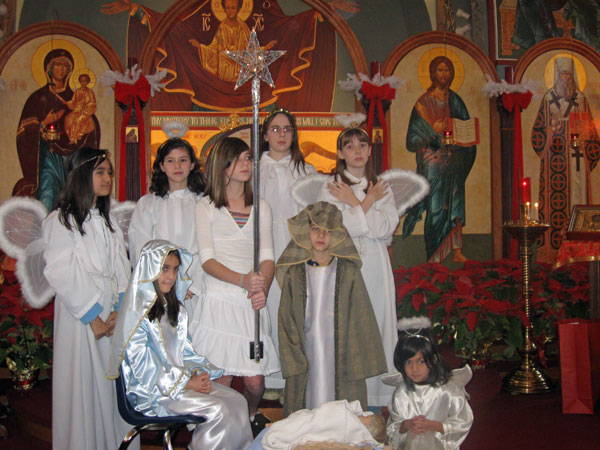 Next we add in some Angels From On High.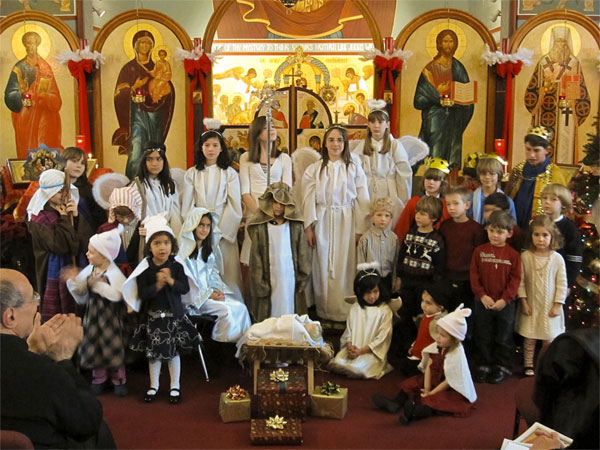 The scene is complete as we add in wise men, shepards, and some sheep. Our thanks to our teachers and church school leaders for the wonderful show they presented.
Children's Sermon And A Visit From Saint Nicholas
Nick and Nikki with the help of Luba decorated the church for Christmas. This is a photo our new Christmas tree which has the lights already built in.
The Children's sermon this Month was about St. Nicholas. Fr. Andrew is showing an icon of St. Nicolas while explaining about his Bishop's robes.
Father Andrew then read a story about a miracle which occurred through the intercessory prayer of St. Nicholas. It was about a father who his lost son in a storm at sea and the return of a golden cup.
After the story, Nick dressed as St. Nicolas distributed golden coins which had chocolate inside.
The children were then dismissed to their class rooms for church school.
---