Events Are In Sequence - Please Scroll Down
It's Beginning To Look A Lot Like Christmas
Nikki and Nicholas with the help of several volunteers are putting up our Christmas tree in preparation for the visit of St. Nicholas on Sunday.
Christmas Toy Drive
Each year St. Luke parishioners purchase Christmas toys for foster Children as part of the Orthodox Christian Clergy Association ministry of Chicago. This year, under the leadership of Diane, 75 children received toys.
Stewardship Sunday
Stewardship Sunday is celebrated annually before Thanksgiving. Estimate of Giving committment cards are collected from member families for the support of St Luke for the comming year.
Fr. Andrew celebrates a thanksgiving prayer service and blesses the cards. They are then counted and used to establish new years budget.
Garden Center Fashion Show
St. Luke Parish enjoys a long affiliation with the Garden Center for the Handicapped. The Garden Center recently held a Fashion Show as a fund raiser to support the center. Here is Father Andrew giving the blessing for the dinner.
Not Quite Ready For Dancing With The Stars
About 20 people attended our first session of ballroom dancing lessions. The waltz and the tango were the dances featured. A great time was had by those in attendence, even those of us who apparently possess two left feet.
Here couples work on there footwork doing the waltz.
The All American Council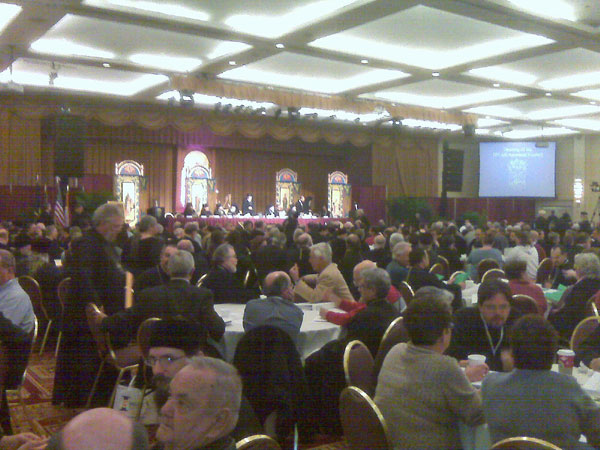 The opening session of the 15th All American Council of the Orthodox Church of America. Fr. Andrew and Lee Kopulos are representing St. Luke's.
Fr. Andrew and Lee Kopulos present at the council meeting. Today they elected a new metropolitan, Metropolitan Jonah.
Grand banquet of the 15th All American Council of the Orthodox Church in America with the newly elected Metropolitan Jonah giving the blessing.
Our new metropolitan.
His first Liturgy
The Screwtape Letters
Twenty-four parishioners traveled to the Mercury Theatre in Chicago to see the stage adaptation of C. S. Lewis' "The Screwtape Letters." Prior to seeing the show, Father Andrew and Father Howard led a discussion about the classic novel that depicts Screwtape, a devil, corresponding with his nephew Wormwood, a Junior Tempter, about bringing souls to the underworld. Screwtape describes several ways for his nephew to tempt the "patient," a Christian, away from the "enemy," God, and toward hell. The book and the performance were very thought provoking.
Father Gillquit Visits St. Luke Parish