Events Are In Sequence - Please Scroll Down
Fourty Year Celebration
St. Luke Parish hosted a luncheon at Nikos in celebration of Father Andrew's 40th anniversary in the priesthood.
The head table with Fr. Andrew, Pat, his Eminence Archbishop Job, and Ken.
Ken served as the master of ceremony relating stories about Father Andrew and introducing a series of speakers which included Protodeacon Andrew Werbiansky, Fr. Luke Nelson, Fr. Myron Manzuk, the Most Reverend JOB Archbishop of Chicago and the Midwest, and Fr. Andrew.
A commemorative program was made and given to all in attendence.
To view the commemorative program Click Here


The Ordination Of Father Herman
This Sunday, Divine Liturgy was held with his Eminence Archbishop Job celebrating.
His Eminence teaches the congregation during the sermon.
During the Liturgy Deacon Hermon was ordained into the priesthood.
Another scene from the ordination. Congratulations to Father Herman and his family and may God grant them many years.
At the end of the Liturgy, his Eminence blessed our missionaries. Clark will be going to Tanzania, while Fr. Andrew and Allison will be headed to work with the youth in Romania.
Retiring Choir Director Maria Vrame was recognized with a plaque for her many years of hard work and devotion.
Finally Fr. Andrew was recognized for his 40 years as a priest. God grant him many years.
Trip To The Holy Land - Slideshow Preview
Here is a preview of some of the slides to be included in the coming slideshow of the Trip to the Holy Land.
Children's Sermon For July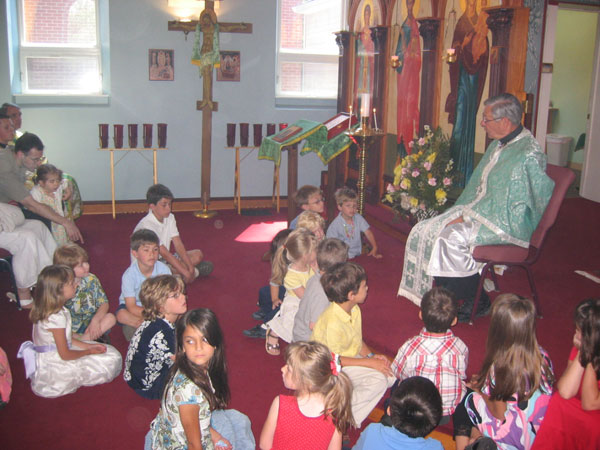 The sermon was about the 12 American saints. Fr. Andrew explained that to be a saint means to be saved. We know they were saved because they lived holy lives. Then he gave examples of what they did.
Fr. Andrew just returned from a pilgrimage to the Holy Land. He brought back a large photo icon of the Last Judgement which was painted on the back wall of the Greek Orthodox Church in Capernaum. He explained that the saints are in heaven and that's were we will go if we believe in Jesus Christ. If we don't believe we go to hell to be with the Devil and all his angels where there is a river of fire.