Events Are In Sequence - Please Scroll Down
St. Luke's Remembers 911
This is the sixth year for our 9/11 memorial program. Each year we display the relics which were given to St. Luke Parish as a remembrance. This is a steel beam from the World Trade Center. Behind the beam is a Icon of St. Nicholas with the World Trade Center and St. Nicholas Church in the background, both destroyed on that tragic day.
A rock from the crash of United Flight 93 in Shanksville Pennsylvania and rubble from the Pentagon.
Decorated memorial cross on the front lawn of St. Lukes.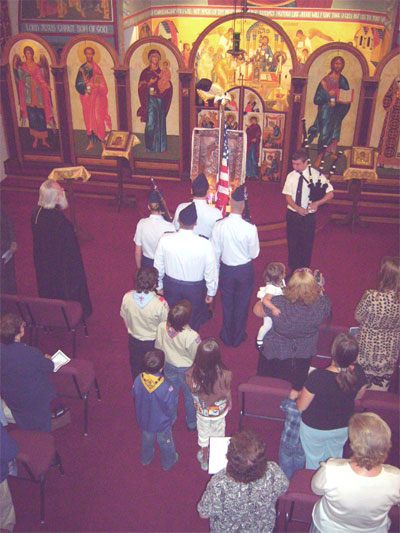 Civil Air Patrol Color Guard and Bagpiper. Members of the CAP read the names of all the military personal who died in the Middle East War from Illinois and the bagpiper played Amazing Grace.
Chief Petty Officer Ion Revak gave the memorial address. He spoke about ] the Naval Hospital ships which were sent to New York City on Sept 11. He tearfully said it became apparent they were not necessary because of all the deaths.
Archbishop Job gave the final address about how Christ triumphed over death and that we should not let the evil which is perpetrated by the terrorists consume our lives.
Church School - A New Beginning
Fr. Andrew is reading the beginning instruction commitment service for the start of the Church School year. He asked the students, teachers, parents and parishioners to pledge their support for the Church School program.
The service ended with the sprinkling of Holy Water on the heads of the children and teachers.
A group photo of the teachers and students of our church school program.
Children's Sermon For September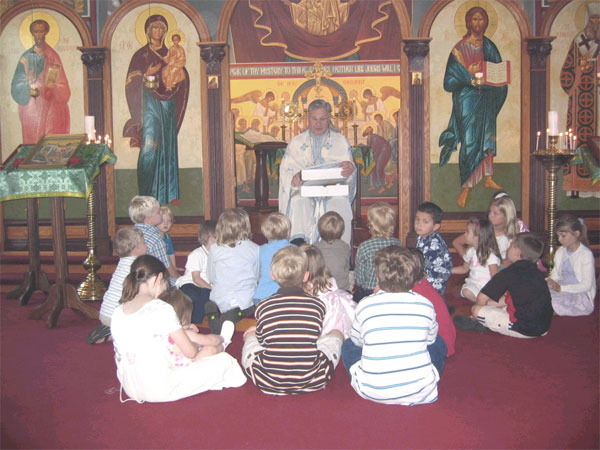 Father Andrew's childrens' sermon was about the birthday of the Virgin Mary and how St. Herman prayed to her for intercession to heal him of a terminal disease.
Fr. Andrew chose this subject because he received a new Icon of St. Herman painted by Cheryl Pituch. He brought it back from his trip to Pennsylvania.
St. Luke's Attends Evangelism Conference
Six of St. Luke parishioners traveled to the Antiochian Village at Legionnaire, Pennsylvania to attend the conference on Evangelism. The conference was devoted to establishing Orthodox Christian Fellowship programs in colleges and universities. This is one area in which we need to establish a ministry to work with our own college bound students.
A photo of the beautiful grounds of the Antiocian Village. We hope more of our parishioners will attend this conference in the future.
St. Luke's Hosts Blood Drive
This year we had two health events: our annual blood drive and Life line Screening. For the blood drive, we exceeded our goal of 24 pints of blood. Sharon, the ministry leader, thanks all who participated.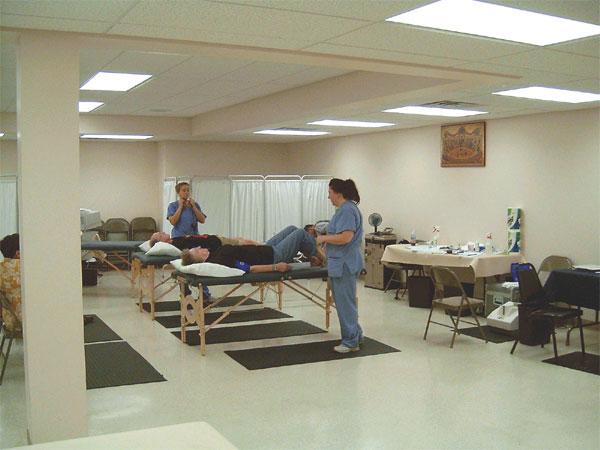 Life line screening is an organization which travels around the country setting up health screening day programs. They screen for possible stroke and osteoporosis. Although we could have had a better turn out if we save the life one it was a success. Next year we will have the program again.