Events Are In Sequence - Please Scroll Down
Lucas and Bush Families Visit St. Luke Parish
On Memorial Day St. Luke Church was paid a visit by the members of the Lucas and Bush families. They were the relatives of the founding members of the Church when it was owned by Sacred Heart Catholic Church. Many had been baptized and married in the building and they wanted to reminisce. They were surprised to see how beautiful the church looked and were pleased that the church was being used instead of being abandoned. They were particularly interested in the old basement and commented on the many dinners they sponsored over the years. Fr. Andrew left an open invitation if they ever want to have their family reunion in the basement.
Memorial Day
On Memorial Day graves are blessed at Evergreen Cemetery in Chicago. Fr. Andrew is blessing the grave of Dorothy and other departed members of the Bauml family with Mike Bauml Sr.
Pentecost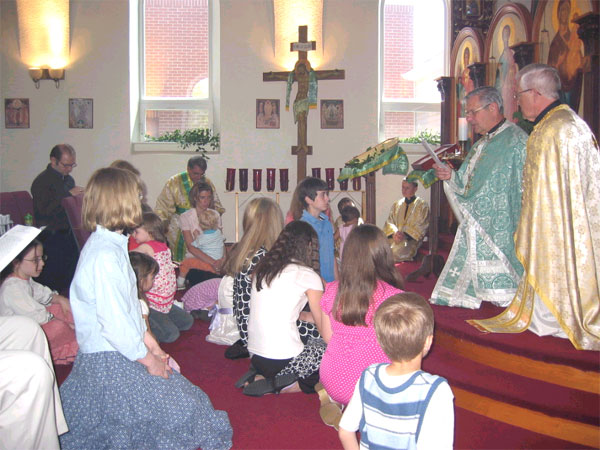 After the Liturgy on Pentecost three kneeling prayers are read. Fr. Andrew and Fr. Howard are kneeling facing the congregation with the children. This year all the children were invited to kneel at the front of the congregation.
St. Luke Parish Celebrates Mother's Day
Today following Liturgy, St. Luke Parish celebrated Mother's Day by remembering all those mothers who have passed away and singing "Many Years" for all those mothers who are still living. During the dismissal, all the mothers of the parish received a very nice bookmark. We at St. Luke Parish would like to take this time to wish all mothers everywhere a wonderful day and to thank them for all they do for us.
St. Luke Members Attend IOCC Banquet
St. Luke had seven members attend the annual International Orthodox Christian Charities (IOCC) banquet in Chicago. This banquet commemorated the 15th anniversary of the organization. Alex Machaskee retired publisher of the Cleveland Plain Dealer Newspaper was the guest speaker. He described the places where the IOCC is doing charity and humanitarian work from Lebanon to New Orleans. He said 92% of all donations go directly to the needy. St. Luke will take an offering for the IOCC on Sunday.
Children's Sermon For May
The children's sermon was about missionaries. Fr. Andrew explained to the children that the Samaritan woman, St. Photina, was the first missionary because she went to her people and told them to "come and see" Jesus.
Fr. Andrew returned from a trip to Mexico after visiting Mayan ruins. He showed the children a picture of a Cross which was on a Mayan kings tomb. He challenged the children to never to make fun of another person religion but always learn about it and find common beliefs to explain about Jesus.
After the Liturgy, Fr. Andrew visited each church school classroom to answer questions and give out Mayan alphabet letters.