Events Are In Sequence - Please Scroll Down
Christ Is Born! Glorify Him!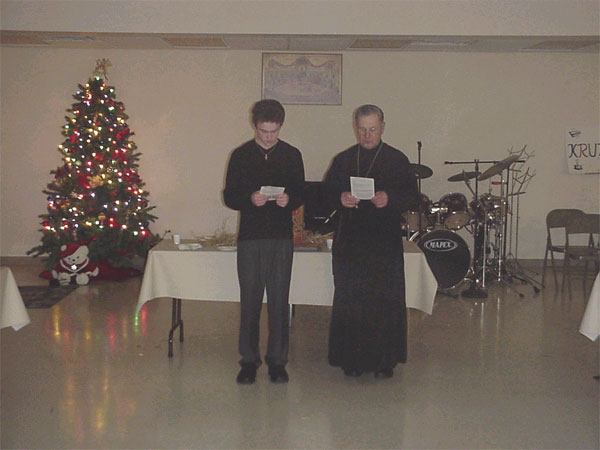 St. Luke Parish held it's annual Lenten Holy Supper on the Eve of the Nativity. This supper is pot luck style with the parishioners bringing different dishes that are non meat and non dairy. Tradition is that there should be twelve different dishes which is symbolic of the tweleve apostles and it should be eaten without pepper or knives. Pepper symbolizes arguments and knives the cutting of friendships. The parishioners gathered by candlelight for a short prayer service performed by Father Andrew which began the Holy Supper.
One of our young men read the following passage from Matthew 2: 1-12. Now after Jesus was born in Bethlehem of Judea in the days of Herod the king, behold, wise men from the East came to Jerusalem saying, "Where is He who has been born King of the Jews? For we have seen His star in the East and have come to worship Him." When Herod the king heard this , he was troubled, and all Jerusalem with him. And when he had gathered all the chief priest and scribes of the people together, he inquired of them where the Christ was to be born. So they said to him, "In Bethlehem of Judea, for thus it is written by the prophet:
'But you, Bethlehem, in the land of Judah,
Are not the least among the rulers of Judah,
For out of you shall come a Ruler
Who will shepherd My people Israel.'"
Then Herod, when he had secretly called the wise men, determined from them what time the star appeared. And he sent them to Bethlehem and said, "Go and search carefully for the young Child, and when you have found Him, bring back word to me, that I may come and worship Him also." When they heard the King, they departed; and behold, the star which they had seen in the East went before them, till it came and stood over where the young child was. When they saw the star, they rejoiced with exceedingly great joy. And when they had come into the house, they saw the young Child with Mary His mother, and fell down and worshipped Him. And when they ahd opened their treasures, they presented gifts to Him: gold, frankincense, and myrrh. Then, being divinely warned in a dream that they should not return to Herod, they departed for their own country another way.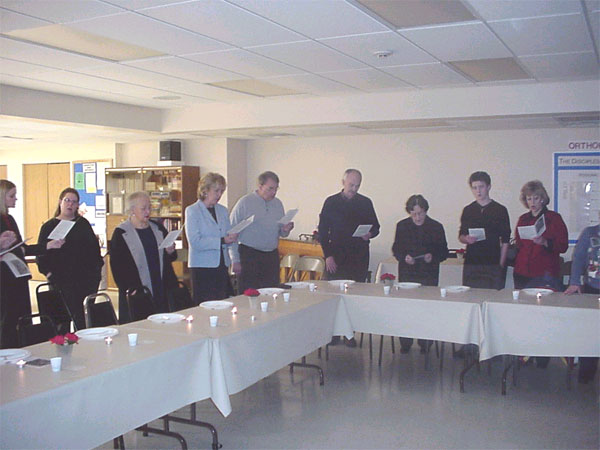 The parishioners participate in the service.
Father Andrew blesses the honey, bread and garlic on the table.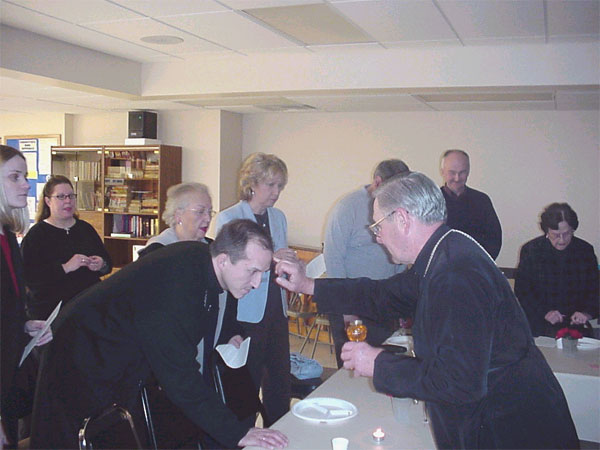 Father Andrew then placed honey on the forehead of everyone with the words, "May we all love one another as the bee loves honey."
Next wine was shared by all saying "Unite us in Faith and Love." Then Father Andrew along with his helper distributed bread with honey to the parishioners with the words, "Let us love one another." After this everyone took a piece of garlic and ate it saying,"May God Spare us from all Evil."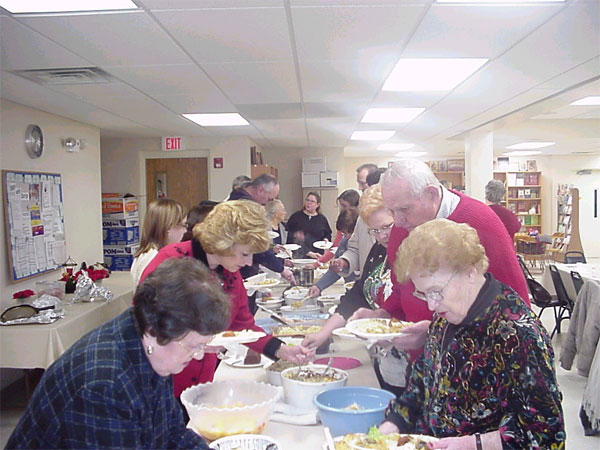 The Lenten Holy Supper is served.
Parishioners shared the meal and fellowship.
The church is prepared for the upcoming service to welcome the Christ Child and is in a festive mood.
During the Vigil service there is a part called the Litya. This is where all the saints and people are commemorated. Five loaves, wine and oil are blessed as Christ blessed the fives loaves after His sermon on the mount.The bread called Artos was prepared by Stea with her special recipe.
Father Andrew gave a sermonet about the meaning of the Nativity of our lord and how He must be born in us. With Fr. Andrew is Fr. Alexander Lukashonak our guest celebrant. Our Altar servers have cut up the Artos to be distributed to the faithful and guests.

We at St. Luke would like to take this opportunity to wish each and everyone a happy and blessed Christmas. Let us all rejoice as God has given us the greatest gift of all. He has given us his only begotten Son that he might save us.
St. Luke's Get A Visit From St. Nicholas
The Children's sermon today was a story from the life of St. Nicholas. It was about a vain man who promised to donate the most beautiful chalice ever made to the Church where St. Nicholas was a bishop if God would grant him a son.
He broke his promise because he became obsessed with the beauty of the chalice and because of this he lost his son in a storm at sea. St. Nicholas rescued his son and returned him to his father when he gave St. Nicholas the chalice he promised. Michael, one of the children, said the moral of the story was always keep your promises to God. Father added that another possible moral is that we should not get attached to worldly possessions.
Following Father Andrew's sermon, the children received a surprise visit from St. Nicholas.
Gifts of diapers and various other baby needs had been gathered to present to PASS (Pregnancy Aid Fot The South Suburbs.
The children presented these to St. Nicholas to give them to the mothers in need.
Our choir director led the children in song for the parihioners and St. Nicholas.
St. Nicholas presented gifts to all the children.
If the eyes are any indication, this little one was not sure what to make of ST. Nicholas.
St. Nicholas told the children that if they left a shoe our side their classrooms that they might receive a surprise. Here we have a nice collection of shoes.
St. Nicholas was seen in the halls by the church school classrooms putting gifts into the shoes.
St. Luke's Hosts Seminar On Parish Growth And Development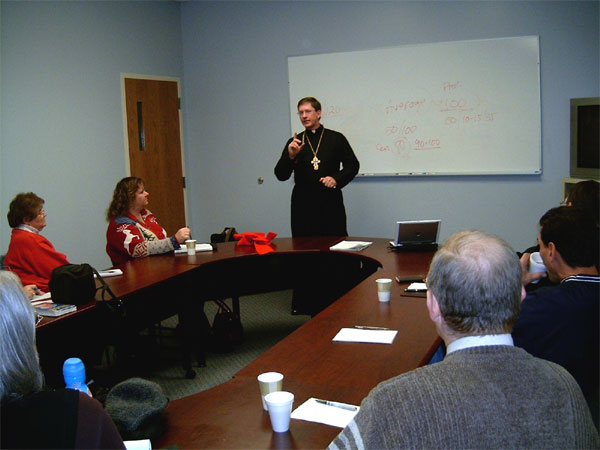 St. Luke hosted a seminar by Fr. Jonathan Ivanoff who chairs the Department of Parish Growth and Development. The representatives from St. Luke's were Sue and Pearl. The other representatives were from St. Michael in Burbank, Sts. Peter and Paul in Burr Ridge and St. Panteleimon's in Summit. The purpose of the seminar was to introduce the South Chicago parishes to a new program entitled Natural Church Development. A second meeting took place the next day to consider the implementation of this program. Since St. Luke has shown only a one percent overall growth in the past five years this program will be seriously considered by the new parish council after the election in February.
St. Nicholas Visits The Garden Center
St. Luke's monthly visit to the Garden Center for the Handicapped began as usual with Father Andrew reading a story from the bible while the residents followed along with their picture bibles.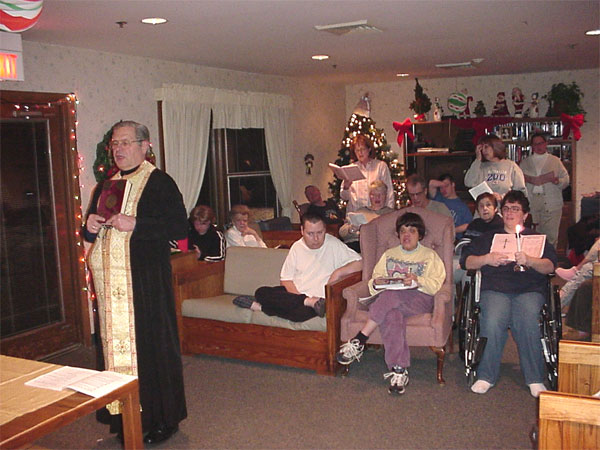 This was followed by a Typica Service in with the parishioners and the residents joined together in prayer and song. Father Andrew read the Gospel which pertained to healing and caring for the poor. He explained how this was especially meaningful in light of the Feast Day of St. Nicholas as he was involved in many healings and was famous for caring for the poor.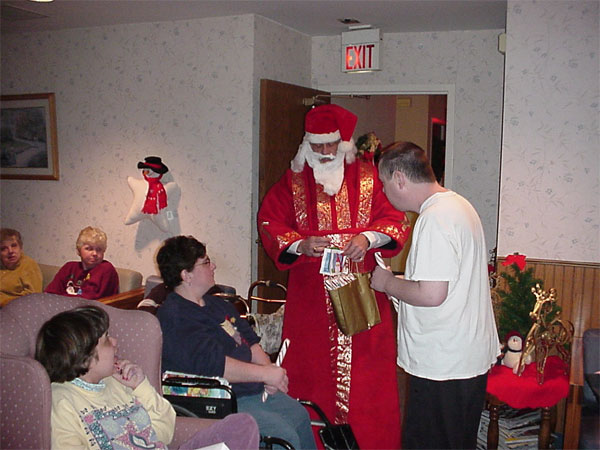 Following the service, the residents received a surprise visit from St. Nicholas. He greeted them in joy and presented them with gifts of candycanes and candy filled golden coins.
The residents also received a box of kleenex to have in their rooms donated by one of our parishioners. They seemed to really enjoy St. Nicholas and the gifts they received.
Afterwards we all joined together for a snack and fellowship.
Many Years to Don and Marcia!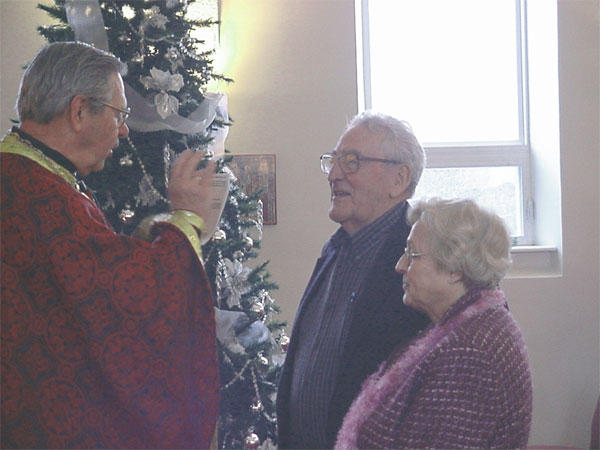 Following Liturgy today, Father Harrison blessed the marriage of Don and Marcia on their 50th wedding anniversary. We at St. Lukes congradulate them and sang "Many Years" in celebration.
Memory Eternal!
Adolph F. Harrison, of Boulder Colorado, died of natural causes on Friday, Nov. 18, 2005, in Boulder. He was 90.
The son of William E. Harrison and Nannetta Raith Harrison, he was born on Jan 27, 1915, in Philadelphia Pennsylvania. On Sept. 24, 1938, he married Helen Karpiak in Philadelphia. She prededed him in death in 1990. Mr. Harrison moved to Boulder in 1993.
After attending Mastbaum Vocational-Technical School in Philadelphia, Mr. Harrison worked as a tool and die maker for more than 40 years. His service during World War II was deferred because of his critical skills in support of the war effort. He served as a civil air raid warden.
Mr. Harrison served on the council at St. Stephen's Orthodox Cathedral in Philadelphia and was a member of St. Luke the Evangelist Orthodox Church in Palos Hills, ILL.
He enjoyed cooking, reading, and listening to religious and classical music.
"He loved being with his family," his family said.
Survivors include a son, the Very Rev. Andrew Harrison of Lemont, ILL.; a daughter Carol A. Wassmer, of Boulder; a sister, Marie Wetzel, of North Wildwood, N.J.; a brother George Harrison, of Newtown, PA.; seven grandchildren; and 14 great-grandchildren.
He was preceded in death by his wife; and two brothers, Walter and William Harrison.
A funeral service was held at St. Herman Orthodox Church, 942 W. Prentice Ave., Littleton. The Very Rev. Harrison officiated. Burial was at Oakland Cemetery in Philadelphia on Friday Nov.25th
Contributions in the memory of Mr. Harrison may be made to St. Luke the Evangelist Orthodox Churfh, 10700 South Kean Ave., Palos Hills, IL 60465.
Crist Mortuary, of Boulder, was in charge of the arrangements.