Events Are In Sequence - Please Scroll Down
St. Luke's Annual Golf Tournament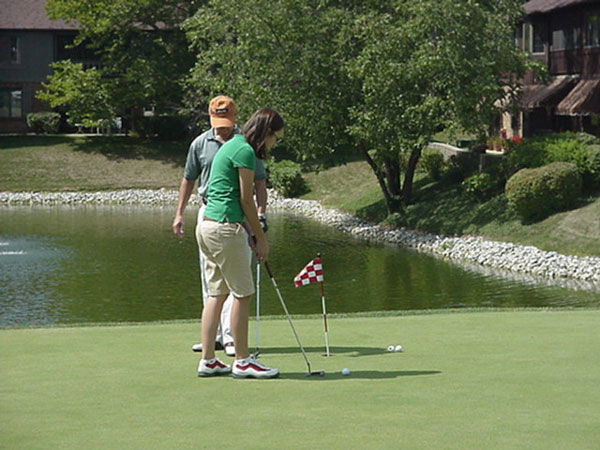 Once again we had a beautiful day for the annual St. Luke Golf Tourmanent. While waiting for their turn to tee off, Matt, our golf minister and Allision get in a little practice on the putting green.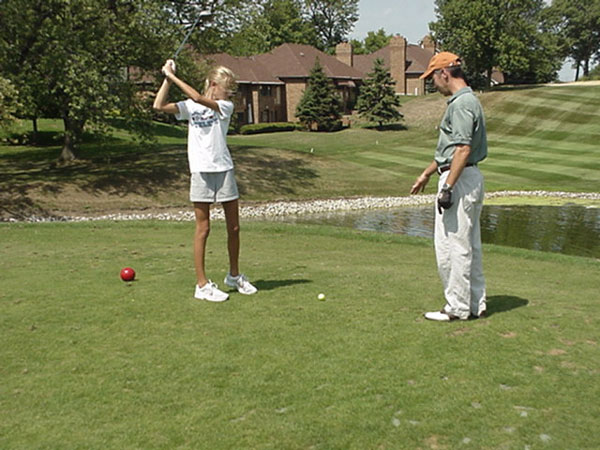 Matt gives Karen a little advice before she starts her round.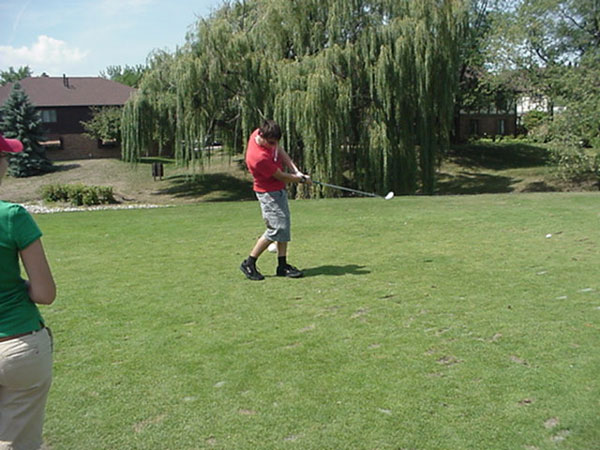 Andrew tees off on the first hole.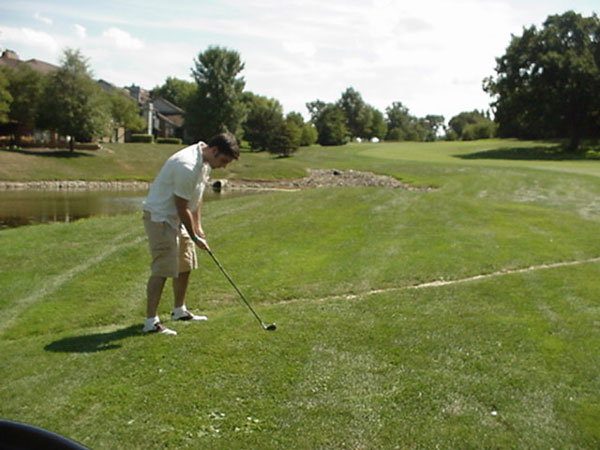 Mike prepares to hit his shot into the green on this scenic hole.
Some of our golfers gather around our tournament winner Allision at the conclusion of their rounds.
Archbishop Job's Triennial Visit Begins With Vespers
His Eminence, Archbishop Job began his triennial visit to St. Luke Parish this weekend. Here we see Father Andrew meeting Archbishop Job as he arrived.
His Eminence met with Father Andrew, members of the parish council, and some of the ministry learders to discuss the status of the parish and our faith in general.
Deacon Danial chanting the Great Litany of the Evening Vesper service.
Following this His Eminence attended vespers and a communal confession service. He spoke to us concerning the need for us to review our lives from time to time and the importance of repentance.

<!- Tri-Annual Visit Continues With Pontifical Liturgy--->
Triennial Visit Continues With Pontifical Liturgy
Continuing his triennial visit, His Eminence, Archbishop Job arrives at St. Luke's during matins. He is seen here with Proto Deacon Andrew and Rev.Deacon Danial. In the background several of our readers conduct the matins service.
Before the Liturgy, His Eminence ordained two of our parishioners, Phillip and Nathanial as readers.
A lock of hair is removed as an offering to God.
Also present is Archimandrite Zacchaeus of St. Catherine Representative Church in Moscow Russia. Fr. Andrew will be returning his visit in August 28th. He is leading a 11 day Pilgrimage to Moscow, Novgorod and St. Petersburg. To find out more information on The Church of St. Catherine the Great Martyr .Please click here. Click to View information concerning Father Andrew's upcoming Pilgrimage To Russia
Deacon Danial is presented with the Double Orarion as an honor for his work in Campus ministry.
Scene from the Liturgy.
Following the Liturgy many of our parishioners participated in the Vacation School Program. Here some of our youth receive craft instructions.
Future artists at work.
His Eminence jioned us in the fellowship hall and took this time to answer any and all of our questions.
Meanwhile Father Andrew held a class on parenting in the old basement.
It was a wonderful and busy weedend at St. Lukes and we thank His Eminence for taking the time from his busy schedule to spend the time with us. We look forward to his next visit with anticipation. God Grant Him Many Years!
Children's Sermon And Missionary Visit
Fr. Andrew began this month's children's sermon by comparing an invitation to a party with God's invitation given in the Bible to attend Church. When we attend a party there are certain expectation of activities. We have fun, play and eat. God invites us to the church where we worship God and we eat by receiving Holy Communion. God also invites us to be missionaries so we can tell others about the Church. Father then instructed the children that they were also called to be missionaries in their own community. Today the children were going to have a visit from a real missionary from Albania.
He introduced Shannon who has been in Albania for three years developing an elementary school for Albanian children of all faiths. She described how the Orthodox Church in Albania was almost completely eliminated and that today, under the leadership of Metropolitan Anastasios, it is being reborn with the help of the Orthodox Christian Mission Center.
After the Liturgy all were invited to see and hear a slide program about missionary activities in Albania given by Shannon and her husband Paniotos who is also a missionary in Albania. They invited parishioners to become involved by supporting the mission with prayers and monetary gifts.
Altar Servers Visit Hollywood Park
After serving during the Liturgy for the Transfiguration of Christ, Father Andrew and our sacristan John took some of the altar boys to Hollywood Park to thank them for their efforts. Each boy also received a tee shirt.
The boys showed off their putting skills during a round of mini golf.
Some time was also spent in the video arcade.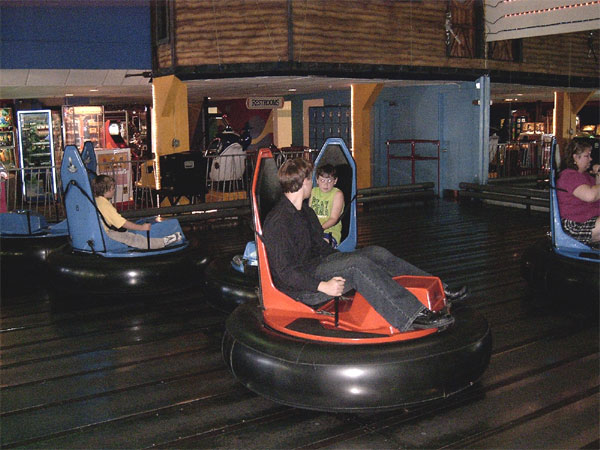 Here the boys are working on their driving skills at the bumper cars. Our thanks go out to all of our altar boys for the work they do serving our Lord.
St. Luke Parish Hosts Annual Blood Drive
Each year St. Luke sponsors a community blood drive. This is one our out reach activities to the Community. Sharon Mochel is the ministry leader. She coordinates with the Heartland Blood bank and obtains a list of volunteers to give blood. Advertising is also sent out to the community and to local churches. This year, Ron Smith a local DJ, announced the blood drive on the Radio Station - Real Oldies 1690 AM WRLL Chicago. The photo shows five of our parishioners getting ready to give their blood.
The nurse from Heartland is helping the men up after they have given. She makes sure that they do not pass out which on rare occasions can happen.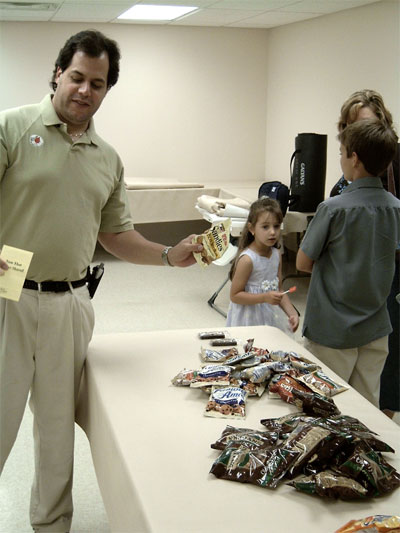 After a volunteer gives blood they are treated to snacks. It is important to drink fluids after giving.
An acknowledgement of thanks and a pin is given to each person who volunteers.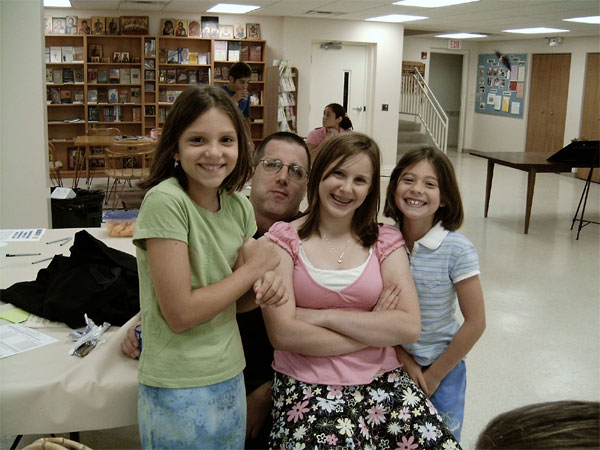 Some of our children helped set up and observe the procedures. Maybe we have some future nurses.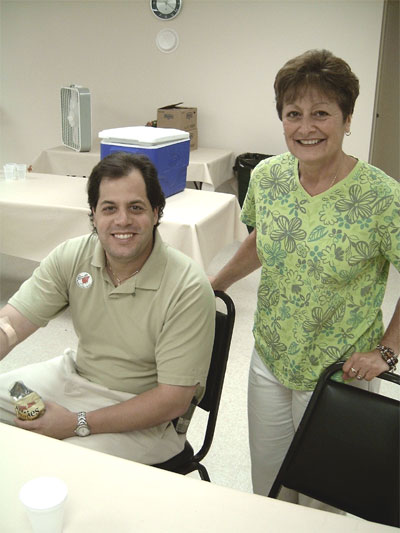 Sharon Mochel with one of our parishioners wearing the thank you pin. A total of 24 pints were given. The Heartland blood bank was pleased with the response.