Events Are In Sequence - Please Scroll Down
Mission Vespers Held At St. Michael's Parish
On Sunday evenings during lent, the parishes of the diocese join together to hold joint mission vesper services. The location rotates from parish to parish and this week it was held at St. Michael's Parish in Burbank.
The service was well attended despite heavy rains and several representatives were present from St. Luke's. A delicious lenten meal was served following the service.
The clergy from the different parishes gathered together to break bread together. We would like to thank St. Michael's parish for the wonderful job they did in hosting this service.
Presantified Liturgy At Saints Constantine And Helen Parish
As is our custom for the last five years, one Wednesday during left St Luke Parish visits out sister parish Saints Constantine and Helen Parish for PreSantified Liturgy. This year in addition, clergy and parishioners from both Archangel Michael and Saint Pantolemion Parishes participated as well.
During the service, the youth choir sang for us and helped with the readings and did a wonderful job.
Following the service a delicious lenten meal was served.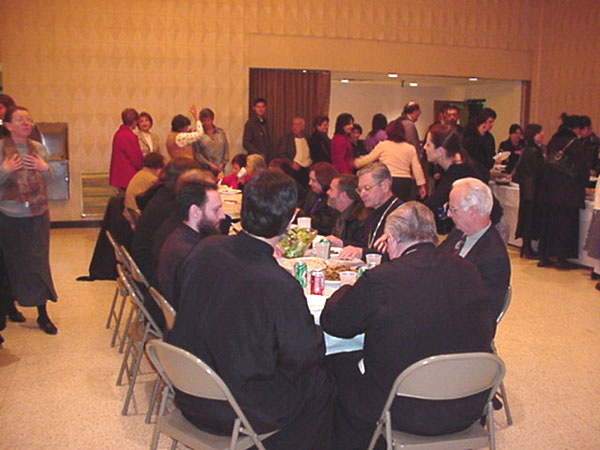 Here the clegry from the various parishes relax and enjoy their meal.
Following dinner, Father Nicholas introduced Craig and Victoria Goodwin, missionaries who work with the children in Romania. Slides were shown and the Goodwin's spoke about their work with the children.
Craig presented Saints Constantine and Helen Parish with a Romanian Cross. In two weeks it will be St. Lukes Parish's turn to return the favor as we will host Presantified Liturgy as Saints Constantine And Helen Parish visits us.
Sunday Of The Cross
On the third Sunday of Great Lent, the Holy Cross, decorated with flowers, is placed in the center of the church for veneration.
Fr. Andrew blesses the congregation with the cross and then it is venerated by the faithful.
Sunday Of Orthodoxy
The Sunday of Orthodoxy proclaims the triumphant return of icons back to the churches. In keeping with this tradition following Divine Liturgy the parishioners made a procession around the church carrying icons.
Just goes to show that you can't be too young to carry an icon in a procession.
Following the procession the congregation assembled in the front of the church and recited a proclamation on the Triumph of Orthodoxy.
Click Here for a video from the procession