Events Are In Sequence - Please Scroll Down
A Blessing For Safe Travel
As it is customary in the Orthodox Faith for the priest to come and bless our homes for safety and health, so to it is appropriate for us to ask the priest to bless our vehicles for safe travel as well. Here we see Father Andrew blessing this young man's new car with Holy Water and praying for safe travel for it's passengers.
The Middle East Conflicts Wall Memorial Dedication
The Middle East Conflicts Wall Memorial is the first monument to those who have died in the war in the Middle East from the bombing in Beirut to the war in Iraq. It is located in Marseilles, IL. by the Illinois River. The monument was sponsored by the Illinois Motorcycle Association Freedom run held for the second year. Chaplain Harrison (Fr. Andrew) with his squadron commander Major Joseph Kouba hours before the ceremonies began.
Fr. Andrew was also responsible for meeting and counseling the families of the victims commemorated on the new memorial granite walls.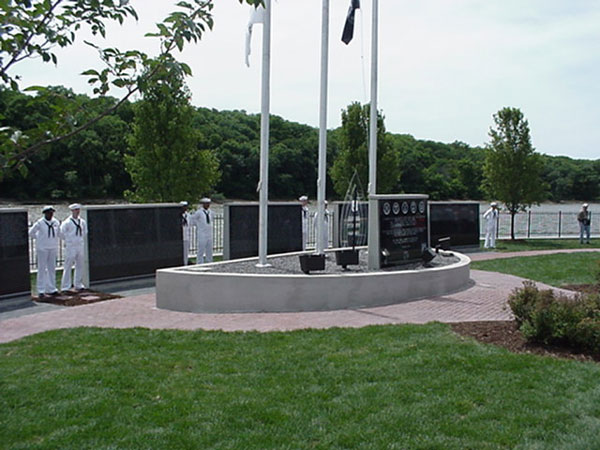 A view of the finished memorial guarded by members of the U.S. Navy. The final plaque officially "completing" the memorial was escorted by over 12,000 motorcycles travelling from Summit, IL., to the memorial.
Here we see the arrival of the motorcycles and their owners. The Illinois Motorcycle Association was responsible for building and funding this memorial.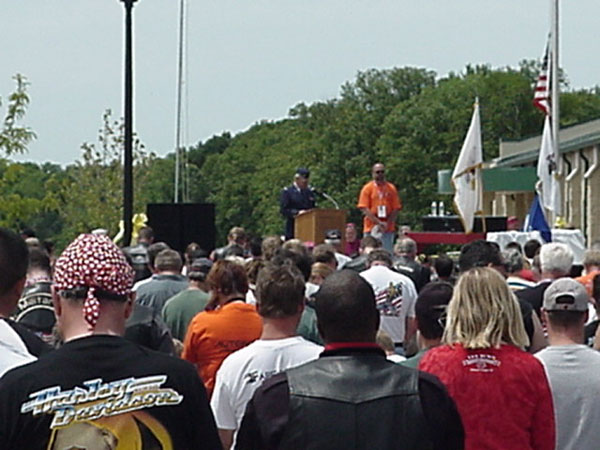 Fr. Andrew gives the opening blessing. Special prayers were offered for the consolation of the remaining members of the fallen soldiers' families.
The following are the prayers offered by Father Harrison at the service.
Invocation
Let us bow our heads in Prayer
O Lord, our heavenly Father, you gave us the rivers that water this land and cause the fields to produce amber waves of grain. You gave us men and women who watered the fields with their blood so we can remain free. Today we dedicate this memorial to these brave men and women and offer thanks to those who have paid the ultimate price. We pray for their families who were required to sacrifice during this time of war in the Middle East.
In remembering them we pray for the day when this war on terrorism will end. We pray for the day when all religions and philosophies can live together in peace and teach mankind to preserve that harmony. Until that day, grant us the determination to make the difficult decisions to deter those who would impose an alien way of life on our beloved nation and deny our sacred freedoms under God.
You said it is upon the rock of faith in the Living God that we must build. With that in mind, bless now this wall of stone. Grant those remembered here eternal rest and their grieving families solace. And we ask grace, mercy, and peace for each of us gathered here to honor their memory. Amen.
Benediction
O Lord You ride upon the wings of the wind, and make Your Angels spirits, and Your ministers a flaming fire: We pray you will send your Guardian Angel upon these cyclist preserving safely those who ride. May they be shielded from all evil and receive lasting joy in Your heavenly kingdom.
And may the blessings of the Lord be upon all who have attended this memorial and for grieving families members may we all take courage and may our hearts be strengthened, placing our trust in the You for Your are the prince of Peace. Amen
Various members of different faiths participated in offering their blessing of the new memorial. Here we see Fr. Andrew getting ready to bless the new granite walls with holy water.
Relatives of the fallen soldiers etch a copy of the name of their departed loved one from the wall. The design for this memorial was inspired by the Vietnam Memorial in Washington, D.C.
For more information on the service click here
Olympians Recognized
After coming to the front of the church accompanied by the Olympic theme music, our participants in the Junior Olympics were recognized for their achievements and those who won medals received them.
St. Luke Parish Sunday School And Graduation Award Ceremony
This Sunday St. Luke Parish held it's annual Sunday School and Graduation Awards Ceremony. Children from all age groups received "Faithful Attendance Awards" for their participation in the Church School Program.
All those graduating from grammar school, high school, college, and graduate work were honored as well. As it customary, Father Andrew presented those beginning college with a copy of the Orthodox Study Bible to take with them to school.
At the conclusion of the ceremony, all those who took part in the Chruch School Program were presented with a gift.
Quad-Parish Picnic And Divine Liturgy
This Sunday St. Luke Parish sponsored a four parish picnic and outdoor Divine Liturgy service. Archbishop Job was present to share the day with us. For some the day began early setting up the pavillion and getting everything ready. Here we see Father Harrison setting up the altar area.
Back at the church the visiting clergy were vesting and getting ready for the Liturgy. Here we see Archbishop Job being vested by the clergy.
Archbishop Job and clergy arrive for the Liturgy and are greeted by Father Harrison.
Scene from the Divine Liturgy.
Scene from the Divine Liturgy.
Scene from the Divine Liturgy.
Scene from the Divine Liturgy.
Scene from the Divine Liturgy.
His Grace gave a wonderful sermon on what it means to be holy and the saints, calling all of us to strive and to be as holy as we are able to be and to try to be like the saints. He pointed out that it was appropriate to occasionally hold an outdoor service as walls can not contain the Glory of Our Lord. On a lighter note he hopes that this picnic and service will soon become an "ancient tradition".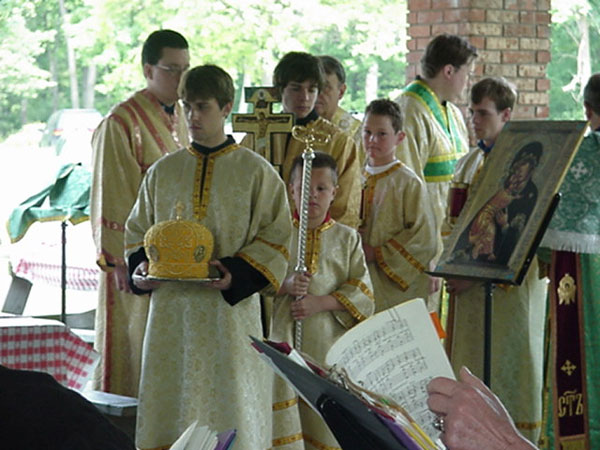 Procession during the Divine Liturgy.
His Grace hold the Cross for veneration by the parishioners during the dismissal.
Following the service, coffeee and donuts were served.
His Grace blesses the meal and a delicious luncheon buffet was catered.
His Grace and parishioners enjoy lunch and fellowship.
Parishioners enjoy their meal
Let the games begin. Here two children engage in a tug or war over a stick.
Others decided to try their hand at baseball. Their was a rumor that this was really Chicago Cub pitcher Kerri Wood working on his injury rehabilitation but it was determined that this rumor was false.
Some of the children decided that they would have the most fun simply dumping water on each other from the well.
A wandering minstril provided entertainment with some county fiddlin.
Father Andrew and a parishioner decide to hang out in the shade of a tree.
Our coordinator of the chilli cookoff is seen here holding a 20 dollar bill and smiling. Looks a little suspicious.
His Grace and several others served as impartial judges of the chilli cookoff.
Father Harrison awards the third place winner.
Next we have the runner up receiving his award.
Finally we have this years chilli champion.
One of our youngest parishioners enjoying the fresh air and sunshine.
An unsuspecting pinyata just hanging around.
The children try to open the pinyata with a stick to get at the candy inside.
Nice try..............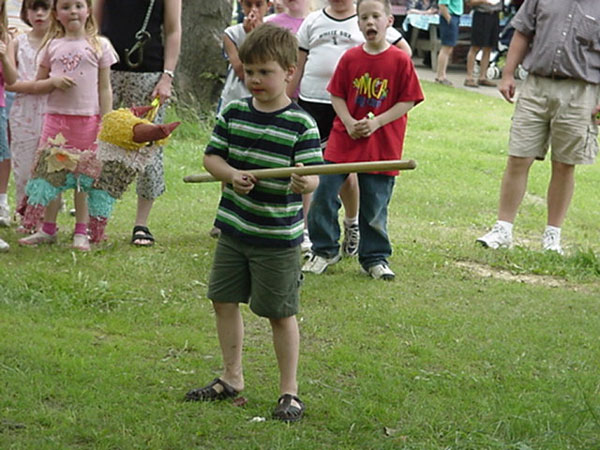 Not quite..............
Almost........................
Finally..................
Raffles were held for various prizes for both the children...........
.......and for the adults. A wonderful time was had by all. We at St. Lukes thank all for coming and give special thanks for all who worked so hard to make this day a hugh success.
Junior Olympics: Fellowship, Fun, and Competition
This was a special year for the Junior Olympics which is sponsored by SS Constantine and Helen Greek Orthodox church in Palos Hills. Parishes from all over the Midwest send teams to compete in a verity of athletic competition and games. This years opening celebration celebrated the regular Olympics which will held in Greece this year.
This was a special year for St. Luke because St. Mary our sister Antiocian Orthodox Mission joined with St. Luke for team competition. This photo shows the Olympians from both parishes marching in the opening parade of athletes.
During the opening ceremonies, a reenactment of tradition from ancient times where Fr. Nick presents an athlete the laurel wreath.
Sandy has her game face on as she reveals her speed in the 50 yard dash.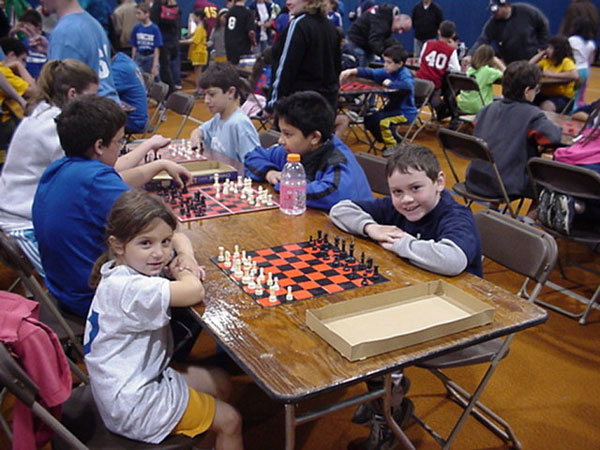 Nick is looking quite confident as he is about to show his prowess in chess.
Alex prepares his next strategic move.
A tennis warrior is caught by our shutter bug assessing the field of battle.
Friendships developed through the enjoyment of the games. Left to right Joan, Sandy, Madeline, and Miriam.
The activities occurred everywhere keeping athletes, parents, coaches, and spectators on their toes.
Joe stands at the top of the podium sporting his latest hardware. He took home two gold medals and a bronze.
The flying Partols, long jump victors, display their bounty along with their proud parents.
The St. Mary & St. Luke camp taking a much deserved breather after an exhausting day.
Fabulous Fabby is ready to take on all comers in the 800 meter relay. She already secured a Bronze Medal in the softball throw.
The Fearsome Foursome: Fabby, Lena, Rozie, and of course, Magnificent Majd, enjoying their moment in the sun after speeding past the favored St. Constantine team.
Movie Club And Restaurant Rovers Combined Outing
On Sunday, May 23, 2004, Movie Club gathered at the church to view Shine -- we all thought it was a great movie -- basically about a child prodigy pianist who suffers a mental breakdown just as he's breaking into his professional career and how he copes with life after mental illness -- we recommend it as a great movie to rent. Afterwards we met at El Ameer Restaurant at 11136 South Harlem in Worth. As you can see, Pearl, Caye, Phil, Matt, Jacob, Mic, Lydia, Alexandria and Father Andrew can all tell you how delicious middle-eastern food is.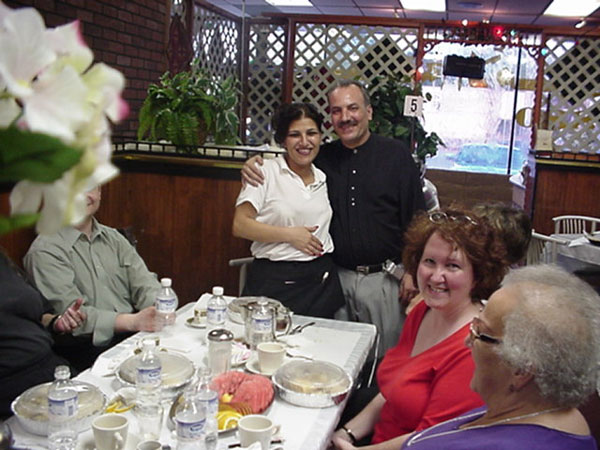 Again, we recommend Al Ameer and suggest you ask for Waffa, she was quite a fun waitress and even brought us some special desserts with our delicious coffee and tea, yum, thumbs up.
Here are Matt and Tanya, their children and the grandparents -- again, as you can see, middle eastern food inspires everyone to pay total attention to Sam's hand trickery.
Many Years To Andy And Sherri
Congratulations to two of our valued members of St. Luke Parish, Andy and Sherri on their 50th Wedding Anniversary. God Grant Them Many Years! Both are members of the choir and involved in numerous other aspects of church life. Due to personal reasons they will be leaving us and moving out of state. We wish them all the best and hope that they will be able to visit us from time to time.