Events Are In Sequence - Please Scroll Down
Civil Air Patrol Encampment
Fr. Andrew attended a week long camping program with the Civil Air Patrol at Volk field in Wisconsin. Fr. Andrew has been a CAP chaplain for two years. He retired from the Air Force Reserve in 2000 and now is helping boys and girls through the CAP moral leadership training program. He also flies on CAP search missions. At the encampment he took an orientation flight in a glider. Anyone interested in the CAP should see Fr. Andrew.
Cadets of the CAP in formation preparing to march.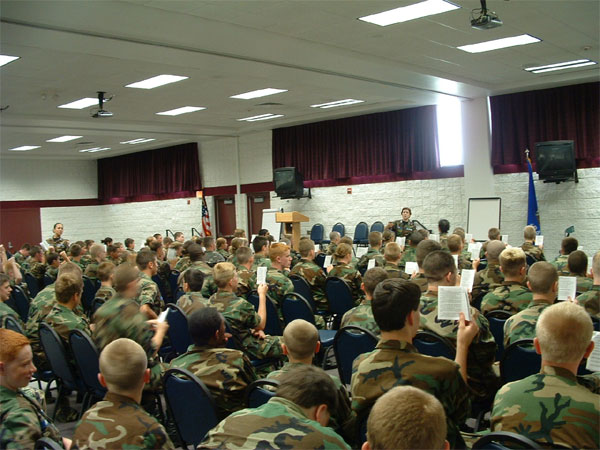 Over 250 boys and girls from 13 to 18 attended.
This is the glider that Fr. Andrew had his first experience with soaring.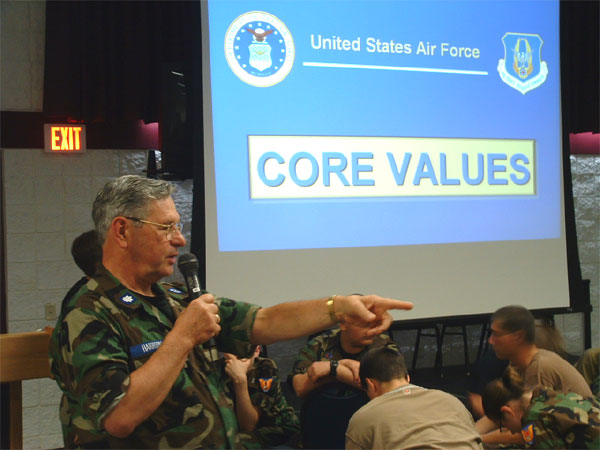 Father Andrew Leading a class on the core values of the CAP - Integrity, Volunteer service, Excellence, Respect.
Cadets with Fr. Andrew going through the robe obstacle course.
Domestic Violence Awareness
As our summer lecture series continued, this week our guest speaker was Investigator Betty Coleman from the Cook County State's Attorney's Office Domestic Violence Division. Her topic was Domestic Violence Awareness. She spoke on Teen Dating Violence - "When Dating Turns Dangerous". We thank her for giving our her time and once again we thank our serurity ministry leader for providing us with such interesting speakers.
St. Luke Annual Golf Outing
It was once again time for our annual golf outing. This year it was again held at Oak Hills Country Club and God granted us an absolutely beautiful day for the outing.
Here one of the contenders for the title prepares to make his putt.
As you can see the course was in great shape and offered many beautiful holes with challenging shots.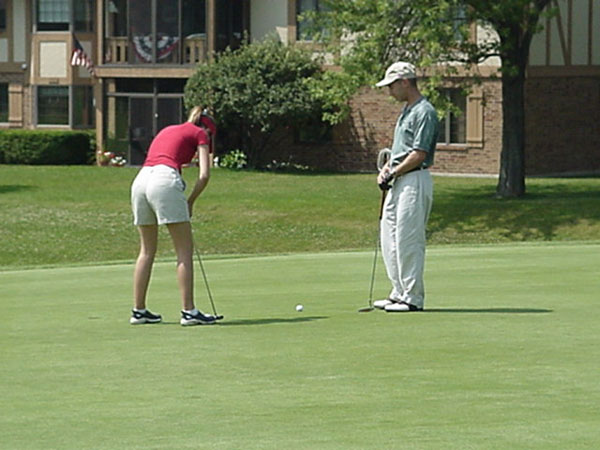 Our final group prepares to putt out on the final hole.
Our thanks go out to our Golf Ministry for setting up this tournament as we look forward to next year's event.
Building Work Continues
Due to the efforts of some of our parishioners and some donated paint, the classrooms and several of the offices on the first floor received a coat of quality paint this week.
Work also continued on the remodel of the clergy area as studds for the new drywall were placed.
Another view of the work in the clergy area.
St. Luke Parish Celebrates Fourth Year At The Garden Center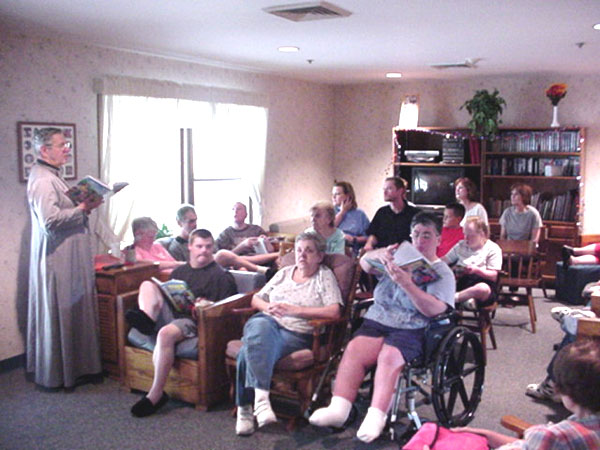 Each month Father Andrew and parishioners from St. Luke Parish take time to visit the residents of The Garden Center For The Handicapped. This month marked the Fourth Year Anniversary of our visits there.
Each resident has given their own copy of the Children's Bible and each meeting begins with Father Andrew reading a story from the Bible and teaching about it.
Next follows a short Typica Service in which both parishioners and residents participate.
Some of our choir members help with the singing while our youth help as altar servers.
After the reading of the Gospel for the day, Father Andrew gives a short sermon often with some interesting props. Today he brought with him a stop light. After confiming with the residents that red means stop and green means go, he went on to explain that the Bible is like a stop light. It tell us to go and love your neighbor, go to church, go and do good for others, etc. It also tells us to stop being angry, to stop hurting one another, to stop killing etc. He asked everyone to think about the Bible and what it tells us to do and not to do when we see a stop light.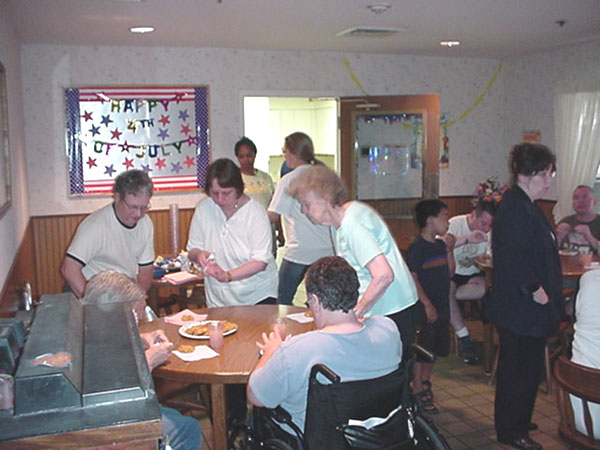 Follwing the service, everyone was able to sit and talk and share cookies, ice cream and cake to celebrate this fourth year anniversary.
Work On Clergy Area Continues
Work continued this week on the clergy area. Here we see the old carpet removed, the ceiling removed and much of the old electric conduit taken down.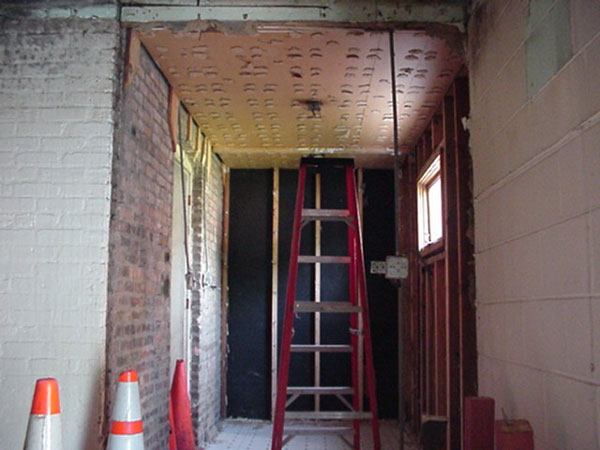 The walls around the old stairway have been removed to open up this area and the side walls stripped as well.
Bulletin Boards Installed
Around the church several new bulletin boards have been installed for use by our new bulletin board ministry. These will be used to display timely information concerning parish events and meetings. Please take the time to view the materials on the bulletin boards and take a more active interest in the life of the parish.
Lecture On Sexual Abuse Of Children
This week we were fortunate to have Asst. States Attourney Angela Petrone be able to come to St. Luke Parish and speak to us about the sexual abuse problem and children. A group of interested parishioners were in attendence as she informed us of the problems involved in sexual abuse cases, what we could do to help, and what the courts are doing to help as well. A question and answer session followed. Our thanks go out to her for taking the time to speak to us and to our security minister as well for setting up this interesting lecture.
Orthodox Christian Living Center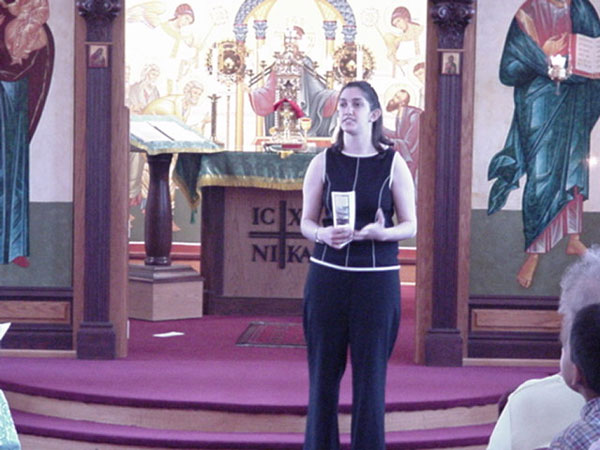 Each month it is customary at St. Luke Parish to take a charity collection for a specific cause. This month a speaker from the Orthodox Christian Alumni Association at the University of Illinois came to speak to us about their current project. They are setting up an Othodox Christian Student Living Center at the University of Illinois. Here students can share their Faith and form friendships while attending college together. Anyone interested in supporting this effort may contact them at orthodoxalumni@aol.com or call 217-352-3452.
Children's Sermon On Being Prepared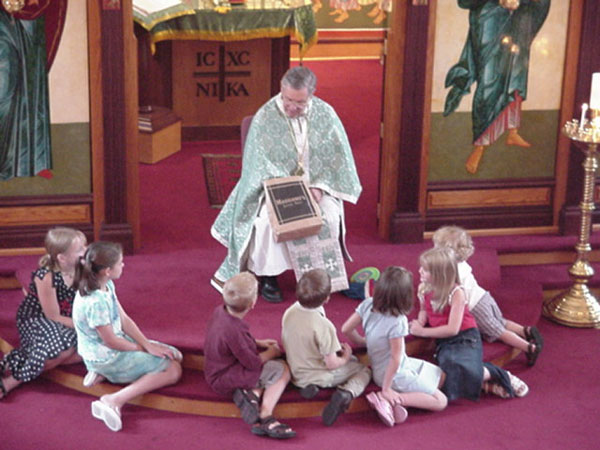 This month's children's sermon focused on being prepared. Father Andrew brought a bag and explained that if you go to the beach you must prepare before you go. In his bag he had a bathing suit, sun block, sunglasses, a lunch, etc. He then explained that before coming to church you prepare as well by cleaning up and getting dressed nicely. He then asked them what they thought going to church prepared them for. He went on to explain that going to church prepares us to enter heaven. That baptism is like our bathing suit and Holy Communion like the lunch that we pack for the beach.
Clergy Area Gets A Facelift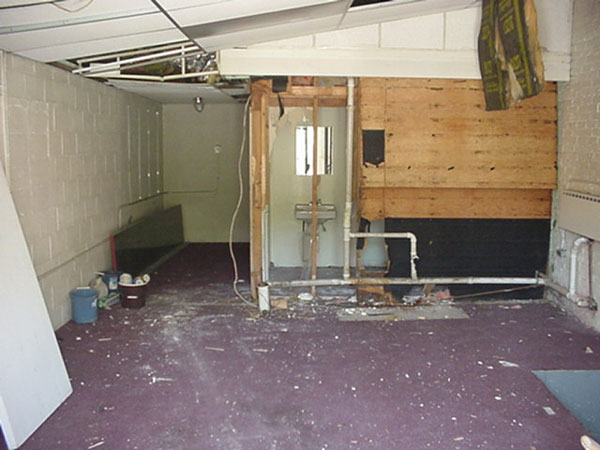 This week the long awaited remodeling of the old kitchen into a clergy area began. Above and below we can see pictures of the demolition stage underway.
Stained Glass Windows For The Belltower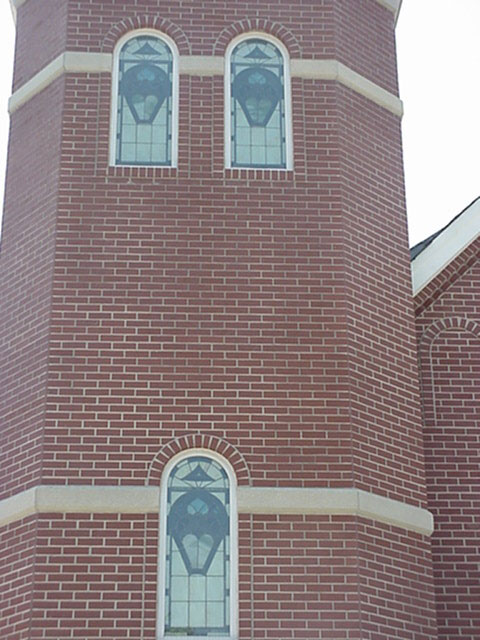 The bell tower at St. Luke Parish received a new look this week as stained glass was installed in the windows. The stained glass came from the original stained glass window that was behind the choir loft before the new construction began. The reconstructed windows were donated by Bill Foster in memory of his late wife Carol. In addition to the original stain glass some of the glass used came from a church which was located across the street from the federal building in Oklahoma City. This adds to the dedication of the bell tower which commemorates those who died on Sept 11, 2001. The reconstruction and redesign was done by Gregurich custom stain glass of Chesterton Indiana. Phone 219-926-5645.