Forgiveness Vespers
At the beginning of Lent each year, the Forgiveness Vesper Service is held. This service helps to set the tone for the lenten period as at the end of the service each parishioner makes a prostration to the floor before one another and each kisses the other on the cheek and asks for forgiveness. It is a chnace to make peace with all those you have offended during the past year knowingly or unknowingly. Below we see a line forming as each parishioner moves from one to the next asking each for forgiveness.
New Members Honored
As is customary at St. Luke Parish each year prior to the beginning of Great Lent a Sunday is set aside to honor and officially welcome all those who had joined St. Luke Parish in the past 12 months. Father Andrew called these new members to the front and led us in prayer.
Next he presented each new member with an icon. Then the congregation sang "Many Years" for the new members.
Following this ceremony, the congregation adjourned to the fellowship hall for a catered luncheon.
Oath Of Office
This Sunday following Liturgy our newly elected parish council was sworn in and pledeged to do there best to do Our Lord's work. Our prayers go out ot them that they may do so. Following the ceremony Father Andrew blesssed each member with holy water as they apprached and venerated the Cross and the Gospel.
Children's Sermon On The Prodigal Son
This Sunday's children's sermon was on the prodigal son. Father Andrew explained that the prodigal son went to some place like Las Vegas and lost his inheritance. Then he was forced to work feeding the pigs to live. Here Father showed them a corn cobb that he would have used to feed the pigs.
Next he showed them an empty husk of corn that the prodigal son wanted to eat because he was so hungry. He realized how wrong he was and went back to his father to ask forgiveness and be received as a servant. His Father forgave him and gave him a new robe, ring, sandals and threw a party for him. He explained that when we are like the prodigal son and we fall away from God by not saying our prayers or reading the bible. This leads to more serious sins. When we are more concerned with ourselves and having fun than with God, we seperate ourselves from Him. Father explained that with lent beginning we should also be like the prodigal son and strive to return to Our Father by focusing on the things of God.
Women's Retreat And Education Workshop 2004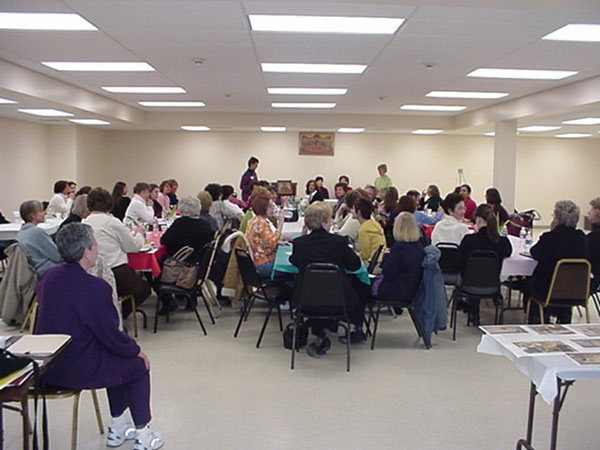 On Saturday, February 7, 2004, a combined Women's Retreat and Church School Teachers Workshop was held at Saint Luke from 9:30 am to 2:45 p.m. It was Co-hosted by Saint Luke and the Chicago Deanery/Diocese of the Midwest/OCA. The churches of the Chicago Deanery as well as other neighboring Orthodox churches were invited.
SCHEDULE
9:30 am to 10:00 am...Registration / Coffee & Snack
10:00 am to 11:30 am...Speakers: "God's Will / Free Will"
11:30 am to 12:30 pm...Lunch
12:30 pm to 2:45 pm...Women's Retreat Discussion Groups
Teachers' Idea Swapping
Co-chairperson Linda Kopulos (right) introduced the two speakers (seated).
The Church School display consisted of textbooks, crafts, photos from various activities, and ideas for everyone to share.
Speaker: Helen Irene Jonas...M.A. in Theology from Holy Cross Seminary, 3rd grade teacher Chicago Public Schools, teaches Godparent and catechumen classes at Sts. Constantine & Helen Greek Orthodox Church of Palos Hills, presently working for Masters in reading.
Speaker: Cindy Bastounes-Wierzba...Working on Master of Divinity from St. Vladimir Seminary, Pan-orthodox Women's Conference at Antiochian Village in September of 2004; spiritual gifts lecture series at Christ the Savior OCA Church of Chicago in Lent of 2004.
In the afternoon session, the teachers gathered for an idea-swapping informal workshop. Teachers were able to glean some refreshing "field-tested" projects to bring back to their respective parishes.
Father Andrew presented a children's sermon for the "older children of God."
Work Begins On Choir Room
This saturday several of our parishioners gave their time to put up drywall in the new choir room. All the materials were donated as well as the labor. Work will be contining in the weeks to come. Our thanks go out to those who gave up their saturday for this worthy endeavor.
Annual Meeting 2004
This Sunday following Liturgy, St. Luke Parish held it's annual meeting for 2004. A comprehensive report by all elected officials and ministry leaders was prepared and distributed to all members prior to the meeting. This report detailed a review of the past year and included plans for the upcoming year as well. It addition to several business items that were discussed, this was a parish council election year. We would like to thank all those who worked so hard in the past year and wish our new council much success during their term in office. Let us pray that the Lord grants them the wisdom to know His Will and the strength to carry It out and that the Holy Spirit will guide them and all at St. Luke's as we continue to grow and thrive.
The Baptism Of Emily
The Baptism of Emmilia Helen Harrison took place at St. Herman's Orthodox Church in Littleton Colorado on January 25th. Fr. John Armstrong was the host priest and Fr. Andrew was the celebrant. Above we see Emily in her baptismal garment - That she may preserve her baptismal garment and the earnest of the Spirit pure and undefiled unto the Day of Christ our God, let us pray to the Lord.
The picture shows the Blessing of the Baptismal water - Wherefore, O King Who loves mankind, come now and sanctify this water, by the indwelling of the Holy Spirit.
The servant of God, Emily is anointed with the oil of gladness; in the Name of the Father, and of the Son, and of the Holy Spirit. Amen.
The servant of God, Emmilia is baptized, in the name of the Father, Amen. (Immerse); and of the Son, Amen. (Immerse); and of the Holy Spirit, Amen. (Immerse)
Next Emily is Chrismated -Likewise, O Master, compassionate King of kings, grant to her the seal of the gift of Your holy, almighty, and adorable Spirit, and participation in the holy Body and precious Blood of Your Christ. Keep her in Your sanctification; confirm her in the Orthodox faith; deliver her from the evil one, and from all his workings. Preserve her soul in purity and righteousness, through the saving fear of You; that she may please You in every word and deed, and may be a child and heir of Your heavenly kingdom.
The parents - Luke and Jenny
The Family - right to left - Anita Tellock - God Mother, Joseph Mikita - God Father, Pat Harrison, Baby Emily, Fr. Andrew, Luke and Jenny Harrison