Events Are In Sequence - Please Scroll Down
Christ Is Born! Glorify Him
We at St. Luke would like to take this opportunity to wish each and everyone a happy and blessed Christmas. Let us all rejoice as God has given us the greatest gift of all. He has given us his only begotten Son that he might save us.
Nativity Eve Dinner And Vigil
Our custom at St. Luke's is to have a Lenten Holy Supper on the Eve of the Nativity. This supper is pot luck style with the parishioners bringing different dishes that are non meat and non dairy. Tradition is that there should be twelve different dishes which is symbolic of the tweleve apostles and it should be eaten without pepper or knives. Pepper symbolizes arguments and knives the cutting of friendships. The parishioners gathered by candlelight for a short prayer service performed by Father Andrew which began the Holy Supper. Here we see Father Andrew explaining the meaning of some of the customs.
One of our youth read a passage from the Bible.
Father Andrew then placed honey on the forehead of everyone with the words, "May we all love one another as the bee loves honey."
We added a new custom the sharing of Christmas Wafers "oplatki" representing unleven bread. This custom is Polish in origin.
Father Andrew then distributed bread with honey to the parishioners with the words, "Let us love one another." Next everyone took a piece of garlic and ate it saying,"May God Spare us from all Evil."
At this end of this prayer service a pot lot lenten dinner was served.
After dinner the parishioners participated in the Nativity Eve Vigil Service.
Youth Group Sells Ornaments For Underpriveledged Children
It's beginning to look a lot like Christmas at St. Lukes. Parishioners gave their time and decorated our tree. Under the tree we see presents that have been collected for PASS - Pregnancy Aid For The South Suburbs.
Our youth group organized a Christmas ornament sale. The proceeds are being used to buy Christmas Stockings for underpriveledged children thru a program run by the Orthodox Church of America.
St. Nicholas Visits The Garden Center
St. Luke Parishioners visited the Garden Center for their monthly visit. Here we see Father Andrew reading a Bible Story to the residents. This is followed by a short service and then refreshments.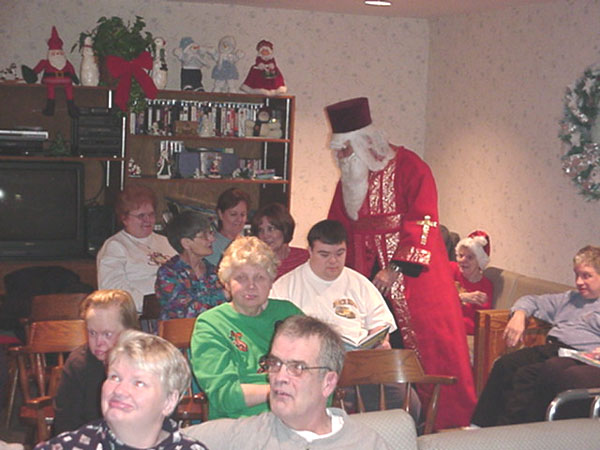 Today Father Andrew also read a story for the life of St. Nicholas after which we received a surprise visit from St. Nicholas.
After speaking with the residents and answering some questions, St. Nicholas gave everyone a golden chocolate coin. This reminds us of the fact that although St. Nicholas received much wealth from his parents; he gave it all away to others.
A Visit From St. Nicholas
Following Liturgy Father Andrew held his children's sermon by reading a story about St. Nicholas and how he helped a child possessed by the devil.
Some of our older children gathered together to sing a some to St. Nicholas.
St. Nicholas must have heard the story and the singing because he decided to stop by and entered the church with the young children looking on in amazement.
Father Andrew welcomed St. Nicholas to our parish.
Choir Director Maria Vrame and Father Andrew gathered with the young children.
Maria leads the children in singing some of the hymns they learned for St. Nicholas.
The children collected gifts to be given to those who are less fortunate. He we see them bring their gifts to St. Nicholas so that he could pass them on.
St. Nicholas gave all the children gifts as well. Then he sent them to Church School and told them that if they each left one shoe outside the classroom door, they might find something in it when they came out.
There were a lot of children walking around with one shoe in anticipation of finding a gift after class.