Events Are In Sequence - Please Scroll Down
Passport to Egypt
This week our church school passport program turned it's attention to Egypt.
Deacon Danial Doss explained how Saint Mark introduced Christianity in Egypt. He also told the students about some of the famous Church Fathers from Egypt like St. Athanasious the Great, St. Cyril of Alexandria, and St. Anthony the Great. And did you know that Egypt was the only other country that Jesus visited?
From the New Testament:"Behold, the angel of the Lord appeared to Joseph in a dream, saying, arise and take the young child and His mother and flee into Egypt, and be there until I bring you word for Herod will seek the young Child to destroy Him" (Matthew 2:13,14) "When he arose, he took the young Child and His mother by night and departed for Egypt, and was there until the death of Herod, that it might be fulfilled which was spoken by the Lord through the prophet, saying, "Out of Egypt I called My Son''." (Matthew 2:22-23). Today the Christianity community is a persecuted minority in Egypt.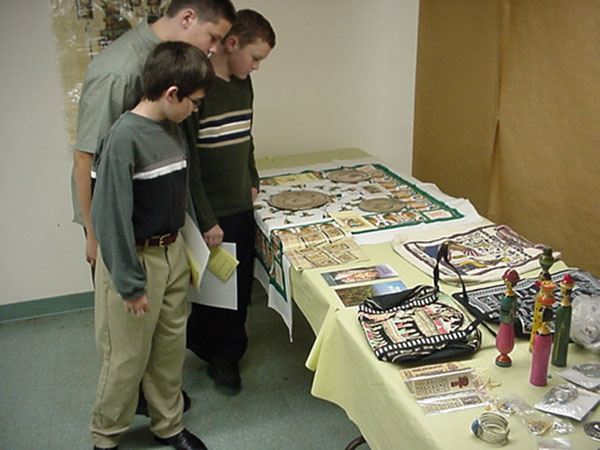 The children were allowed to view some Egyptian artifacts.
Here is a view of one of the tables that were set up for display.
Addition To Landscaping
This week two pussywillow bushes were planted in the back yard. These are projected to grow to a size of 25 feet high by 25 feet wide. They will provided the pussywillow branches for Palm Sunday so we no longer have to purchase them. In addition extra branches can to sold or donated to other parishes.
Church School In Full Swing With Passport Program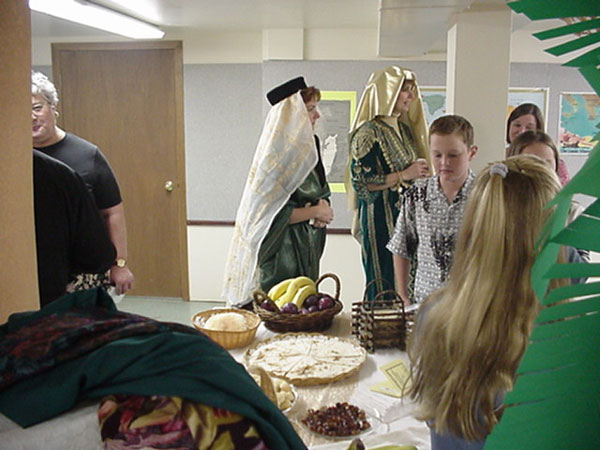 On Sunday, September 21, the Church School embarked upon a unit entitled: Psalm 19:4 "Their proclamation has gone out into all the world and their words to the end of the universe." Psalm 19:4
This unit shows how the Good News delivered by Jesus Christ has been proclaimed by the Church to this very day. It also provides a sense of belonging to a Church which has existed continuously from the time of Jesus Christ and the Apostles to the present day.
Each child was issued a passport and for the next 8 Sundays, our students will be traveling to a different country. The travel itinerary is:
September 21 - Antioch/Lebanon
September 28 - Egypt
October 5 - Greece
October 12 - Rome
October 26 - Ireland
November 2 - Romania
November 9 - Slavic Lands
November 16 - Far East
November 23 - America
Pat Ketchmark and Lynn Betsanes introduced the students to Antioch of Syria - the city where followers of Jesus Christ were first called Christians. Then they followed the Apostles to Lebanon to learn how Christianity spread to that country. The students were also delighted with the Lebanese delicacies! See picture above and below.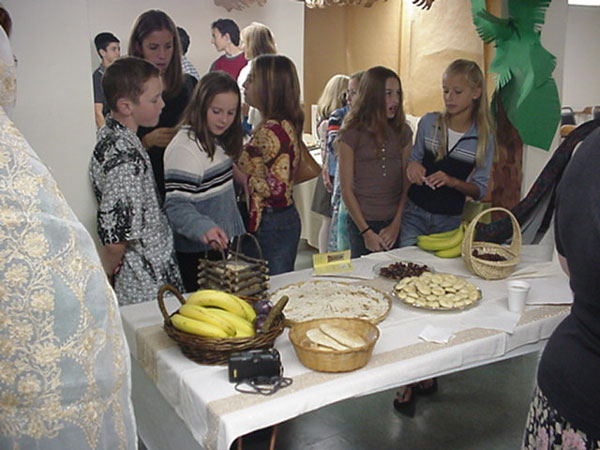 ---
Our young students were shown a educational video which obviously held their attention.
Meanwhile the adult class taught by Jerry Kincaid received instruction of the meaning of the Eucharist.
Father Andrew Hosts Adult Bible Study
Father Andrew is hosting an adult bible study on wednesday evenings at 7:00 pm. The course will use the Orthodox Study Bible as it's text. The class begins and ends with a prayer and concentrates on teaching how to use the study bible and the readings listed for the day. An ongoing discussion is mixed in with the readings. All are welcome to participate.
Church School Begins With A Blessing
Church school began this Sunday with a prayer by Father Andrew as the students and teachers gathered before the altar. He then dismissed them blessing each one with Holy Water.
Children's Sermon On Fear
In beginning this months children's sermon, Father Andrew asked the children what they were afraid of. Answers varied from bugs and the dark to being afraid of waking up mom. Father Andrew explained to the children that if we have faith in Our Lord, hope, and love we do now have to be afraid. Afterwards he handed out red, white and blue wrist bands to the children in support of the upcoming memorial on September 11th.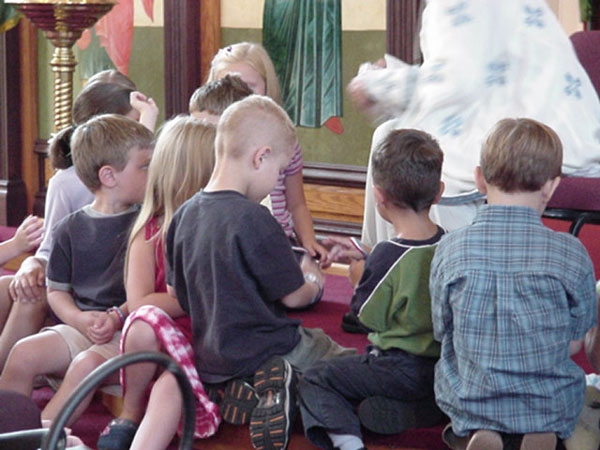 White Coat Ceremony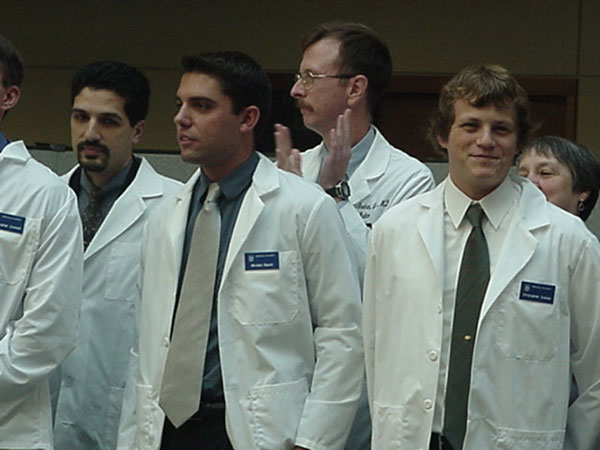 St. Luke, whose feast day is observed on October 18, is called "beloved physician" by St. Paul and "Paul's disciple" by St. John Chrysostom. Luke, a physician whose skills healed many of his suffering comrades, joined St. Paul on his second missionary journey, as recounted in the Acts of the Apostles. St. Luke is the patron saint of physicians and artists. This being so, it is fitting that we have so many physicians and health care professionals as members at St. Luke Parish. In additon it is also fitting that we currently have four of our young adults attending medical school.
It has become a custom in medical school to have a ceremony where the new students are given a white coat for the first time. It is a symbol of their lifetime committment to the care and healing of others as servants to all. This saturday, Mike received his white coat at a ceremony at Loyola Medical School.
We congradulate Mike along with Anna, Luke, and Suzanne; our other medical students and recognize their accomplishments. We pray that Our Lord gives them the strength, courage, and wisdom to properly serve and glorify Him through their lifetime of service to others.
Many Years to Father Andrew and Pat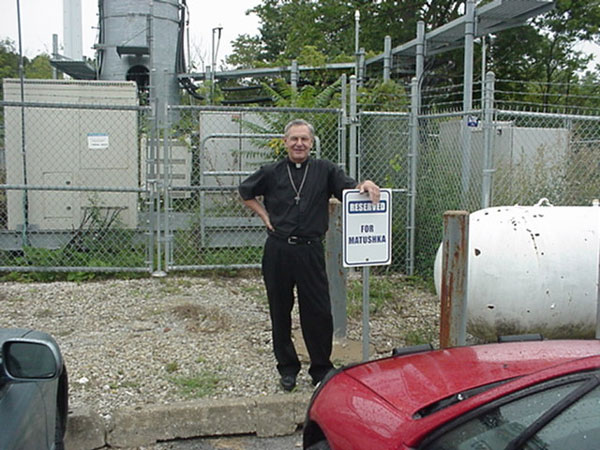 Many Years to Father Andrew and Pat as they celebrate their wedding anniversary. Father Andrew decided to have some fun and surprise Pat with a reserved "Matushka" parking sign. As many of us know, Pat is not really fond of being called Matushka but took it all in stride as we can see by her reaction below.
New Additions
As we look to improve our faculity, from time to time additions are made. Here we see a new television added to our adult classroom.
New cabinets were acquired to increase the storage capacity of our bookstore.
Shelving has been added to help organize the new kitchen.
Events Archives
---