Events Are In Sequence - Please Scroll Down
Summer Bump Kicks Off With The Lion King
Most churches undergo a summer slump as they try and compete with vacations and various summer activities for attendence. Today following Liturgy, Ken our Movie Club Ministry Team Leader, led a family version of the movie club meeting. The movie was shown in the church hall with snacks provided and followed by a discussion session.
A series of lectures on safety and self defense as well as classes in C.P.R. are also scheduled. In addition to providing fellowship and instruction both religious and practical, it is hoped that these activities will help St. Luke Parish turn the summer slump into a summer bump.
Civil Air Patrol: Moral Leadership
Fr. Andrew received his official Civil Air Patrol Chaplain appointment in June. One of his duties as chaplain is to teach moral leadership in the CAP cadet program. The program is open to all teens ages 13 to 18. Jerry Kincaid also has been appointed as a Flight instructor. He will be teaching the cadets how to fly. Fr. Andrew will be attending the CAP summer encampment at Volk field in Wisconsin in July.
Graduation Day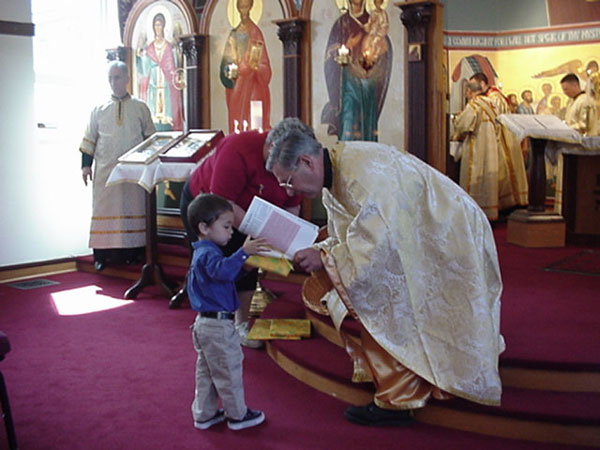 As is our custom at St. Luke awards were given out to our Church School students as well as to all those who were graduating from their respective schools. Attendence awards were given to those who attended Church School regularly. Items such as Icons or Orthodox Study Bibles were given to those who graduated from grammar school, high school, college, and post graduate study.
Olympic Medals Awarded
Immediately following Liturgy accompanied by the Olympic music, St. Luke's team of olympians paraded into the church.
All of the participants were congradulated and received certificates for their participation.
Those that received medals were then awarded them. Chuck, the leader of our olympic ministry, pointed out that we received a high percentage of the medals awarded considering that teams came to participate from at least two other states. Father Andrew encouraged all our youth to try and participate next year. (See pictures above and below.)
Children's Sermon on Giving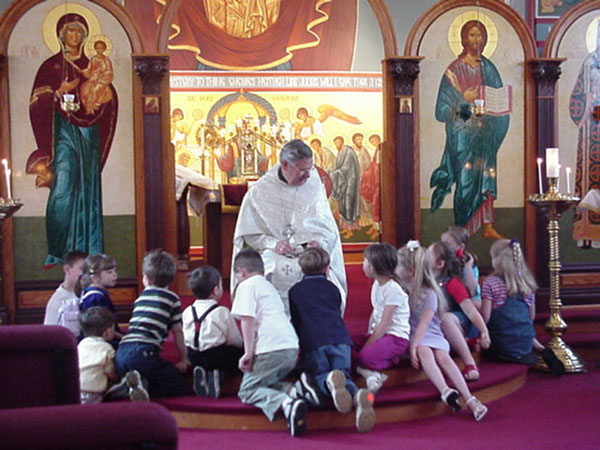 This month Father Andrew brought with him a package of bean seeds. He told a story of a man who was starving and someone gave him a package of bean seeds. The man cooked them and ate them and was not hungry anymore for a short time, but became hungry again. He explained that if he had planted the seeds that he would have had many more beens to eat in the long run. He explained that it is the same with our possessions. He told the children that if we do as Christ asked and give to others and to God that much more will be returned to us.
Events Archives
---