Events Are In Sequence - Please Scroll Down
St. Luke Golf Outing At Oak Hills
The Annual St. Luke Golf Outing was held this year at Oak Hills Country Club. Hopeful contenders for the title prepare for the round and check out their equiptment.
---
Father Andrew checks out the equiptment for illegal clubs. You have to keeep an eye on those White Sox Fans.
---
Some of our female hopefuls drive their cart to the first tee.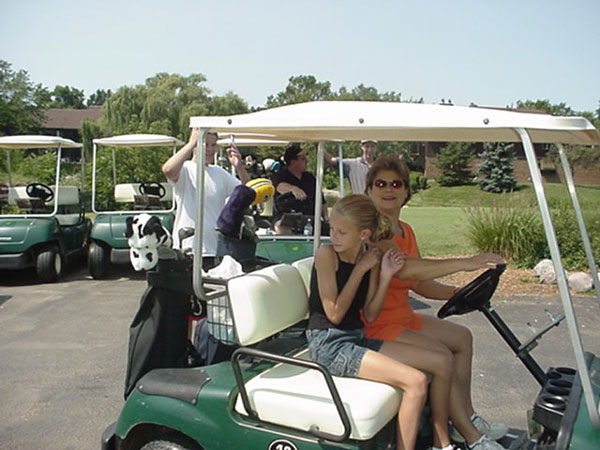 ---
This young man studys the results of his shot.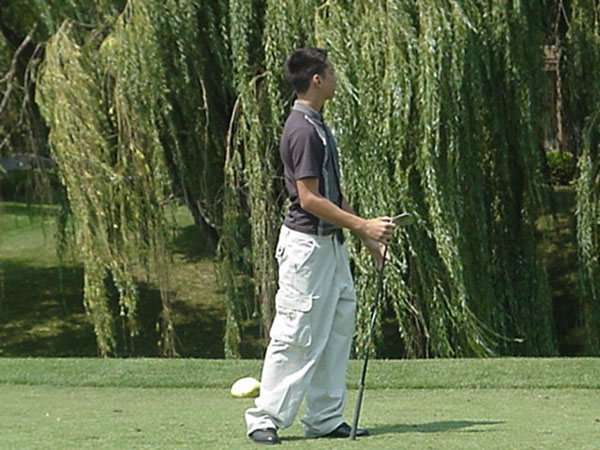 ---
Nice follow thru!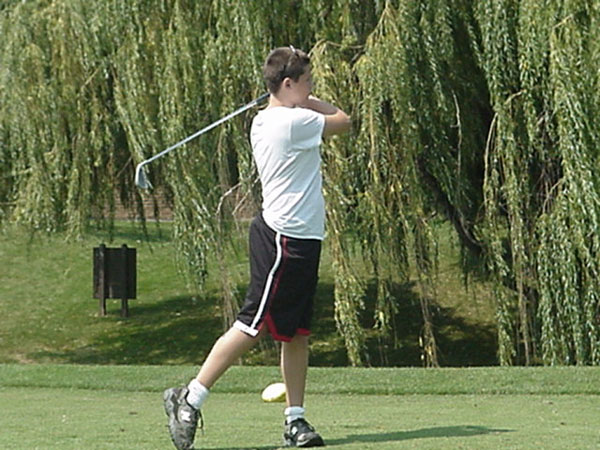 ---
Practice swing anyone.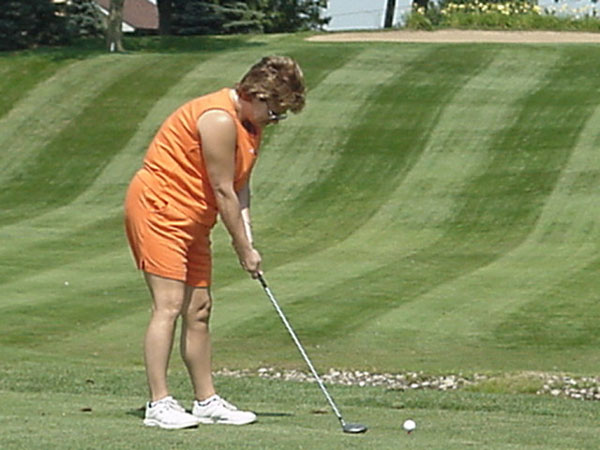 ---
Father Andrew attempts to defend his low clergy score.
---
Matt our Golf Ministry Team Leader, begins his round.
---
Here we see Jerry our winner on the day. He picked up his first tournament win by one shot with the top five golfers all within four shots of the lead.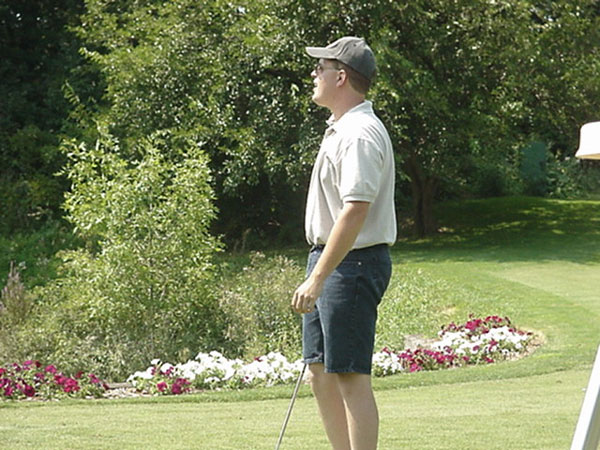 ---
Wonderful weather and great fellowship made for a wonderful day despite your score.
Teachers Meet to Prepare For School Year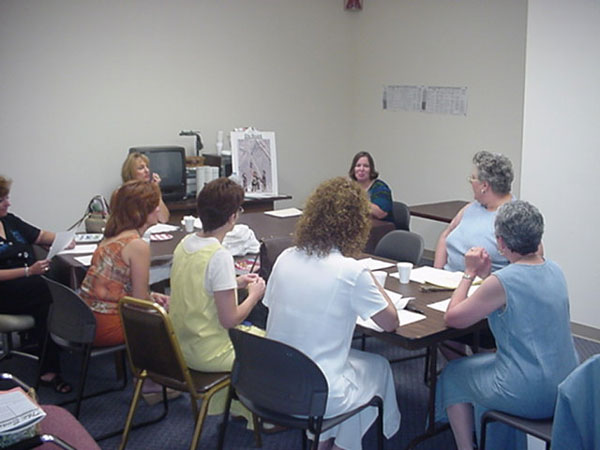 With the upcoming school year almost upon us our Church School teachers met to prepare. As always they will present us with an informative and relevant curriculum for our students and our thanks and sincere appreciation go out to them
St. Luke Sponsors Quad-Parish Picnic
This Sunday, St. Luke sponsored it's annual quad parish picnic. The four parishes that attended were St. Luke in Palos Hills, St. Michael in Burbank, Saints Peter and Paul in Burr Ridge and St. Panteleimon in Summit. The Lord provided us with a beautiful day for the event. Six contestants provided entrys into the Great Chilli Cookoff.
---
While awaiting the arrival of the food, parishioners enjoyed fellowship and the joys of nature. Here we see Ken our Lay Chairperson listening attentively to one of our parishioners. Never too early to line up votes for the next election.
---
No stay off the grass signs at this picnic.
---
Refreshments were available while waiting for the food to arrive.
---
No this is not Marshall Dillon, it our security team leader, Jim, making the rounds.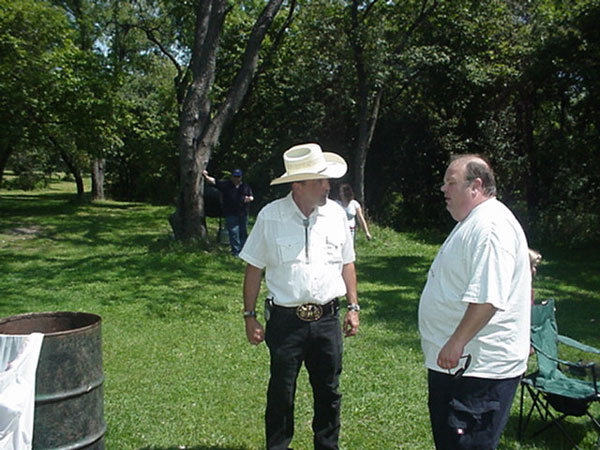 ---
Father Andrew with his red shirt and his clacker to get attention was hard to miss.
---
Tennis anyone?
---
Luba, our fellowship team leader set up the Chilli competition and selected judges.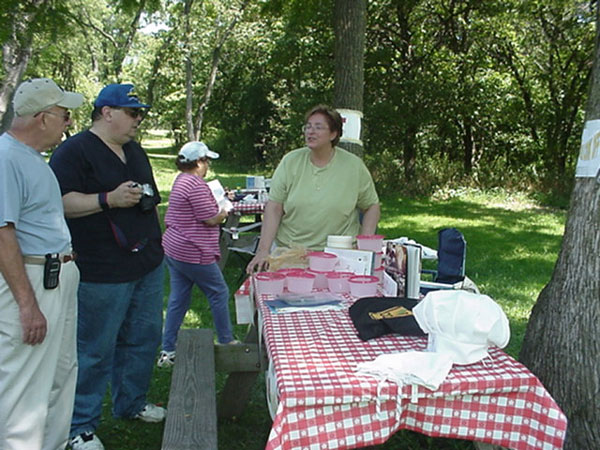 ---
After everyone sang "Our Father", Father Andrew blessed the feast.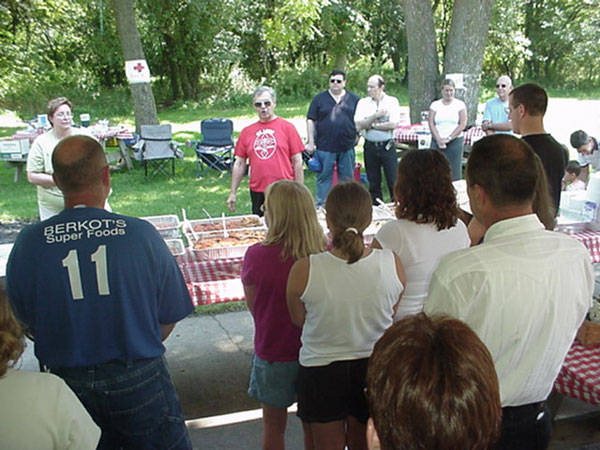 ---
A first aid station was set up just in case but thankfully there were no injurys in the chow line.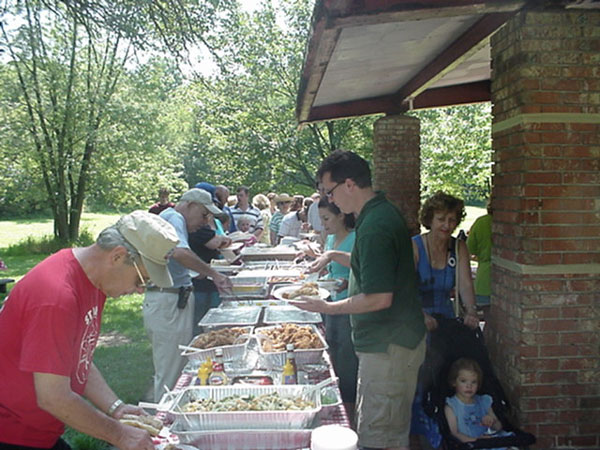 ---
Despite the reports of an alien visitation, forensic evidence proved that this indeed was not a creature but a head of hair. The owner remains unidentified.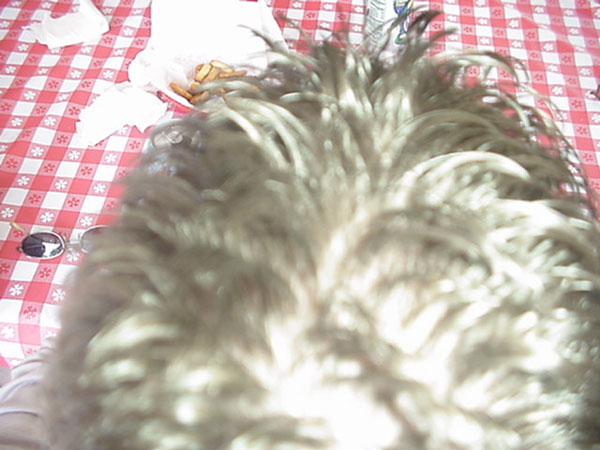 ---
Hourly raffles were held both for the children and the adults.
---
Here Father Andrew was caught in the act of instigating a water war with his super soaker.
---
It was time for the judges to gather and taste the various chilli offerings. Four noble men and true were selected. It was highly appropriate that a man dressed as a cowboy be selected as one of the judges as well as the obviously highly intellegent man wearing the Cubs outfit.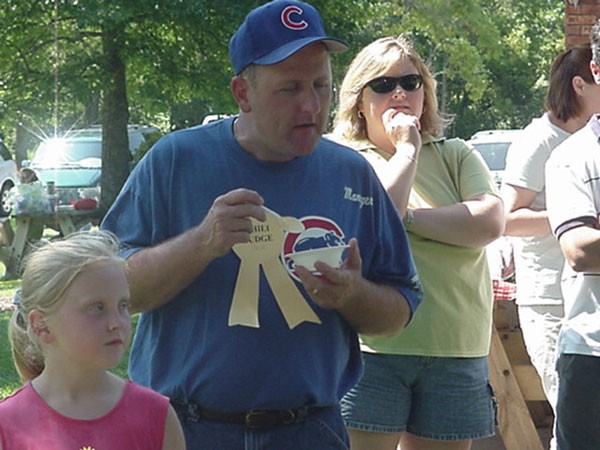 ---
---
---
---
It was now time for the children's games. One of our parishioners decided to give Sponge Bob Squarepants a lift to the games on his shoulder.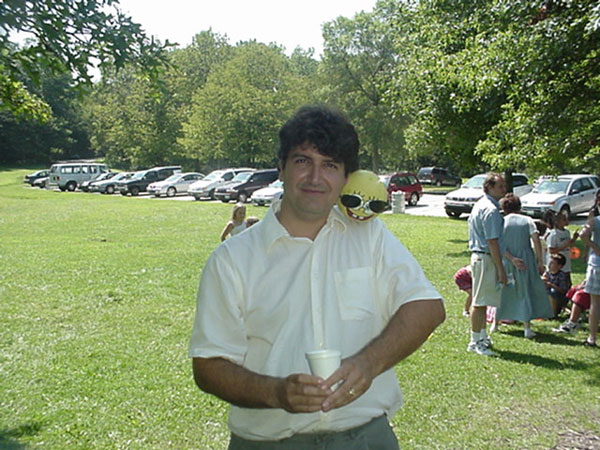 ---
Bubbles anyone?
---
The find the tic tac in the whipped creme game was one of the favorites.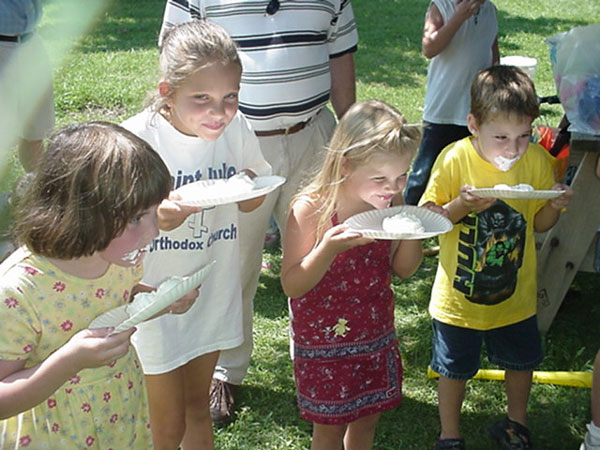 ---
A tug of war between the boys and the girls resulted in a win for the boys team.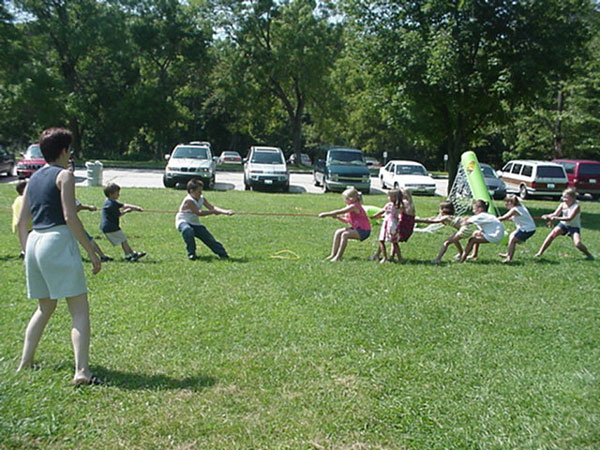 ---
Several of the younger children were so taken with the old fashioned water pump that they decided to forget the games and spend their time splashing around.
---
After considering the options, one of our canine parishioners decided to simply hang out in the shade and stay cool.
---
Father Andrew announced the winner of the chilli cookoff and awarded prizes for first, second and third places.
---
Here are our winners, Mark (First Place - in the center), Matt (Second Place - on the right), and Sue (Third Place on the left.
---
Towards the end of the day, His Grace, Bishop Job was able to attend and make our day complete. Needless to say a great time was had by all. If you were unable to attend this year, God willing we will see you next year.
St. Luke Sponsors Blood Drive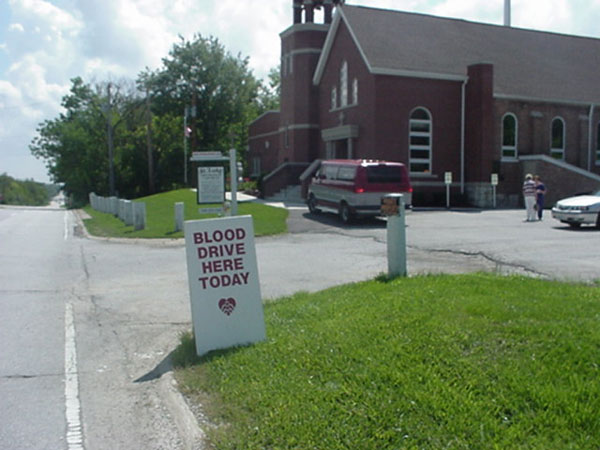 ---
This Sunday our Blood Donation Ministry sponsored a blood donation drive hosted by Heartland Blood Center at St Luke Parish.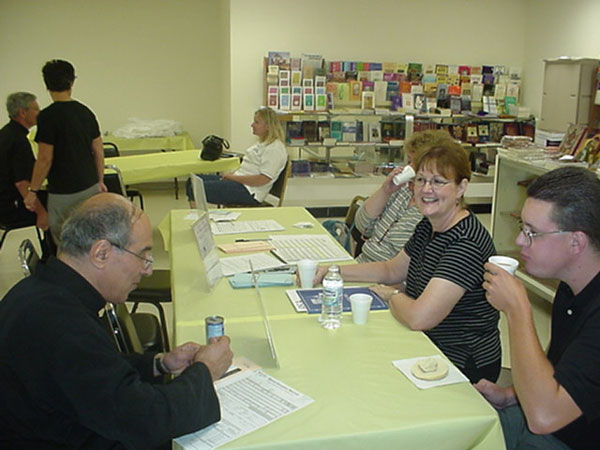 ---
In addition to actually giving blood themselves, many of our parishioners gave their time to help our with the needed paperwork.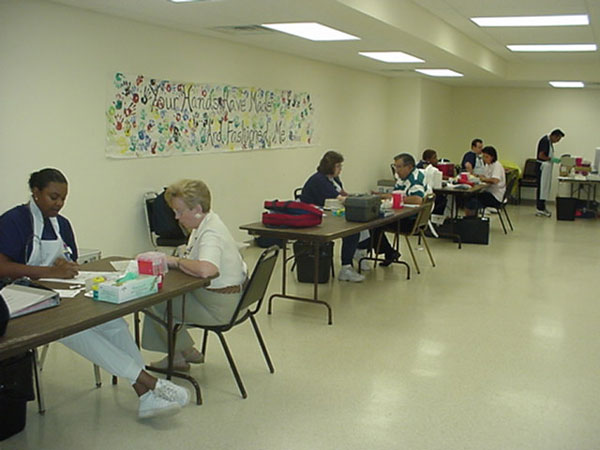 ---
After registration, donors had their health history checked along with their vital signs.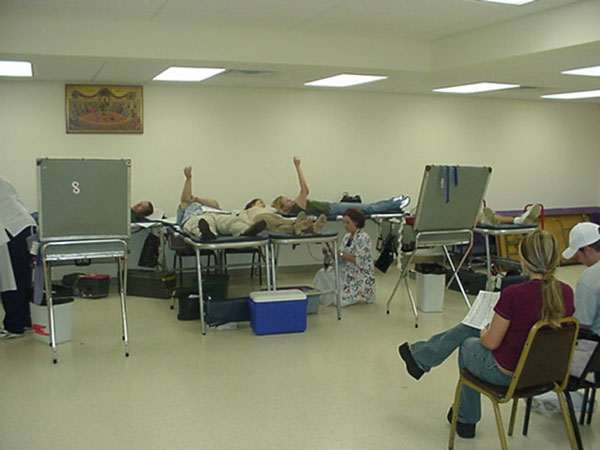 ---
Trained workers from the Heartland Blood Center collected and stored the blood.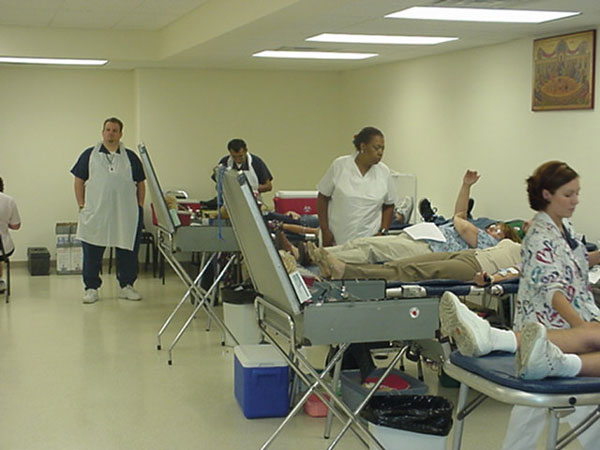 ---
The blood drive was a hugh success thanks to those of you volunteering to help and those able to give blood. Heartland Blood Center was very pleased with the results. We met our goal, in spite of some "no shows", and those generous enough to offer to participate but unable to donate due to medical issues and concerns. This is a very worth while cause, and many will benefit from this generous gift. Thank you!!!!
Children's Sermon On Incense
This month Father Andrew taught the children about incense. He showed them how the incense was made and how the censor that he uses in the service holds the incense. He explained to them that incense is an offering to God and that when they see incense rising to heaven they should imagine that their prayers are rising to heaven with it. He also explained to them that the Bible tells us that there is incense in heaven as well. In conjunction with this, the following list of Bible references concerning incense was handed out.
Incense -- sweet perfume; frankincense
A. Offered:
By priests Lev. 16:12, 13
On the altar Ex. 30:1-8
On day of atonement Lev. 16:12,13
According to strict formula Ex. 30:34-36
B. Illegal offering of:
Forbidden Ex. 30:37,38
Excluded from certain offerings Lev. 5:11
Punished severly Lev. 10:1,2: Chr. 26:16-21
Among idolaters Is. 65:3
Typical of:
Worship Ps. 141:2
Prayer Rev. 5:8; Rev. 8:3,4
Praise Mal. 1:11
Approved service Eph. 5:2
Purposes of
Used in Holy oil Ex. 30:34-38
Used in meal offerings Lev. 2:1,2,15
Excluded from certain offerings Lev. 5:11
Used in the showbread Lev. 24:7
Product of Arabia IS. 60:6
Presented to Jesus Matt. 2:11
Figurative of worship Ps. 141:2
Psalm 141
Lord, I cry to You; Make haste to me! Give ear to my voice when I cry out to you.
Let my prayer be set before you as incense, The lifting up of my hands as the evening sacrifice.
Set a guard, O Lord, over my mouth: Keep watch over the door of my lips.
Do not incline my heart to any evil thing, To practice wicked deeds.
Summer Lecture Series Continues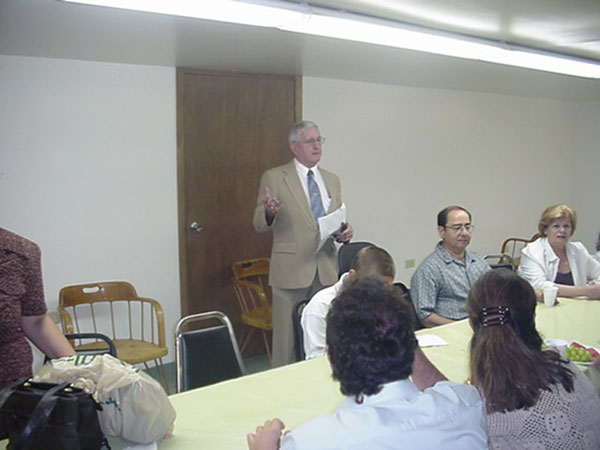 On Sunday August 3rd, our guest speaker was Mr. Robert Sullivan. His topic was "Fire Safety in the Church and Home." He informed us that most church fires are the result of improper use of candles. This should be of concern to us as Orthodox Christians as candles are so much a part of our worship.
Mr. Sullivan also addressed the dangers associated with extension cords. When at all possible a good surge protector should be used in place of an extension cord. In connection with this he advises having fire extinquishers available and in plain view in both the church and in our homes.
A question and answer session followed the lecture where Mr. Sullivan answered our questions concerning safety issues. This session was very informative and the topic was well received by our parishioners.
New Roof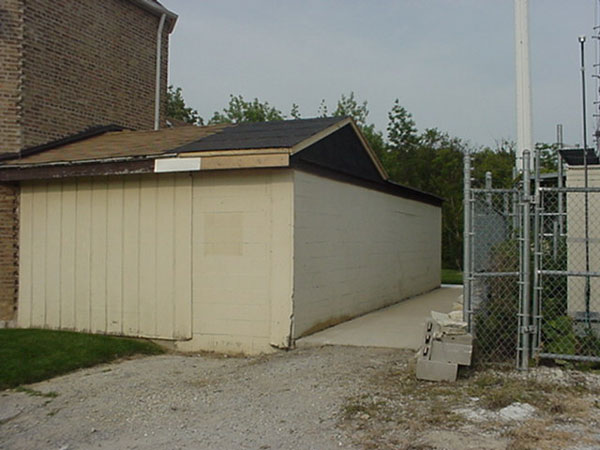 Work began on the rennovation of the old kitchen area. The structual component of the roof was reworked to establish a consistent roof line. Shortly this section will have new shingles placed to match the roof on the rest of the building. This entire section will be sided and then the interior will be insulated and refinished into a clergy area.
Civil Air Patrol Weekend
After retiring for the Air Force Reserve Fr. Andrew joined Civil Air Patrol as chaplain. The CAP is an auxiliary of the Air Force which was founded in 1941. Its main purpose is to locate downed aircraft and participate in rescue missions. It now has become part of homeland security. Besides the senior program there is a cadet program for both boys and girls from 12 to 18. They learn military discipline, search and rescue and take flying lessons on both engine and glider aircraft. Jerry Kincaid and Theodore Rizo also participate in the Civil Air patrol. If interested in joining see Fr. Andrew or Jerry Kincaid.
The photos show CAP activities at Volk Field in Wisconsin. Fr Andrew and Jerry Kincaid attended this week long encampment. As Chaplain Fr. Andrew provided spiritual support for the cadets who may suffer from homesickness or any other counseling issues. He also taught moral leadership to the 170 cadets who attended and gave the graduation benediction.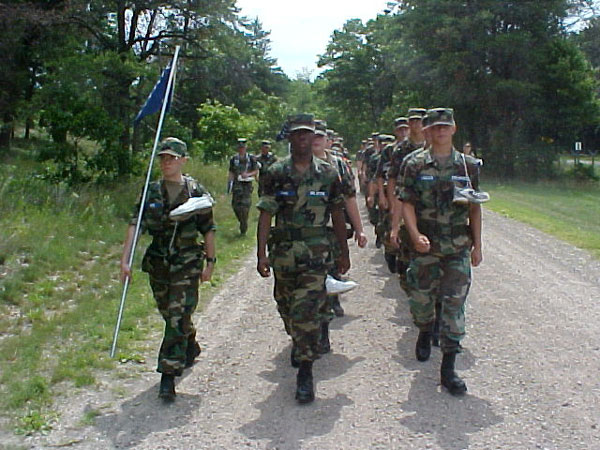 ---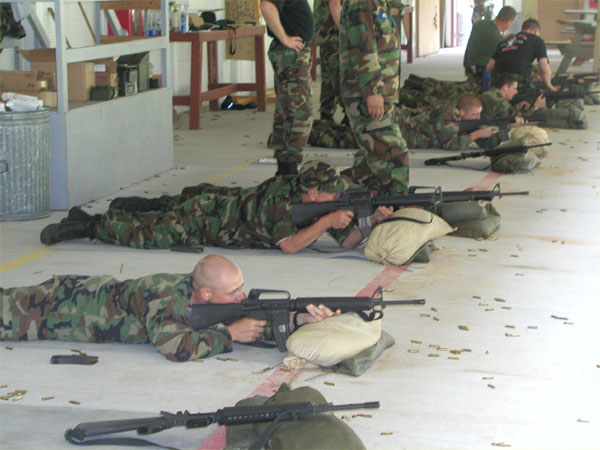 ---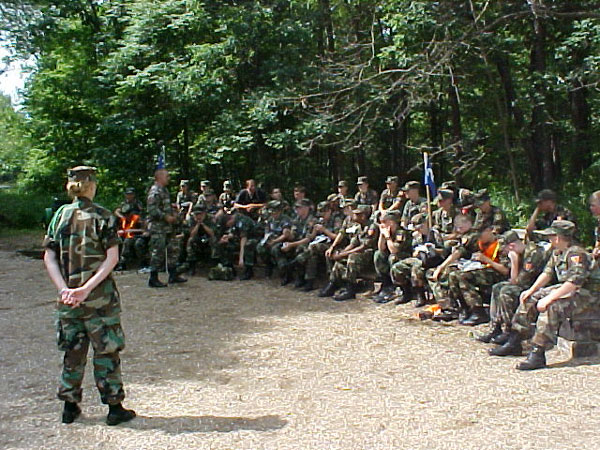 ---
Recently the Civil Air Patrol was recognized for it's post 9/11 work with the following notice.
8/8/2003 - MAXWELL AIR FORCE BASE, Ala. (AFPN) -- For its work in the aftermath of the Sept. 11, 2001, terrorist attacks, Civil Air Patrol has been selected to receive the Associations Advance America Summit Award.
CAP is one of only six associations chosen for this award, the highest honor bestowed by the American Society of Association Executives upon organizations that implement new and innovative community-based programs.
After the Sept. 11 attacks, CAP aircrews were requested to fly reconnaissance and damage-assessment missions over the World Trade Center in New York City. During those flights, CAP members took some of the first aerial photos used by emergency management agencies for assessment.
CAP members manned critical positions in emergency operations centers and also transported thousands of pints of blood all over the country that otherwise would have spoiled and become unusable. Since the Sept. 11 attacks, CAP members have continued to perform homeland security missions over critical infrastructure sites throughout the United States.
"To be recognized with a Summit Award for our work in the aftermath of Sept. 11 is a great honor for our members," said Maj. Gen. Richard Bowling, CAP national commander. "It's a tribute to their hard work, day after day, in training, maintaining equipment and cultivating resources, that they were so well-prepared to respond when the nation faced an emergency of that magnitude."
CAP was chosen from nearly 300 entries in this year's award program.
The Summit Award recognizes outstanding work in public education and information, business and social innovation, citizenship, and civic and community volunteerism. CAP officials will receive the award Sept. 30 at the 4th Annual Summit Awards Dinner at the National Building Museum in Washington.
"Speaking on behalf of the AAA Committee, we are continually amazed and impressed at the quality of new programs and services being generated by associations each year to benefit our communities locally and nationwide," said Daniel Fullenkamp, AAA committee chairman. "All of our winners exemplify the broad mission of associations to unite behind society's common goals and values -- a mission we honor with the ASAE Summit Award."
Civil Air Patrol is the official auxiliary of the Air Force. A nonprofit organization, CAP currently has more than 64,000 members nationwide and performs 95 percent of continental United States inland search and rescue missions as tasked by the Air Force Rescue Coordination Center.
Volunteers also perform counterdrug missions at the request of federal, state and local agencies. The members take a leading role in aerospace education and serve as mentors to the almost 27,000 young people currently participating in CAP cadet programs. CAP has been performing missions for the United States for more than 60 years. (Courtesy of Air Education and Training Command News Service)
---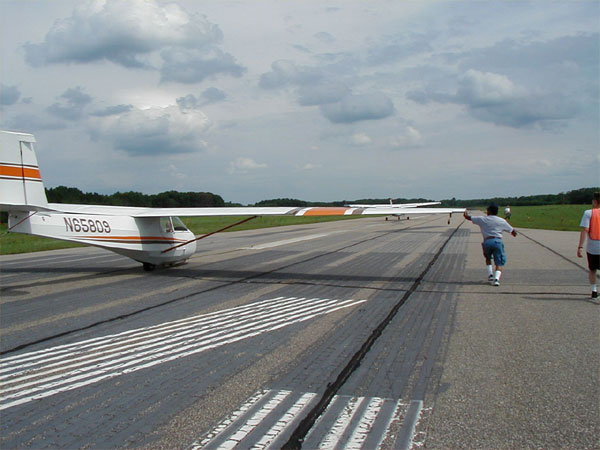 ---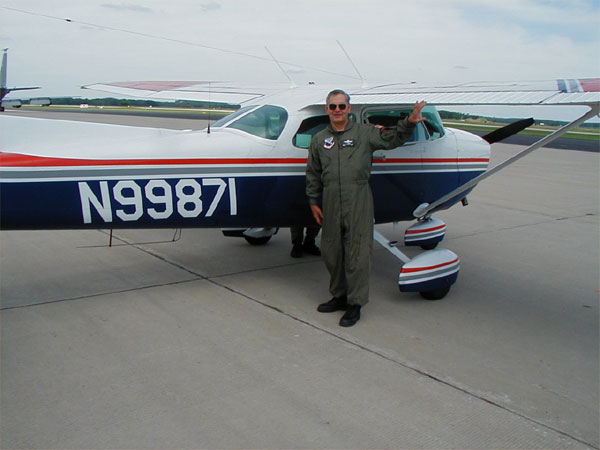 ---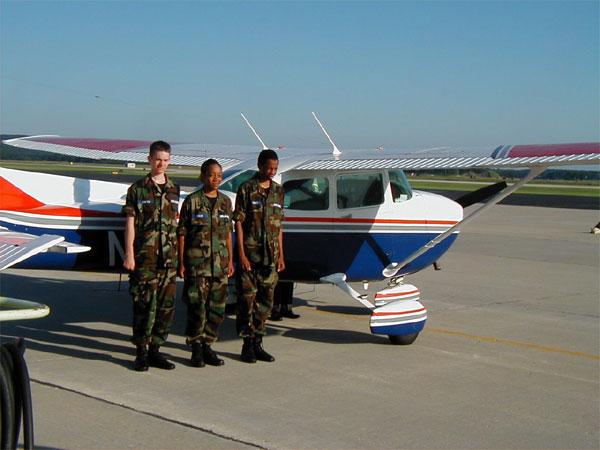 ---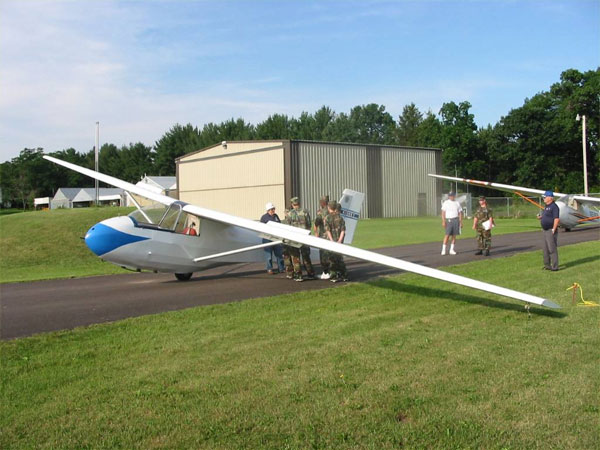 ---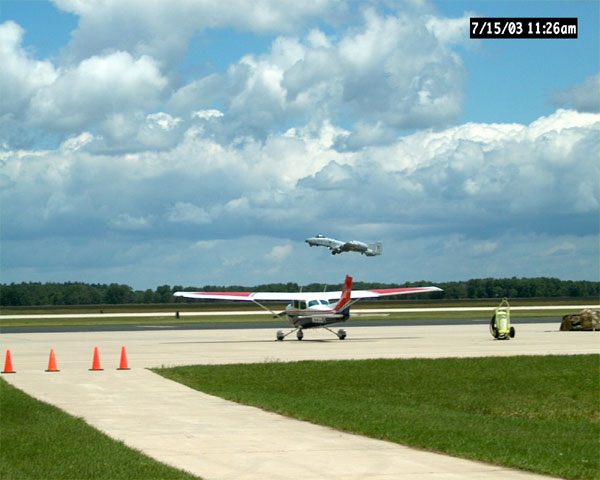 ---
Events Archives
---