September 11th
September 11, 2002
A Day of Mourning and Remembrance
One year ago today a tragedy befell our nation. It has had far reaching implications and affected many in various different ways. St Luke Parish through the efforts of Father Andrew Harrison was granted a piece of the World Trade Center to be used as a memorial. (See July 2002 Events) On this anniversary of the terrorist attacks, a day long memorial was planned. After much preparation by parishioners and local authorities, the day began early with people gathering awaiting the arrival of the section of the World Trade center and the service to follow.
Below we can see preparations for the upcoming event. A table set up for the dedication and blessing of the bell tower, a stand for the placement of the monument, and various pictures depicting the events of 9-11.
Blessing and Dedication of the Bell Tower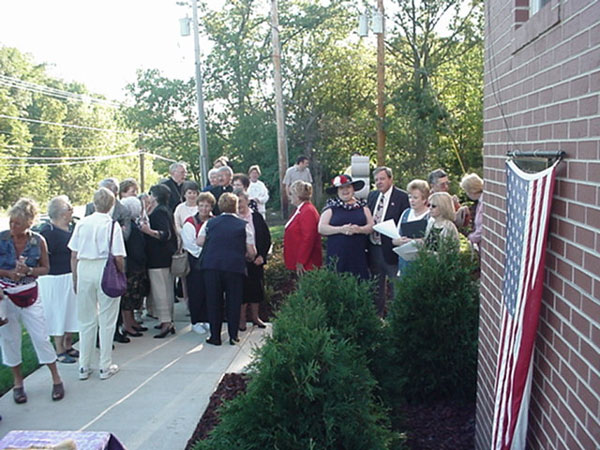 More and more people began to gather at the building. His Grace, Bishop Job of the Diocese of the Midwest arrived and there was a service to bless the bell tower.
His Grace, blesses the bell tower with Holy Water.
During the service, an American Flag hanging on the side of the bell tower was raised revealing a plaque, permantly affixed to the side of the building. This plaque seen below dedicates the bell tower to the memory of those who perished in the 9-11 tragedy.
Procession and Arrival of the Memorial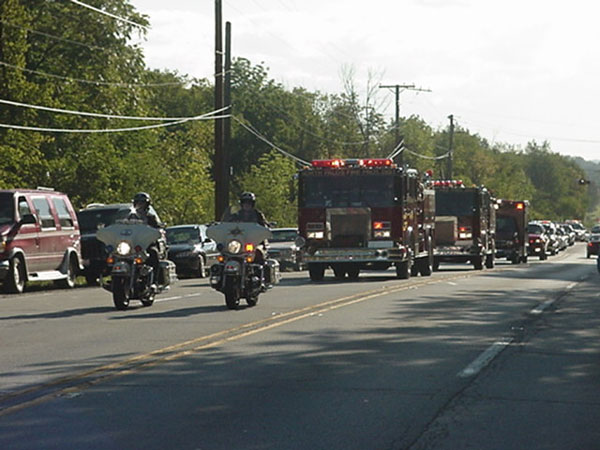 The memorial which is piece of one of the beams from the World Trade Center was brought to St Luke by an honor guard comprised of local firefighters and policemen. Below are a series of scenes as the memorial is placed in the church. Why a piece of the tower? (See Father Harrison's Article in the Summer 2002 Evangelist.)
During the arrival, the bells are officially rung for the first time.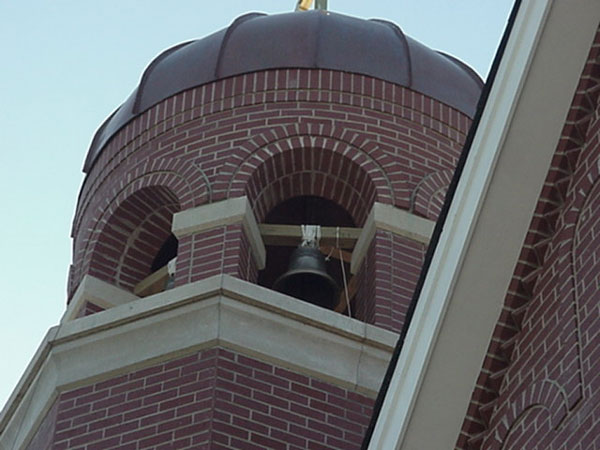 Memorial Service with Bishop Job
A memorial service was held in memory of all those who perished on 9-11. Numerous clergy were in attendance. Below we can see Bishop Job standing in front of the section of I beam from the World Trade Center and an Icon of St. Nicholas. This icon was in fact made by our own Father Harrison. It is significant of the fact that the only other building besides the World Trade Center that totally collasped was St. Nicholas Church which was crushed when the World Trade Center fell on it. Relics of St. Nicholas were on the property in a safe that was never recovered. St. Nicholas Church will be rebuilt and new relics are being sent to replace those that were lost.
Daytime Vigil
During the course of the day, the church was kept open for visitors with the memorial displayed in the church for all to touch, light candles, and pray. The tone was that of a modern day wake. The afternoon began with the pledge of alligence and passages from scripture chanted by our readers. Moraine Valley Community College participated as well as an organist played and sang for us. Also we were treated to a performance on the bagpipes.
Our ladies did a wonderful job serving breakfast, lunch and dinner during the day and many gathered together to express their thoughts and share their grief.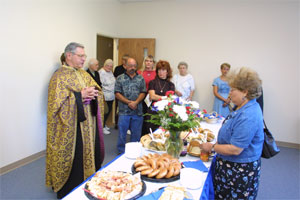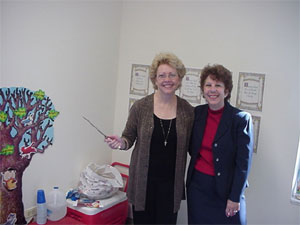 Deacon John Shimchick from New Jersey came to share the day with us and lend us his expertise in the ringing of our new bells. Our heartfelt thanks go out to him. Several parishioners wished to participate including what very well may be the youngest bell ringer in history.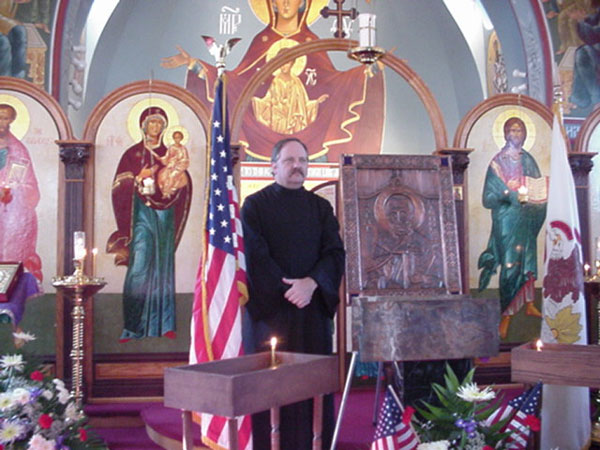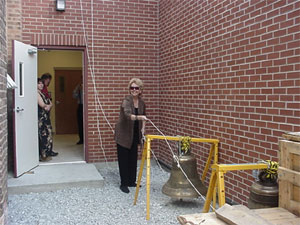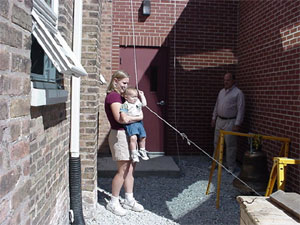 Evening Memorial Service
As evening approached a second memorial service has held. This was more informal than the one held earlier in the day.
Father Andrew took time to speak about the service and the tragedy.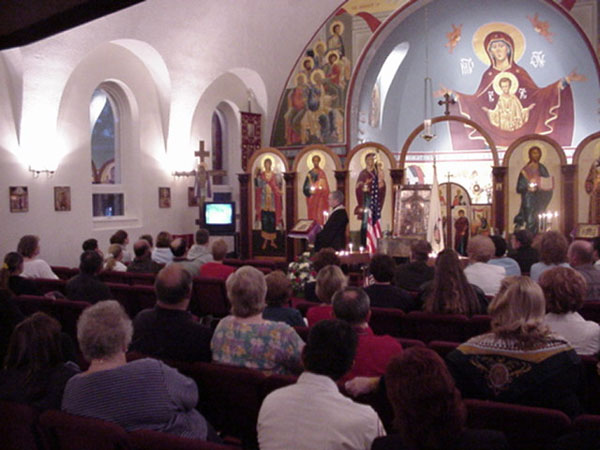 A video was shown about the reactions of various people to the attacks.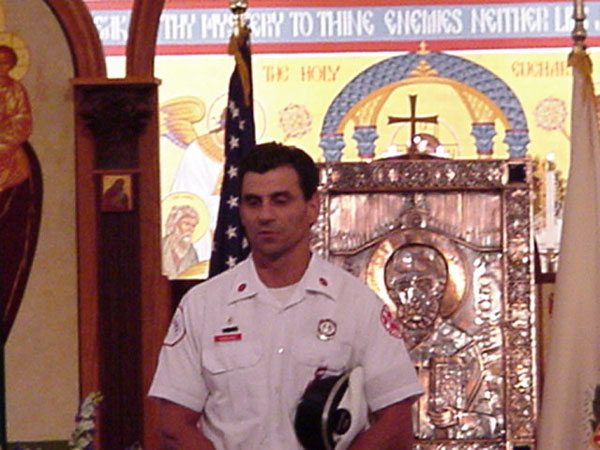 One of our local fire fighters, Nick Cavaligos, who went to New York to help with the rescue efforts was kind enough to relate his experiences.
Deacon John realted a story of someone he knew who gave his life to save others when the towers collapsed.
After the service people stopped one last time to pay their respects to those who perished.
It is our intention at St. Luke for this to be an annual event. We would like to take this opportunity to thank the State of New York for allowing us to have this memorial, to all those who attended to share this day with us, and to all those who worked so hard to make it possible. May God grant rest to those who perished in this terrible tragedy and may He make their memory to be eternal.
---
Children's Sermon on the Birth of the Theotokos
September 2002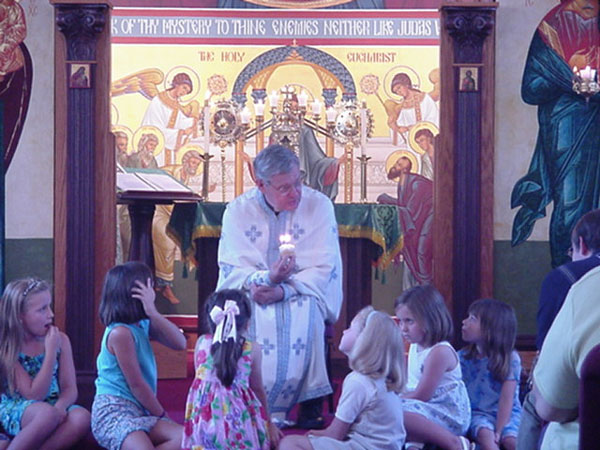 This month's children's sermon fell of the Birthday of the Virgin Mary. Father Andrew explained the feast day to the children and used a cupcake with candles as a birthday cake. He asked the children what they thought the Virgin Mary would want for Her birthday. Answers included a cake and a doll. Father Andrew said that he thought She would like to have them all at Church every week ready to learn about Jesus.
---
St. Luke's Receives It's Long Overdue Facelift
September 2002
Things were really moving today as the landscaping project began early this morning. Fenn Landscaping arrived and got right to work. In addition the pole for the new electric was placed. Inside the building, the ceilings were being finished off with the placement of the ceiling tiles. Below are scenes from the days work.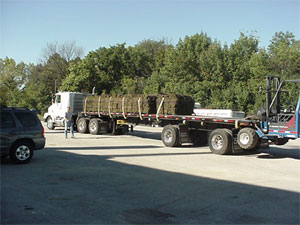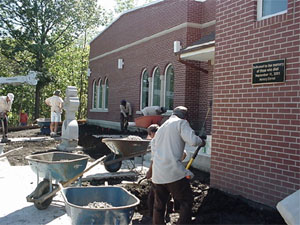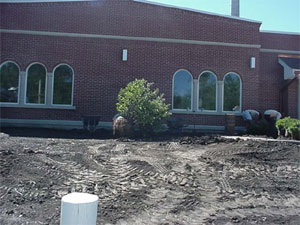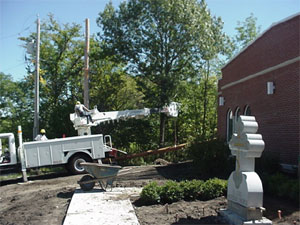 As the day came to an end, 95 percent of the work was complete. A small section will be done after the electric is finished being hooked up. In quite a short time, St Luke has quite a different look. Below are pictures of the finished landscaping.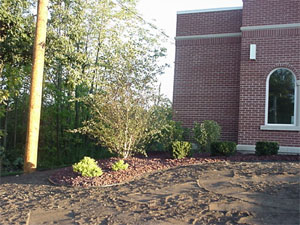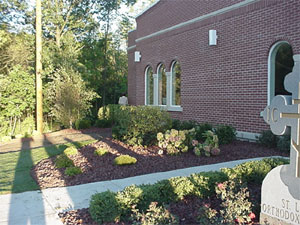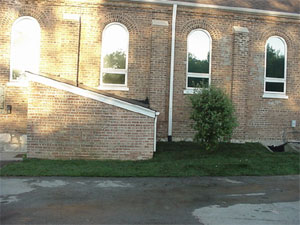 These last two pictures show the beauty of the sun setting on St. Lukes.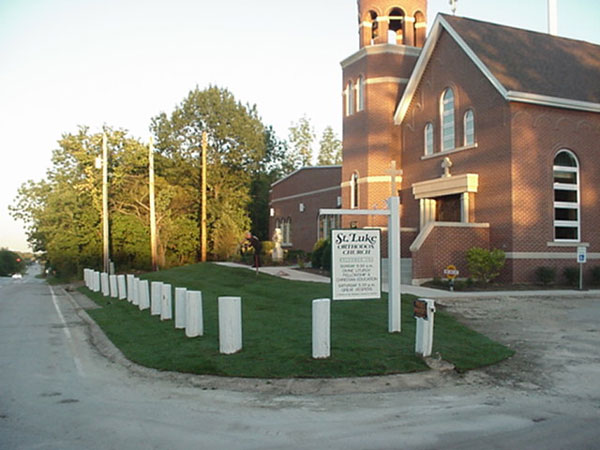 ---
A Gift for St. Luke
September 2002
Sunday, St. Luke was visited by Nicholas Anderson from the Army Air born. He came to present St. Luke with a flag that once flew over the Nation's Capital. He has just finished his training. Father Harrison received the flag and gave him a blessing. The flag will be placed next to the 9-11 memorial.
---
Parish Council Participates In Team Building Workshop
September 2002
In order to better achieve the taks that we have been given, the parish council participated in a Team Building Workshop. This workshop was given by Chuck Engelhart, M.A. In addition to churches, Chuck also works with businesses and individuals. Personality assessments of the council members were completed and evaluated. It was found that our council has almost a perfect mix of task orientied individuals and people oriented individuals. Both are needed for an optimum team relationship. Further work in the area will help to insure that we are working as well as we can to St Luke and the glory of Our Lord.
---
Church School Begins with a Blessing
September 2002
Church School began this weekend. Father Andrew said a prayer over the children and their teachers. Below Father blesses the children with Holy Water.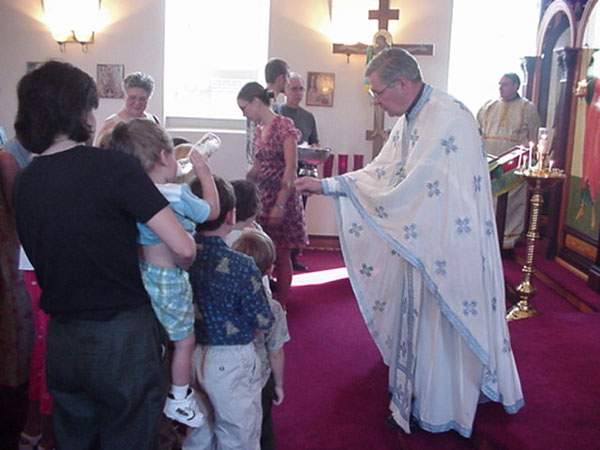 ---
St. Luke Youth is Illinois Fiddler of the Year
September 2002
By Kelly Seifert/The Star/Thursday, September 26, 2002
At 15 years old, Katie Bern has proven she is the best of the best in Illinois when it comes to playing the fiddle.
Katie, of Palos Heights, recently took first place at a state fiddle championship competition earlier this month in Springfield - despite playing against seasoned adult competitors.
Modest about her accomplishment, Bern said she was surprised by her win.
"I just wanted to play as well as I could," she said. "It was a little intimidating because (the other fiddlers) could have had so much more experience than me."
Bern began playing the fiddle about five years ago at the prompting of her parents, Jeanne and Chuck Bern.
"I always thought it would be nice to play an instrument that was portable." Jeanne said. "That way, you can always provide music."
A former English instructor at Stagg High School in Palos Hills, Jeanne has home-schooled all three of her daughters, ages 19,15, and 12.
Although she and her husband admit they are not musically inclined, the couple have made it a priority to introduce music to their children.
"Instead of spending too much time wasted playing computer games, we wanted them to play music," Jeanne said. "I think music should be part of any curriculum.
Katie's musical talents began to take shape when she was 7 years old.
Following in the footsteps of her older sister, Katie began Suzuki violin lessons.
Initially, playing an instrument did not come easy for Katie, Jeanne said.
Katie fought the idea of playing and practicing the instrument until she played in her first Christmas concert at Moraine Valley Community College.
"She loves to perform." Jeanne said.
When Katie was 10, her parents took her and her two sisters to a festival featuring old-fashioned square dancing at Moraine Valley Community College.
It was there that the family crossed paths with Ed Cosner, an award winning West Virginian fiddler who now resides in Indiana.
"He is the reason she is playing today," Jeanne Bern said.
When Cosner spotted young people interested in the bluegrass music he loved, he agreed to provide free instruction to the girls.
"He took them under his wing," Jeanne Bern said. "He liked the music very much and wanted it passed on."
Cosner taught Katie Bern and her sisters to play by ear, which meant playing the tunes and repeating them.
"She had a really great aptitude for it." Jeanne said of Katie's fiddle playing abilities.
In time, Katie Bern and her sisters began traveling to fiddle competitions and winning awards. In fact, Katie's youngest sister took third place in the junior division of the recent state fiddle championships.
"It has been a very good thing for our family," Jeanne said of the family's journeys to competitions and bluegrass festivals. "It's a fun thing for a family to do."
Expanding her musical talents further, Katie also picked up the guitar andmandolin. Her mother said Katie now receives lessons from a variety of music instructors including ab Irish fiddle instructor and a jazz mandolin player.
"I think she has the capacity to learn a lot of music." Jeanne said.
Katie has a broad range of musical interests spanning classical, bluegrass, jazz, Irish, and rock and roll.
A memeber of the Suburban Youth Symphony Orchestra, Katie was recently awarded the honorable title of concertmaster. She is also part of the string ensemble at Trinity Christian college in Palos Heights.
When she's not competing, Katie also plays for various events and festivals, weddings and at nursing homes.
"It's a way to bring joy into other people's lives." her father said.
Way to go Katie from all of us at St. Luke!
---
Children's Sermon and Chrismation
September 2002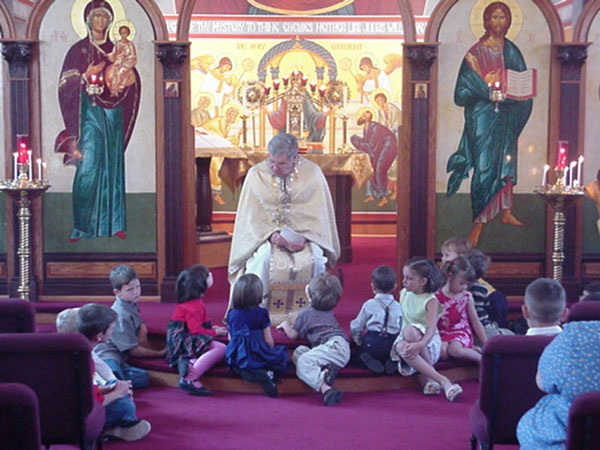 Father Harrison gathered the children together and explained about Baptism and being born again. He went on to explain that Chrismation is a spiritual birth and when someone is born, they get presents. At Chrismation the presents that we receive are the Gifts of the Holy Spirit which are Wisdom, Knowledge, Faith, Healing, Miracles, and Prophesy. He told the children that one of them, Anthony had been baptised but not yet Chrismated and that we would do that now.
Father Harrison performed the Sacrament of Chrismation on Anthony as the children looked on. Above we see Anthony being annointed and each time the congreation responds with the word "Seal" as Anthony received the Seal of the Holy Spirit. His sponsor Nicholas looks on. Below we see Anthony after the ceremony wearing the cross that was just presented to him.
---
Events Archives
---