Lemont Christian Clergy Association Ecumenical Thanksgiving Prayer Service
November 2002
On Sunday November 24th St Luke was represented at the Lemont Christian Clergy Association's Ecumenical Thanksgiving Prayer Service. Father Andrew along with Deacon Andrew and Mike Bauml chanted a Thanksgiving Litany and then the Our Father for the congregation. The theme of the service was to give thanks to God for all that he has given us. All were asked to contribute to the Lemont Clergy's Emergency Fund which helps the needy in the area. If you were unable to attend and still wish to help, please contact Father Harrison. Refreshments and fellowship followed the service. Let us all give thanks to God for all that he has given us.
Movie Night For Youth Group
November 2002
Once again Y.O. met for movie and pizza. This month's movie was Monty Python and the Holy Grail. Movies are selected that contain religious content and after the movie questions pertaining to the movie are discussed. Needless to say pizza and snacks are a must for proper movie viewing and discussion.
Community Thanksgiving Prayer Service
November 2002
The Lemont Clergy Association will be holding a Community Thanksgiving Prayer Service on Sunday November 24, at 3:00 P.M. at the Lemont United Methodist Church. This year several of our male choir members will be singing the Lord's Prayer. Please attend if you are able.
It's Beginning To Look A Lot Like Church School
November 2002
This saturday several parishioners met to unload the office and church school furniture. Chairs, tables, chalkboards, and filing cabinets were uncrated and set up. We are still waiting for some of the order to come. Below we can see the one of the rooms set up.
St. Luke Hosts Orthodox Christians For Life Meeting
November 2002
This month St. Luke Parish hosted the Orthodox Christians for Life Meeting. 22 people attended including several members of the clergy. As the guests arrived a light supper was served.
After dinner a meeting was held. Topics included upcoming events, finances, and the recent elections and their implications.
Next a guest speaker addressed the group. A member of St Luke Parish, Laureen L. Ambrose M.D. (Laurie Bauml), has been practicing Obstetrics and Gynecology in the area for over 20 years. She graduated from Chicago Medical School and completed her residency at Cook County Hospital. Dr. Ambrose expressed her views on the relationship between abstinence, fornication, and abortion as well as the relationship of Legal verses Moral. A spirited question and answer session followed as she was able to relate her experiences as a physician as they pertained to these issues.
Environmental Ministry Gets St. Lukes Recycling
November 2002
The head of our environmental ministry, Dennis Dandeles addressed the Parish today concerning our new recycling program. Paper products, cans and plastics will be seperated and recycled. Containers will be placed around the building for our use. Teachers are encouraged to reuse paper whenever possible for things such as notes and faxes. Plastic containers could be reused for certain craft projects. People are encouraged to bring their cans from home to be crushed and recycled. Father Andrew added that in the future as part of the enviornmental ministry we could possibly develope a nature trail in conjunction with the forest preserve where people could walk and pray.
Get a Jump on Christmas Presents and Help St. Luke Parish
November 2002
The Bells of St. Luke
November 2002
On Wednesday, November 6th our bells arrived from the city of Kaminsk in the Russian Republic via British Airways. They were cast specially for St. Luke by the Pyatkov company. The United States distributor is Blagovest bells a subsidiary or Expanding Edge LLC. They range in size from the smallest bell which weights 13 LB to the Largest bell which weights. 332 LB. They have icons and prayer inscriptions cast into the bronze. Plans are under way to have a solemn consecration ceremony and mounting of the bells in the tower.
Above we see the shipping label on one of the crates from the bells written in Russian.
Above and below we see some of our higly trained technicians removing the bells from their shipping crates.
The bells have been placed on the side until the service can be preformed and they can be placed in their final position in the bell tower. Father Andrew is shown here pointing our the inscription on one of the bells.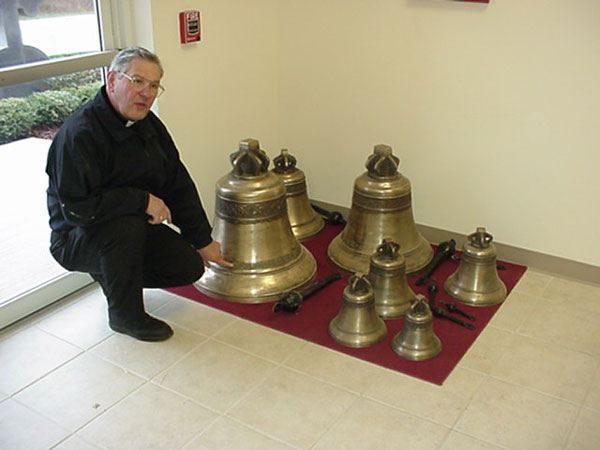 And Away We Go: Tile Work Begins in the New Basement
November 2002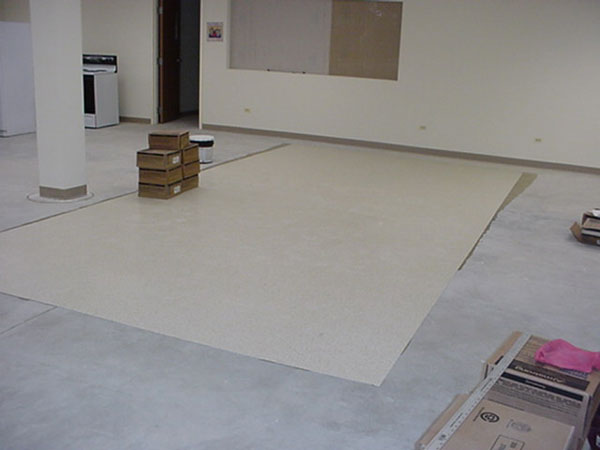 At long last the tile for the new basement is being placed. Once it is finished we will be able to move our coffee hour into the new basement.
Annual Women's Retreat: Healing The Soul
November 2002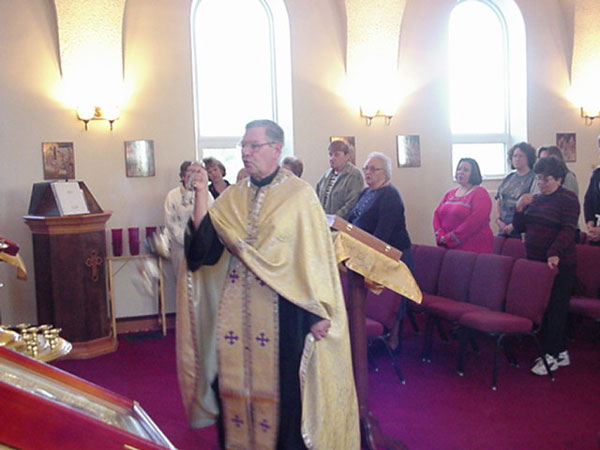 Once again the women of our parish gathered for a spiritual retreat. The day began with a prayer service, called The service for beginning instruction. The prayers ask God to guide the teachers and students in learning so that they can build up Christ's Church. It is concluded with a blessing of holy water Below Father Andrew blesses the women with Holy Water.
The service was followed by a talk by our retreat leader, Joan Heifner who is the wife of Fr. Dennis Heifner of St. Elias Antiochian Orthodox Church in La Cross, WI. She has a PHD in Social Work from Case Western Reserve University in Cleveland Ohio. She has been a Social worker, Educator, and curriculum consultant in Romania. Her and her husband have lead seminars in Conflict resolution for the Antiocian Midwestern Diocese and conducted a survey of clergy wives which resulted in a presentation entitled "Is There Life After the Coffee Hour."
Following the speaker, lunch was served as the women broke into discussion groups.
Adult Education Classes on "The Pearl"
November 2002
On Wednesday evenings, Father Andrew conducts an adult religious education class. Class begins at 7:00 p.m. and is currently based on the book "The Pearl: A Handbook For Orthodox Converts" by Michael Whelton. Passages from the book are reviewed and followeed by open discussion. All are invited to attend.