December
<
Garden Center Visit For December
Fr. Andrew who has been bringing his special book about the life of St. Nicholas every year, brought it last night for the 18th time. With so many good stories to choose from, Fr. Andrew decided to start our visit with one story and end it with another. He then asked the residents which story they wanted to hear. The first was how St. Nicholas secretly and during the night, put gold coins in socks for three maidens so their father would not have to sell them into slavery.
Our second story was about when all the bishops were gathered together in Nicaea to decide the future of the church. During one of the long speeches, St. Nicholas fell asleep. As he slept, he heard voices calling his name, and leaving his sleeping body, followed the voices. Traveling a long way, he came to a place in the middle of the sea. A mighty storm raged and the sailors cried to St. Nicholas for help. St. Nicholas then calmed the waves and the thunder and lightning stopped. The sailors thanked God and St. Nicholas blessed them and then he returned to Nicaea.
Mike passing out presents of socks which he brought, to all the residents.
Laurie, in the tradition of St. Nicholas and gold coins, passed out chocolate gold coins to very happy residents.
Janet entertaining us with her Christmas poem.

<
St. Nicholas Visits St. Lukes
For the Feastday of St. Nicholas, Father Paul gave a children's sermon. He related to the children the story of St. Nicholas giving golden coins in secret to a man to prevent his daughters from being sold into slavery.
Following the sermon, St. Nicholas made an appearance.
Then St. Nicholas handed out golden chocolate coins to all the children.

<
"Food For The Christian Soul Visits Outriggers
This month our Food For The Christian Soul Ministry visited Outriggers Steak and Seafood in Palos Hills.
Group Photo. This month we had 17 in attendance.
The menu offered a wide variety of selections.
Dinner Photo.
Dinner Photo.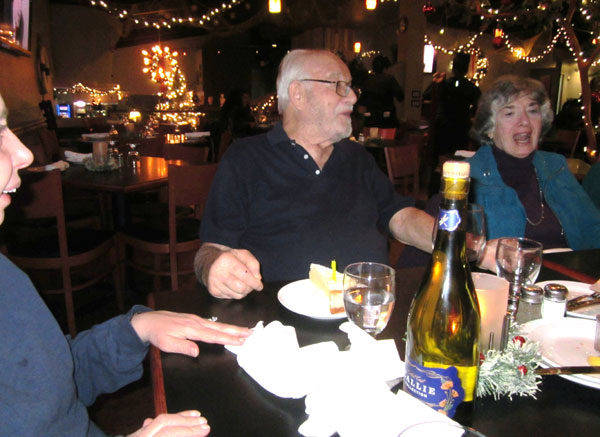 Our Ministry leader, Matt held a raffle and presented various gifts. We finished dinner singing Happy Birthday. Once again it was a wonderful night out.
Events Archives
---