---
July
Events Are In Sequence - Please Scroll Down
Annual Blood Drive Held
Garden Center Visit For July
Fr. Andrew started our visit with the story of Noah's Ark. God said that the world has grown wicked, so He was going to cause a flood to cover the land and destroy every living thing that He made. However, the Lord love Noah, a good man and told him to build a ark big enough for him, his family and two of every kind of creature. Noah did exactly as God had told him and when he was done, it rained for 40 days and 40 nights.
Brett and Brendon helping Fr. Andrew with the service.
Fr. Andrew held a cup that contained a plant that was dying. He said just like the plant needs nutrients to grow, we Christians need prayer, church services and communion to grow closer to God.
Stea serving her magnificent double chocolate cup cakes in celebration of Fr. Andrew starting his 15th year of visiting the Garden Center.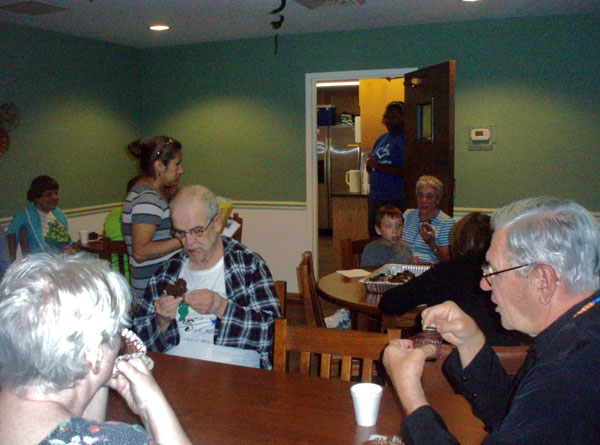 Conversation ended quickly, as everyone's attention turned to Stea's heavenly cup cakes.
Events Archives
---