---
May
Junior Olympics
Mother's Day Brunch
Following Liturgy this Sunday, our Mothers received a blessing and a gift for Mother's Day.
The congregation then moved to the fellowship hall for a Mother's Day Brunch. The homemade spread of food was made by the members of the Guatemalan mission team. Proceeds will go to support the upcoming mission trip.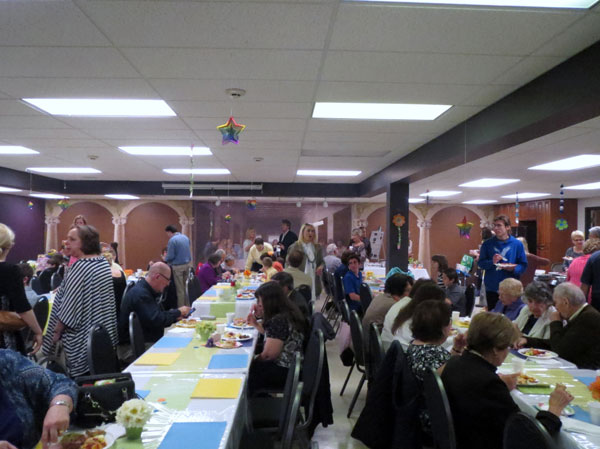 Everyone enjoyed the delicious food and sharing Mother's Day Brunch with their St. Luke Family!
Men's Theological Forum
Six men attended the forum to discus the role of the father in bestowing the legacy of Orthodoxy to their Children. Theo Poulos, the ministry leader, used an article on the subject by Fr. Lawrence Farley. He presented seven ways. Each way stimulated a lively discussion. They were: 1.Make sure you know Jesus 2. Make prayer the main occupation of your life. 3. Make an Icon corner the heart of your home. 4. Look for opportunities for intercession. 5. Be honest in answering questions. 6. Be involved your kids lives. 7. Rejoice in the Lord. 8. Pray for them.
Sertoma Award Presented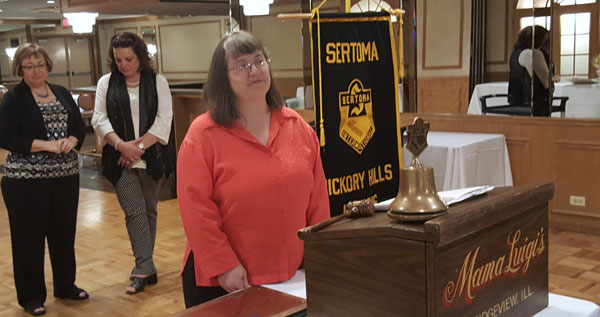 Jill Olson receives the Annual Humanitarian Award from the Sertoma society (Service to Mankind ) for her work with PADS (Public Action to Provide Shelter). St. Luke Parish hosts homeless women and children one night a week as part of a network of churches. On average there are over twenty persons who are fed and sleep in the parish fellowship hall each Monday from October to May.
Her name was submitted by Fr. Andrew who detailed the many hours she spends as site manager. He told the audience how Jill took over after the previous site manager could not continue because of health. Fr. Andrew said " just this past week she was picking up homeless women and children with her own car because the PADS bus was not running, she is truly deserving of this award.
Children's Sermon For May
Fr. Andrew is holding the sleeping bag he has used on mission trips. He used it to explain the healing of the paralytic at the sheep's pool. He asked the children about why Jesus asked the man if he wanted to be healed, Was Jesus checking if he was really was sick?
He asked the children about faking sickness so they did not have to go to school and how that was a lie and they should not do that because as Jesus said something greater could happen. He then explained the importance of thanking God. The healed paralytic went to the temple to give thanks. We come to church to thank God for all that he has done for us.
IOCC Annual Pan Orthodox Banquet
This year we had 13 parishioners attending from St. Luke. A donation of $1800 was given from our charity offering and the matching funds to support the suffering people of Syria and other troubled places in need of Christian Charity.
Ruth and Helen are looking at the items for the silent auction. Mark won two tickets to a Sox's baseball game this summer.
Fr. Malek of St. Mary's Antiocian Orthodox Church in Palos Park was the master of ceremonies. He is the founding Priest who started St. Mary's using St. Luke facilities. Fr. Andrew spoke to one of the children (all grown up) who served in the old basement during the time St. Mary's met at St. Luke.
Metropolitan Iakovos blessed the dinner and gave the invocation.
Ruth, Jill, Mark, and Fr. Andrew are seated at the table waiting to be served.
Esther and Stea seated with Caye and Justinian.
George, Maria, Michaelyn and Angela having a glass of wine.
Events Archives
---